Almudena Veiga-Lopez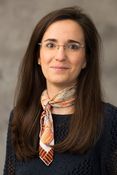 Department of Animal Science
Associate Professor
Telephone: 517-432-7084

766 Service Rd, East Lansing, MI 48824
Area of Expertise:
Interdisciplinary Science and Technology Building, Room 3008
---
Degree:
BS, Cervantes Institute, Spain
DVM, Complutense University, Spain
PhD, National Institute of Agricultural Research, Spain. Focus: Reproductive Physiology
Postdoc, University of Michigan. Focus: Developmental Origins of Health and Disease
---
Website
Affiliations
Affiliated Faculty, Reproductive and Developmental Sciences Program, Michigan State University
Affiliated Faculty, Institute for Integrative Toxicology, Michigan State University
Affiliated Faculty, Cell and Molecular Biology Program, Michigan State University
Research
Our laboratory focuses on understanding the fetal origins of adult reproductive and metabolic disorders. The lab is interested how environmental exposures (endocrine disruptors) during prenatal life can induce adaptative mechanisms in the developing organism leading up to pathophysiological consequences during postnatal life. We use in vivo approaches to characterize the pathophysiological outcomes and in vitro approaches (cellular and molecular) to understand the mechanisms and pathways by which the pathological outcomes occur.
Teaching
ANS262 - Reproductive biology and management of sheep
In: Introductory Sheep Management, MSU
ANS409 - Silent Spring: Environmental exposures in wild and domestic animals
In: Problems, Controversies and Advancements in Reproduction, MSU
ANS 815 – Developmental Programming and Endocrine Disruptors
In: Advanced Topics in Reproduction and Development, MSU
Publication list