Valerie A. Kelly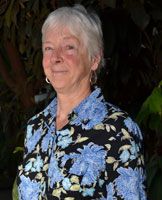 Department of Agricultural, Food, and Resource Economics
Associate Professor for International Development, Emeritus
AEC/AFRE Faculty, 1993-2011
Peaks Island, Maine
kelly@msu.edu
---
Degree:
Ph.D., 1988. Michigan State University
M.S., 1984. Michigan State University
B.A., 1967. American University
---
Bio-Info
Associate Professor for International Development Emeritus, Valerie Kelly has more than twenty-five years of experience working on agricultural development issues in Africa. Dr. Kelly's geographical focus has been the Sahel, but she has also worked elsewhere in Africa (Rwanda, Ethiopia, Malawi, Kenya). Her fields of specialization have been agricultural policy and public choice, production economics, farm management, and quantitative methods. She worked extensively on soil fertility and agricultural input topics and also on nutrition and health issues, food security analysis, and agricultural growth linkages. A strong focus in all of her work has been (1) on-the-job training of African researchers through the implementation of collaborative policy research and development activities and (2) interdisciplinary work, particularly with crop and soil scientists.
From 1996 to retirement, Dr. Kelly worked full-time with other faculty, students, African researchers, and policy analysts on the design and implementation of applied research conducted under the Department's Food Security Cooperative Agreements. Recent work includes research and publications on fertilizer policy issues in Africa; development of an interactive CD to assist analysts design fertilizer promotion programs; designing a national inputs promotion program to reduce poverty in Kenya; evaluating Malawi's input subsidy program; editing a major journal issue (Food Policy) that synthesized recent experience in developing input markets in Sub-Saharan Africa; monitoring and evaluation of programs to promote adoption of natural resource management practices; analysis of horticultural sector development in the Sahel; the design and conduct of a study to better understand the linkages between agricultural growth and child nutritional status; and technical assistance to the Rwandan Ministry of Agriculture to define and implement a post-war fertilizer policy. Her work also included a review of institutional arrangements for agricultural production and market information systems and their implications for policy design. She was a member of MSU team providing technical support and policy analysis to the Malian Food Security Commission for the development of local food security plans and the design of policies to address food security problems. She worked on several World Bank and FAO publications on fertilizer promotion and input subsidies in Africa
Prior to joining MSU, from April, 1988 through August 1993, Dr. Kelly was as a Senior Research Fellow, International Food Policy Research Institute, Washington, D.C. She was Principal Investigator and in-country manager for a project that implemented survey design, data collection, data entry, and analyses under a USAID funded study entitled "Consumption and Supply Impacts of Agricultural Price Policies in the Peanut Basin and Senegal Oriental". She was based at the Institut Senegalais de Recherches Agricoles (ISRA - Dakar, Senegal). The project, conducted jointly by IFPRI and ISRA, involved extensive on-the-job training of ISRA counterparts to meet project objectives of building ISRA capacity to conduct this type of research and report results to policy makers.
Since retirement Professor Kelly has continued to serve on the Technical Advisory Committee for the African Soil Health Consortium (member since 2010) and has done some consulting on the economics of oil palm production in Ghana.
Students
Pubs Online
Notable Docs/Pres