Refugio I. Rochin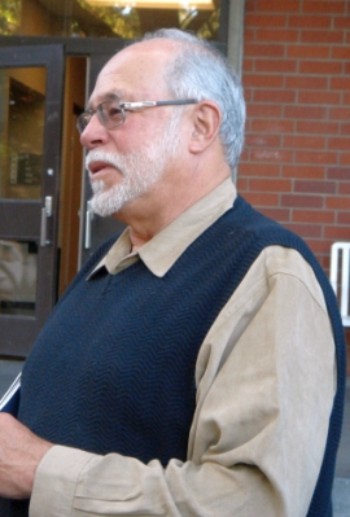 Department of Agricultural, Food, and Resource Economics
Former Professor and Director, Julian Samora Research Institute
AEC/AFRE Faculty, 1994 to 1998

California

rrochin@me.com
Degree:
Ph.D., 1971. Michigan State University
MA., 1969. Michigan State University
MS., 1967. University of Arizona
BA., 1966. University of California, Berkeley
---
Bio-Info
Dr. Refugio (Will) Rochin was a former Professor of Sociology, and Agricultural Economics at Michigan State University from July of 1994 through July 1998. He was also the first Permanent Director of the Julian Samora Research Institute (JSRI) at MSU and was also a Principal Investigator and administrator for the Midwest Consortium for Latino Studies. Professor Rochin is also Professor Emeritus of Chicana/o Studies and Agricultural Economics at the University of California, Davis, and retired Director of Research and Evaluation, Educational Partnership Center at U.C. Santa Cruz.
While at MSU he augmented JSRI's publications from 8 in 1994 to over 120 in 1998; posting all publications online for free downloads before the advance of Google. JSRI generated thousands of downloads each month, rating JSRI as the number one source of Latino scholarship. During his tenure JSRI produced 5 regional conferences, 4 books and led the way for MSU's first program in Latino Studies. Over Professor Rochin's career he advanced to Full Professor in three disciplines: Agricultural Economics, Sociology, and Chicano - Latino Studies at U.C. Davis, Michigan State University, and The University of Notre Dame. In his career work he has co-developed new academic programs and curriculum, including the MS degree programs in Community Development and International Agricultural Development (at UC Davis), the BA degree program in Chicana/o Studies (at UC Davis); and drafted plans for Latino Studies at Michigan State University and the University of Notre Dame.
At the beginning of his professional career, he was a member of Dr. Norman Borlaug's (Nobel Laureate) Green Revolution team in Asia, where he generated research on the diffusion and adoption of high-yielding varieties of wheat, rice, potatoes and corn, primarily among small farmers in Pakistan and Bangladesh. His research was based on field studies and interviews with small farmers. He published key reports on the primary and secondary impacts of new seed technology in Asia.
Professor Rochin is a native of Carlsbad California, born in a barrio and raised by hard—working, Spanish-speaking parents. His professional aim has been to enhance the effectiveness of programs and policies that improve education, socio-economic conditions, health and environment, and community well-being. To achieve these goals he has engaged in community service, research and evaluation, networking, and training through various government and charitable organizations. He has worked closely with both public and private sectors to strengthen their effectiveness in multicultural settings. He actively mentors to foster professional careers and academic leaders. His publications number over a hundred articles in professional journals, government reports and monographs on topics ranging from the shifting demographics in the U.S. and economic contributions of undocumented workers to public programs and rural reform policies to education and employment opportunities for immigrants from Central America.
View more detail on Professor Rochin.
Students
Teaching Experience
Graduate Level: International Trade, Finance & Development, Business Enterprise Development, Project Planning & Evaluation, Welfare Economics and The Economics of Community Development.
Undergraduate: American Demographics, Latino Community and Economic Development, Social Science Research Methods, Race & Ethnicity, Latino/a Studies, The Economics of Poverty & Inequality, Regional Planning & Development.
Subject Matter: Interdisciplinary Programs, Economic Development, Small Business Economics, Rural Workers, Latino Communities, Globalization, Immigration and Transnational Labor; Project & Cost Benefit Analysis; Strategic Planning & Impact Assessment.
Student Mentoring
Doctoral Dissertations Directed at Michigan State University.
Elaine Allensworth, Sociology, PhD., "Ethnic Transformation of Rural Communities of California," 1998.
Doctoral Dissertations Directed at U.C. Davis - Thesis titles approximate.
Buckley, Robert Agricultural Economics, PhD candidate, "Tests of Labor Market Segmentation Hypothesis: Analysis of Latino Concentration in Places & Occupations," 1981.
Soheila Khoii, Agricultural Economics, PhD, "Impact of Changing Property Tax Laws on Small Cities," 1982.
Zhu, Feng - Shu, Scholar from China, "Farming and Optimal Resource Utilization in the Region of Guyuan, China," 1986.
Mohammed Bahardar, PhD. Environmental Studies. "The Economic Returns to Biosphere Reserve Areas," 1993.
Bea Calo, PhD. "Chicano Entrepreneurship in Rural California: An Empirical Analysis," 1995.
Steve Hampton, PhD., "Self-employment Enterprises Within Colonias of the Southwest," 1995. Rochin was committee member.
Elias Lopez, PhD., "Social Capital in the Educational Attainment of Latinos," 1994.
Dawn Thilmany, PhD., "IRCA and Mexican Farm Labor in the United States," 1994. Rochin was committee member.
Supervised Thesis and Dissertations Master Degree Thesis - University of California, Davis.
El Fadil M. Elamin, "Economic Development in the Sudan," 1982.
David Masumoto, "Community Development Organizations," 1982.
Feliz Temel, "Community Development in Turkey," 1982.
Judith K. Stoft, "Women's Movements and Community Development," 1982.
Heidi Knight, "Labor Organizing and Community Development," 1985.
Louie Valenzuela, "California's Farm Labor and Strawberry Production," 1986.
Joseph C. Grossman, "Peasant Co-ops and Government Controls in Egypt," 1987.
Lynn Gilliland, "Women's Cooperatives of Nicaragua," 1987.
Brita Abele, "Planning Commercial Zones: trade & retail area analysis," 1987.
Ingrid Nyborg, "Organizing Credit Cooperatives for Small Farmers: Factors Conducive for Operational Success," 1988.
Jodee Solomon, "Cooperatives for Rural Development," 1988.
Gopi Ghosh, H/Humphrey Fellow, "Regional Planning in India," 1988.
Sekae Sylla, H/Humphrey Fellow, "Economic Planning in New Guinea," 1988.
Nicole Ballenger, "Labor Markets in the Borderlands of the United States." 1987.
Robert Maus, "Regional Planning and Community Development," 1987.
Ricardo Amon, "Agribusiness and Migrant Labor from Mexico," 1988.
Anne Evans, "The Economics of Consumer Cooperatives & Direct Marketing," 1988.
Fields Ashley Caveness, "Regional Planning in Australia," 1988.
Carlos Lozada, "International Agricultural Development: Dairy Farms of Peru," 1990.
Mohammed Bahardar, "Shift Share Analysis of the Tax Reform in California," 1990.
Ray Huffaker, "Rural Labor Markets and Economic Development," 1991.
Edward Dolber-Smith, Community Development, "Rural Poverty in California," 1990.
Karen Jetter, "The Availability and Prices of Consumer Goods and Services in Small Towns of Northern California." 1991.
Monica D. Castillo, "Immigration, Colonia Formation and Latino Poor in Rural California: Evolving Immiseration," 1992.
Pubs Online
View Rochin Publications and Citations at Google Scholar
Selected publications, many downloadable
Notable Docs/Pubs
Notable Publications and Presentations (downloadable)
Rural Latino - An Assessment of Evolving Conditions. 2013. By Refugio I. Rochin. Chapter 6 (pages 81-93) in "The Economic Status of the Hispanic Population." Information Age Publishing.
Latino Adaptations and Connections in Rural America. 2013. By Refugio I. Rochin. In Rural Connections. USDA Western Rural Development Center 8.I (2013): 11-16.
An Educational Journey. 2011. By Dr. Refugio Rochin – A Video Presentation: Taking students along the path of his educational journey from the barrio of Colton, California to becoming one of "America's Top 100 Influential Hispanics." Texas Lutheran University. 2011.
U.S. Latino Patriots. 2005. By Rufegio I. Rochin and Lionel Fernandez . Julian Samora Research Institute - Michigan State University e-book series (2005): 1-58.
Human Capital, Economic Development, and the Rural Poor: Discussion. 1990. By Rufegio I. Rochin. American Journal of Agricultural Economics: December, 1990 (Volume 72, Number 5)
The Conversion of Chicano Farm Workers into Owner-Operators of Cooperative Farms, 1970-1985. 1986. By Rufugio Rochin. Rural Sociology: Spring, 1986 (Volume 51, Number 1)
Rural Poverty and the Problem of Increasing Food Production on Small Farms: The Case of Colombia. 1977. By Rufegio I Rochin, Western Journal of Agricultural Economics. Volume 01, Number 01, June 1977.
Projects
Full-Professor in three disciplines: Sociology, Agricultural Economics, and Chicano/Latino Studies. Developed new academic programs and curriculum, including the MS degree programs in Community Development and International Agricultural Development (at UC Davis), the BA degree program in Chicana/o Studies (at UC Davis); and drafted plans for Latino Studies at Michigan State University and The University of Notre Dame.
Former Program Administrator of the Ford Foundation and member of the Nobel Laureate team of Dr. Norman Borlaug, known for "The Green Revolution in Asia". Developed research on peasant systems, diffusion and adoption of innovations, & income generation.
Team member of consultant teams and advisor to USDA, USAID/State Department and international organizations, for economic development projects and programs, including the following international activities: ( as Consultant (C), Team Leader (TL), and Principal Investigator (PI).

July-Aug 2014: CNFA Volunteer Farmer To Farmer Chimoio, Mozambique
Fall-2012: Kenya, CNFA Tech Expert on Resource Mobilization and Marketing
Wtr-2011: Ghana, ACDI/VOCA Chain-Market Consultant
2005-09: Mexico, Member "Red de Talentos" Ministry of Foreign Affairs
1997-98: Argentina, "Assessment of Agro-Industrial Potential, Entre Rios Province, for MERCOSUR Trade Region. (PI)
Sum 1994: South Korea/Rotary Club Fellow of Exchange Program
Sum 1992: West Bank & Gaza, US State Dept. Cooperative Sector Analysis. (TL)
Year 1991: Mexico/UC-MEXUS Scholar "World Food and Agriculture". (PI)
Spg 1991: Guatemala/USAID "Biosphere Reserve & Conservation Project". (PI)
Sum 1989: Honduras/USAID "Cooperatives & Farm Credit Systems". (C)
Fall 1988: Ecuador/USAID "Conservation Practices of Peasant Farmers". (C)
Sum 1985: Panama/USAID "Agricultural Technology and Transfer Systems". (TL)
1984: Mexico/Stanford University "Linking Peasants and Research". (PI)
1981-83: Egypt/USAID-UCD "Assessment of Agricultural Cooperatives". (PI)
Fall 1983: Peru/USAID "Assessment of Agribusiness Development Projects". (C)
Fall 1982: El Salvador/USAID "Impacts of Agrarian Reform". (PI)
Wtr 1980 & 1979 Barbados, Antigua, St.Vincent, St.Lucia, Montserrat, Dominica/USAID/Caribbean Development Bank "Agribusiness Investments" (TL) & "Inter-island Export Production and Marketing". (TL)
Fall 1978: Pakistan/USAID/OECD "Increasing Small Farmer Productivity". (PI)
Sum 1978: Peru/USAID "The Effectiveness of Research and Extension". (TL)
Wtr 1976: Pakistan/USAID/Stanford "Plan Communication Center". (C)
1973-75: Colombia/Ford Foundation "Integrated Rural Development". (PI)
1969-71: Bangladesh and Pakistan/Ford Foundation Staff Green Revolution Team, Included data gathering in Thailand and Philippines
1962-64: Colombia/Peace Corps Volunteer Leader-Community Development