Lawrence W. Witt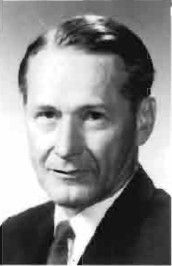 Department of Agricultural, Food, and Resource Economics
Professor Emeritus
AEC/AFRE Faculty, 1947-1971

Deceased
Degree:
Ph.D., 1941. Iowa State University
M.S., 1938. Iowa State University
B.S., 1937. University of Wisconsin
---
Bio-Info
Professor Emeritus Lawrence W. Witt was born on a farm near Milwaukee, Wisconsin 1914. His appointment at MSU was 50 percent teaching and 50 percent research. He was President, American Farm Economic Association, 1966-67, and Vice-President 1955-56. He was Book Review Editor, 1949-51 and Editor, 1952-54, of the Journal of Farm Economics. He was also an Associate in the Institute of Current World Affairs, 1941-43.
Before joining MSU in 1947, we was a Senior agricultural economist in USDA, 1943-46 working and traveling in Latin America. He spent Sabbatical leave of 1952-53 was spent with the American Universities Field Staff lecturing in the United States on Brazil. His 1965 sabbatical was spent in Arizona studying irrigation projects in Mexico and Southwestern United States.
During January-June 1961 he was a consultant with White House Offices of George McGovern, Special Representative of President Kennedy for Food for Peace. He has also served as consultant to the Food and Agricultural Organization of the United Nations, the Agricultural Colleges of Colombia, the University of Ankara, Turkey, the Economic Research Service of the USDA, the Committee for Economic Development and the Inter-American Bank. In 1966, he was on assignment in Brazil for the Midwestern Universities Consortium for International Activities (MUCIA) to work with the National Research Council of Brazil.
Languages: Portuguese, Spanish, Italian, French, German.
Students
Student Mentoring
Teaching Experience
Agricultural and economic development and agricultural trade
Pubs Online
Notable Docs/Pres