Herman J. Wyngarden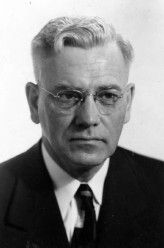 Department of Agricultural, Food, and Resource Economics
Former Chair and Professor Emeritus
MSU Faculty, 1924-1958

Deceased
Degree:
Ph.D., 1920. University of Michigan
M.S. . University of Washington
B.S. . University of Washington
---
Bio-Info
Biographical Information
(Herman J. and Helen D. Wyngarden Memorial Scholarship Fund at the Allendale Community Foundation. Established in memory of Herman J. Wyngarden, a long -time educator, this fund commemorates Dr. and Mrs. Wyngarden's commitment to education. Applicants must be a resident of Allendale township who wish to continue their education beyond High School, preference may be given to students who plan to study economics or nursing.)
Professor Emeritus Herman J. Wyangarden was born in Wisconsin. He was named head of the Department of Economics in 1943 and continued in that position until July 1, 1949 when he was appointed dean of Michigan State University's College of Business and Public Service. Professor Wyngarden came to Michigan State University as associate professor of economics in 1924. He had previously taught economics at the University of Michigan from 1921-24. He authored several publications in the field of money, banking and business cycles. He was appointed by President Roosevelt to serve on the Detroit area War Labor Board in 1943-46 and the War Stabilization Board during 1946-47. He was a member of many national organizations.
Professor Wyngarden served as dean of the College of Business and Public Service at Michigan State University from 1949-1958. Under his leadership, the school was separated into two divisions, the Division of Business and the Division of Hotel, Restaurant, and Institutional Management. He also oversaw the accreditation of the business administration program and the gaining of the formal status of a college.
Students
Students Mentored
Pubs Online