Blueberries
Sample Collection
Follow our instructions for sampling and submitting blueberry samples. The first step in accurately diagnosing plant problems is to make sure the submitted samples are representative of the problem and are of high quality. Please note, the sampling strategy may depend on the symptoms exhibited by the plants.
General plant decline
Decline can be the result of a combination of environmental and biotic factors. Having access to the whole plant allows for more thorough diagnostic work.
Select bushes that are symptomatic but not dead. We cannot process dead or dry plant material.
If possible, send the entire bush, including roots.

The bush should be dug carefully rather than pulled out of the ground to preserve the roots.
Excess soil can be shaken off the root zone of the plant and collected in a resealable plastic bag. Include at least one quart-size plastic bag of field soil. Do not use paper bags. This is a good way to collect soil for nematode analysis when a nematode problem is suspected.
Send the entire pot if the plant is potted.
Use a plastic bag to wrap the roots or pot to prevent roots from drying and keep soil off the leaves.

If the bush is too large, cut out roots and several shoots that show a range or progression of symptoms. Place roots and shoots in separate plastic bags.
Do not add wet paper towels or any form of extra moisture to the samples.
Always keep the collected materials cool prior to shipping
Blossom, twig and leaf blights
These samples are typically processed for the diagnosis of diseases caused by bacteria and fungi.
Select plant material showing a range or progression of symptoms. Make sure the plant material is still alive. Make cuttings of 8-10 inches in length with blossoms and/or leaves. Send a minimum of 5-10 cuttings per bush.
Leaves with abnormal shape or color
These samples are typically processed for the diagnosis of diseases caused by viruses.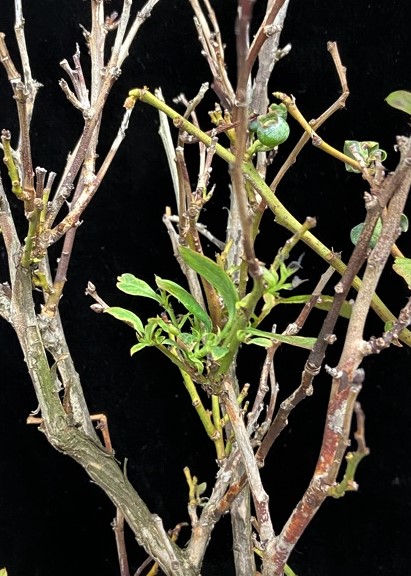 Select plant material showing a range or progression of symptoms. Do not collect leaves from different bushes. Collect shoots with a minimum of 5-10 symptomatic leaves.
Fruit rots
Fruit samples are processed for the diagnosis of disorders including those caused by fungi and insect damage.
Select 150 berries showing a range or progression of symptoms. Place fruit or fruit clusters in a crush-proof container (e.g., clamshell).
Soil for nematode analysis
Sampling for problem diagnosis usually occurs during the growing season.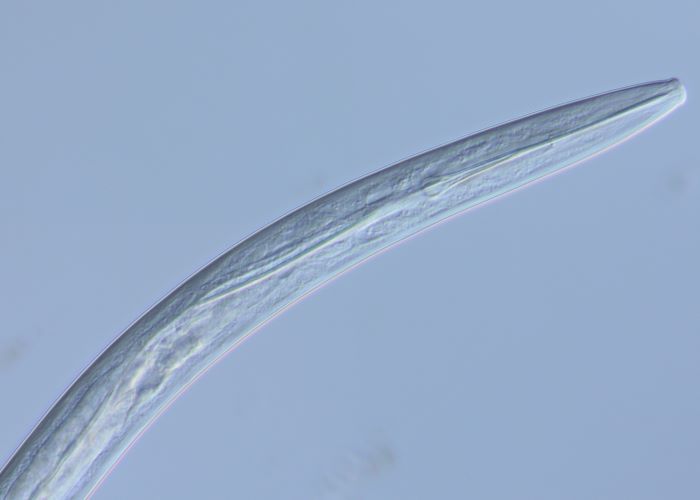 Identify spots in fields where symptoms of undetermined causes are evident and collect soil and roots from the margins of those areas. The margins of diseased areas are where nematode numbers will typically be highest. Place samples in resealable, quart-size plastic bags as soon as possible. Roots and soil can be bagged together. Do not use paper bags.
More information on sample collection for nematode analysis can be found in "Detecting and avoiding nematode problems".
Sample Submission
Plant and soil samples should always be kept cool prior to shipping. Do not expose samples to direct sunlight and do not store them in hot areas, such as the trunk of your car.
Images: if possible, take pictures of the distribution of the symptoms in the field. These are very helpful to show stunting, poor stand issues, differences in color, field patterns, etc. Email actual-size images to pestid@msu.edu.
Fill out a Sample Submission Form as completely as possible. If you are a Michigan blueberry grower participating in the 2022 Michigan Blueberry Commission (MBC) program, download the MBC Sample Submission Form. Placing the form inside a plastic bag will protect it from dirt and moisture.
Shipping Samples
We highly recommend shipping samples on the same day as collection to prevent sample deterioration.
Package samples in a box; do not send samples in an envelope.
Overnight or priority delivery is recommended. Do not ship samples on a Friday.
Ship samples to: Plant & Pest Diagnostics, Michigan State University, 578 Wilson Rd., East Lansing, MI 48824-6469.
Samples can also be delivered in person to the facility