In the Field: Pat Crawford
Author: In the Field: Pat Crawford
Pat Crawford, School of Planning, Design, and Construction at Michigan State University, discusses the DETXMSU project.
May 21, 2018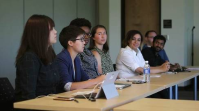 ---
Pat Crawford, School of Planning, Design, and Construction at Michigan State University, discusses the DETXMSU project--bringing MSU students to the Motor City, where they live in and learn about the community.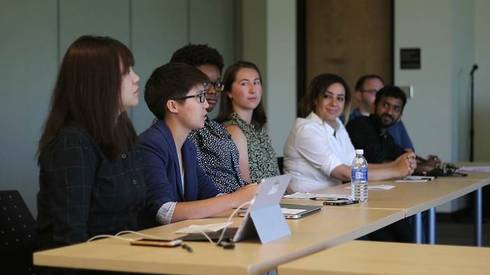 In the Field, The DETXMSU project with Pat Crawford - Transcript
Kraig Ehm: Welcome to In The Field, a podcast originating from the College of Agriculture and Natural Resources at Michigan State University. I'm your host Kraig Ehm. In this episode of In The Field, I'm joined by Pat Crawford, Associate Director, School of Planning, Design and Construction at Michigan State University. Pat, what is Detroit by MSU?

Pat Crawford: The Detroit by MSU Program is an idea initiated with Provost June Youatt and Janet Lillie out of the Governmental Affairs Office. Part of their initial concept was how can we expand and continue the great work that MSU already does in Detroit, but now how can we do it with an overarching umbrella, which is what we call Detroit by MSU, to bring many students to Detroit with a key factor of they actually live in Detroit and learn about the community.

Ehm: What were some of the reactions from the students after they had finished?

Crawford: The students were at first a little concerned about living in Detroit. They were all provided housing at Wayne State University in combination with their internships and educational programming. Almost to the person, they left Detroit with a very different feeling about what Detroit is. The myths were then debunked. They found it to be an exciting place. Several of them even moved from potentially seeing their future careers in Detroit or in an urban area, which is something they hadn't really thought about before.

Ehm: What specifically did they work on?

Crawford: With the program, we had people from seven colleges and six specific programs. They worked on everything from participating with the city government all the way to working with the DNR on Belle Isle. They also worked with some entrepreneurs who were in the area, understanding what they're doing and their maker spaces. We were extremely diverse group with folks from across the board.

Ehm: Pat, what grabbed your attention on this project where you said, "Hey, I want to be a part of that."

Crawford: What really got me excited at first was the idea of it's Detroit by MSU. That means it's Detroit first. We spent a year and a half kind of developing the programming to launch for the summer. The faculty were very good at keeping in the front of their mind Detroit first. We weren't helicoptering students in and out. It was to have a true Detroit experience and hopefully the students while learning were also giving back to the community through their work with the entrepreneurs who are there, the government, the historical society, the Belle Isle Conservancy, whatever groups they could connect with.

Ehm: Why Detroit?

Crawford: I think Detroit is something that as Michigan State University we do need to pay attention to. We do. A lot of our programs do. I don't want to miss anyone who's doing wonderful things there, education, nursing, music, but it's a place that the university needs to spend some head time thinking about how can we help and assist and work with Detroit. It is on the rise and to be a part of that is very exciting.

Ehm: MSU has great resources to be able to help Detroit.

Crawford: We do. When we start to bring all of our colleges together and start thinking in cross disciplinary, multidisciplinary ways, because one of the things they say is that the problems of the future or the problems we have now aren't going to be solved by one discipline. It's going to be bringing creative thinking from business with design, with communications, really putting that together. This program, because all the students stay together at Wayne State, helped us to help cross feed that pollination. Even though they were on educational programming that was very specific to their degree and their career path, they were then having a multidisciplinary experience in the community and with each other.

Ehm: This was a collaborative program between Sparty and community partners.

Crawford: The collaborations were very much with the local government people. We had one group who worked with the housing and the potential foreclosure. A lot of the students did door-to-door, so very hands-on with the community and the government. The one group that I worked with, we worked with the DNR on Belle Isle and working with how do we help design the park to work towards its new master plan. It doesn't have one yet. They're still working on it. We also had some teams working with new entrepreneurs and how can they expand their business in those areas.

Ehm: From the MSU standpoint, who collaborated?

Crawford: At MSU, we had an amazing and exciting diverse group of people. If you don't mind, I'd like to share who they were. We had people from the residential arts and humanities looking at culture and science. We had people from social science, political science, and that's a lot of work with the government. We had people with arts and letters and some of them were working with Historic Preservation Society. We had communication arts and some of them were also helping to video tape and take photographs of our process so that we can share our story. We had people from ag and natural resources from planning, design and construction. We looked at park design.

Crawford: We also were able to partner with a bunch of people from engineering. They have a very strong program there and we were able to work with them. Some of their students did participate with us in some of our projects. They shared some of the skills they've have with placing internships in Detroit area.

Ehm: When the people of Detroit saw MSU show up, what was the reaction?

Crawford: I think I can honestly say the people we were connected with were very excited to see us, but the faculty used connections, expanded connections to reach out and find people who were really interested in bringing in students because that's some of the exciting part is to have the students come work with them. I've found most citizens, they love having the students come talk to them because their ideas are fresh. You never know what they're going to say.

Ehm: And they're energetic.

Crawford: They have more energy than some of us older folks. We have to remember when we used to be that energetic.

Ehm: How about some of the results?

Crawford: I would say some of our biggest results were with some of the placements in some of the businesses and the government agencies. One example being the housing and the ability of the students to go door-to-door and help people figure out the forms that they needed to do to be able to keep their homes. That's such an important issue in the Detroit area.

Ehm: Detroit has a reputation in the past of a bad housing market, so having the MSU students be able to go down there help them to keep from being foreclosed on, encouraging for the residents of Detroit.

Crawford: Yes, it was very encouraging. It's dealing with one of the base things because you have to have food and shelter and feel safe. It's helping to address just one of the basic issues. Because once you get those, then you can start expanding and growing the other things you need for our community to survive and be happy and productive.

Ehm: The Detroit by MSU Project also fits in with Michigan State University's World Grant mission too.

Crawford: Yes, it does. One of its foundational philosophies of Detroit first because it's Detroit by MSU, not MSU by Detroit. By going in with that focus of Detroit first, having the students live there and be a part of the community for me really is the World Grant mission.

Ehm: What would you say to somebody either faculty or a student at Michigan State that would help encourage them to get involved in a project like this?

Crawford: To encourage people, one of the first things that we learned is you just have to share the project that you're doing and it's naturally exciting and to be able to live there for the summer, live there while you do your work. Because even if the faculty and the students, they get tired too of helicoptering in and out. The living component, to be able to part of the community for a little while. When you talk with students about how you will be receiving an education within the discipline of your choice, you will advance your career goals, but you will also provide service to the community, and that really excites the students. They like that idea of giving back while also completing their education.

Ehm: Is this an ongoing project? Will you do this again?

Crawford: We are doing another round this summer. We have focused it into summer long internships. The previous model we were very flexible. It was because it was our learning experience. This summer we are going to have 50 students with internship placements in Detroit in various government, nonprofit agencies. They will live there and they will be working mostly through political science, but the 50 students are from across MSU. They have internal diversity for the university represented.

Ehm: This would be kind of like study abroad Detroit style?

Crawford: There you go. Study abroad Detroit style.

Ehm: What put a smile on your face everyday, Pat, when you are working with Detroit by MSU?

Crawford: Some of the exciting and the stuff that made it worth all the work was two sided, to see how happy the Detroit partners were to work with the students, to watch them talk and work with students is a blast, and then to watch the students also. But we had the privilege of one afternoon, President Simon came and joined the design think group and they were working at Belle Isle. We were in the butterfly garden and we were practicing some of our observation and sketching techniques. The president was able to come through. She sat. She talked with every student and to see those authentic smiles from the president to a sophomore sitting there talking in the park.

Ehm: I would like to thank Pat Crawford for sitting down for this interview for In The Field. Have a great day.


Related Series