Marian Reiter: 40 years of graphical magic at Michigan State University
Author: In the Field
"I found the Michigan State University Graphic Design program, and it was my life-long goal to be an artist, says Marian Reiter, Graphic Artist in the College of Agriculture and Natural Resources at Michigan State University."
May 22, 2018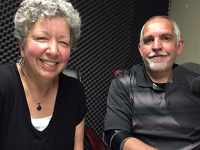 ---
"I found the Michigan State University Graphic Design program, and it was my life-long goal to be an artist. I wanted to be a scientific illustrator—that was one of my goals" says Marian Reiter, Graphic Artist in ANR Communications and Marketing in the College of Agriculture and Natural Resources at Michigan State University.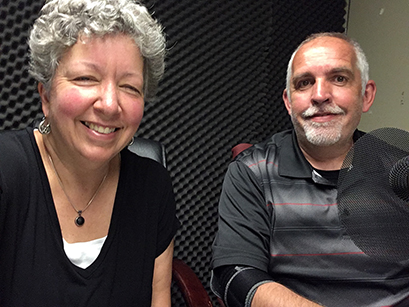 In the Field: 40 years of graphical magic at Michigan State University with Marian Reiter - Transcript
Kraig Ehm: Welcome to In The Field, a podcast originated from the College of Agriculture and Natural Resources at Michigan State University. I'm your host, Kraig Ehm. In this episode of In The Field, I'm joined by Marian Reiter, graphic artist with A&R Creative in the College of Agriculture and Natural Resources at Michigan State University. Marian, thanks for joining me.

Marian Reiter: Thanks, Kraig. This is really fun. Thanks for inviting me.

Ehm: Marian, you've been a Spartan since you were a child.
Reiter: Yes, I started at MSU in the second grade. My dad was visiting educator. We lived in Spartan Village with a lot of other kids of students, grad students, people from all over the world. And I learned to love Michigan State at an early age.

Ehm: How about your college education? Where did you end up going to school?

Reiter: Well, I came back to Michigan State University. I think I really loved the campus, and I wanted to come back to it. I found the MSU graphic design program, and it was my lifelong goal to be an artist. I wanted to be a scientific illustrator. That was one of my goals.

Ehm: After graduation, what kind of a job did you get?

Reiter: Well, actually I started out in the department of entomology while I was in school, and I was working in a lab. I was working the serial leaf beetle research project with Dr. Stan Welso in Agriculture Hall where I work today. We did a lot of running out to the field and taking test measurements and bugs. We made cages for the bugs. We did all kinds of research projects and I really enjoyed that, but I also got to illustrate insects which was part of my goal. After I graduated, I continued on working with the integrated pest management program with entomology and several other departments at Michigan State.

Ehm: In the 80s, you began working with 4H.

Reiter: 4H was one of our partners that came in and picked up some of my funding as I was working in the graphics lab for the college of natural science. They eventually took over all my funding, and I worked on curriculum projects. I worked on the spaces program which was a Kellogg funded program. Very exciting.

Ehm: Now in 2010, you packed up your graphics toolbox, and you joined A&R Communications.

Reiter: Yep. That was really part of a lot of the reorganization with extension. I had been working with 4H and children, youth, families, and communities primarily before that, and then all of our communications staff joined A&R Communications formally. I really have enjoyed it. It's been a great professional team. I love coming to work every day and working with everybody. Video and visual and writers and communications managers. It's really really fun.

Ehm: Outside of your work at MSU, martial arts is a big part of your life.

Reiter: Yeah, I kind of fell into that. It's something that I wanted to do as a teen, and I pursued it. After I graduated, I started taking classes through the MSU karate club, and then I connected up with a school in Lansing that's directed by [inaudible 00:03:26], one of the top master teachers in the world. And so I continued on to help instruct a class at MSU, the kinesiology karate program. So I do that on my lunch hours.

Ehm: What level have you attained?

Reiter: I'm at a 5th degree black belt now, but that really doesn't mean a lot. Just a lot of years.

Ehm: Means a lot to me. Means, yeah, that means I want you behind me if I were to go into a dark alley. But you're also a bicyclist, right?

Reiter: Yeah, I love bicycling. It's just a fun thing. I started bicycling when I used to work in the fields. I used to bicycle out to the MSU fields every day. It was so enjoyable to just take to the roads at MSU and see all the beautiful landscape, and I still bicycle for the same reason today. I like to bicycle commute and see where I can go on a bike.

Ehm: What have been some of the bigger challenges you've faced as a graphic artist.

Reiter: Well a lot of the projects that I worked on, they were team projects. They were startup projects. They were large grants, and we started out with kind of vague ideas of where we were going. We had some big concepts, but we really had to work out the details. And working on the teams as a graphic artist, I worked with everybody else daily to figure out, "Okay, what direction are we going in? What's this gonna look like?" So starting from kind of some basic concepts and working our way to final products. And I would say that big challenge is also the thing that really inspires me.

Ehm: Graphics has changed over the years as far as what you used to use versus what you use today?

Reiter: Oh, absolutely. When I started out, it was all cut and paste. We sent our type to typositor. We did everything by hand including when I worked in the field and did data was all hand transcribed. We didn't have copy machines. So in a very ... I mean, forty years is not that long. That's how long I've been doing this, and we've gone a long ways. One of the common themes that I've had at MSU is that I've had the chance to work with some really amazing creative teams, and I think that's the thing ... You know you say forty years. Oh, that has to be really boring to do the same thing for forty years, but it has not been the same thing, and I've had the pleasure of working with just an amazing teams of people. Researchers, creatives, professors, and all different areas of Michigan State, and I love the synchronicity of teamwork, and this is a great place for that. So if it's a web team, if it's a creative design team, or a science team, it's the same kind of excitement for me.

Ehm: What puts a smile on your face when you come to work every day, especially since you've been here at MSU for forty years?

Reiter: Well, it's the people. It's the teams, and I love our creative teams. Every team that I've been a part of has just been a lot of fun, and the A&R creative team is no different. It's a great group of folks. We have a good time working together. We work through the challenges in a great way, and we keep a sense of humor, and that's what makes it a great place to work.

Ehm: You've taught karate here to students, but you also work with students in graphics in A&R Creative, and you kind of take them under your wing. Do you have fun doing that?

Reiter: Absolutely. And I've seen some amazing students come through from my 4H days ... Well, even before that in the days in the natural science department, and they've grown up to become incredible workers and human beings and they still contact me and tell me about their lives, and it's really a pleasure to hear how our time working together has affected them. I love the idea of developing people's skills and then helping them to get to the next stage of their life.

Ehm: Since you've been at MSU, was there a memorable opportunity that you were able to take advantage of?

Reiter: Absolutely. We had an incredible opportunity when we worked on the Spaces program with 4H. We had a grant that was looking at global education for youth, and we were invited to go to Chengdu, China. This was in late 1980s so it was just opening up to the US. It was a lifelong dream also to go and visit China. So I was accompanying Betsy Knox, and we went to talk with people about an exchange program. We visited art schools. I was the photographer so I got to photograph our trip. We got to photograph schools and wonderful art centers and develop relationships with people that later we worked with on the art exchange program. So it was, I would say, a life changing opportunity.

Ehm: What stood out in your mind as far as when you saw it when you were in China you were just like wow.

Reiter: Oh my gosh. There were so many things that were amazing to me. The transportation because I love bicycling. Seeing bicycles and all the ways that bicycles were used to transport things. The welcoming of the people was just amazing. We were welcomed by teachers and our interpreters were fantastic. The visuals, sights, and sounds, and smells of the city ... It was just amazing to me. I've been to big cities before, but nothing of the scope of Chengdu at that time.

Ehm: Would you go back?

Reiter: I would. I would love to go back. I would love to go back.

Ehm: I'd like to Marian Reiter, graphic artist with A&R creative for joining me today. Be sure and listen next time for another episode of In The Field.