$2.5 billion
estimated economic impact of Project GREEEN in its first 20 years
$31.50
return for every $1 invested in Project GREEEN research and outreach
1,186
average number of jobs supported each year by Project GREEEN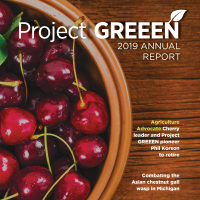 The 2019 Project GREEEN Annual Report details some of the recent research and extension projects that received funding from Project GREEEN.
Mission
Project GREEEN produces industry-driven research and outreach that works to enhance plant agriculture through:
Developing research and educational programs in response to industry needs.
Ensuring and improving food safety.
Protecting and preserving the quality of the environment.
Vision
Project GREEEN, Michigan's plant agriculture initiative housed at Michigan State University, is a cooperative effort by plant-based commodity groups and businesses in cooperation with Michigan State University AgBioResearch, Michigan State University Extension and the Michigan Department of Agriculture and Rural Development to advance Michigan's economy through plant-based agriculture.
News
Published on October 14, 2019

From using smartphone apps to soil testing and seed placement, growers aim to increase efficiency of their operations.
Published on September 30, 2019

Phil Korson, a stalwart of the Michigan tree fruit industry for more than 30 years, is retiring effective Jan. 1, 2020.
Published on March 4, 2019

Two MSU researchers are creating a model that measures the allergenicity of various wheat varieties. They hope to validate the model and eventually use it as a pre-clinical testing tool to develop non-allergenic wheat products.