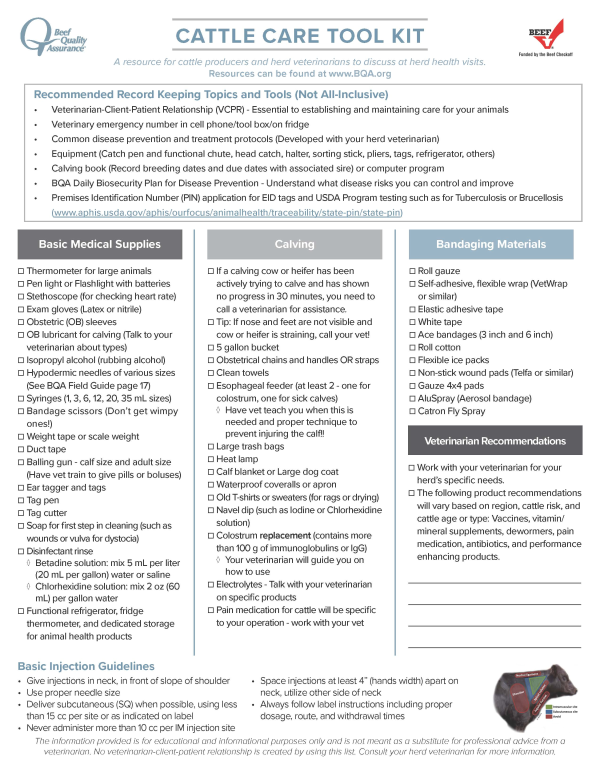 BQA Cattle Care Tool Kit
DOWNLOAD
September 25, 2023 - Author: Beef Quality Assurance and Beef Checkoff
Recommended Record Keeping Topics and Tools (Not All-Inclusive)
Veterinarian-Client-Patient Relationship (VCPR) - Essential to establishing and maintaining care for your animals.
Veterinary emergency number in cell phone/tool box/on fridge.
Common disease prevention and treatment protocols (Developed with your herd veterinarian).
Equipment (Catch pen and functional chute, head catch, halter, sorting stick, pliers, tags, refrigerator, others)
Calving book (Record breeding dates and due dates with associated sire) or computer program.
BQA Daily Biosecurity Plan for Disease Prevention - Understand what disease risks you can control and improve.
Basic Medical Supplies
Thermometer for large animals
Pen light or Flashlight with batteries
Stethoscope (for checking heart rate)
Exam gloves (Latex or nitrile)
Obstetric (OB) sleeves
OB lubricant for calving (Talk to your veterinarian about types)
Isopropyl alcohol (rubbing alcohol)
Hypodermic needles of various sizes (See BQA Field Guide page 17)
Syringes (1, 3, 6, 12, 20, 35 mL sizes)
Bandage scissors (Don't get wimpy ones!)
Weight tape or scale weight
Duct tape
Balling gun - calf size and adult size (Have vet train to give pills or boluses)
Ear tagger and tags
Tag pen
Tag cutter
Soap for first step in cleaning (such as wounds or vulva for dystocia)
Disinfectant rinse

Betadine solution: mix 5 mL per liter (20 mL per gallon) water or saline
Chlorhexidine solution: mix 2 oz (60 mL) per gallon water

Functional refrigerator, fridge thermometer, and dedicated storage for animal health products
Calving
If a calving cow or heifer has been actively trying to calve and has shown no progress in 30 minutes, you need to call a veterinarian for assistance.
Tip: If nose and feet are not visible and cow or heifer is straining, call your vet!
5 gallon bucket
Obstetrical chains and handles OR straps
Clean towels
Esophageal feeder (at least 2 - one for colostrum, one for sick calves)

Have vet teach you when this is needed and proper technique to prevent injuring the calf!!

Large trash bags
Heat lamp
Calf blanket or Large dog coat
Waterproof coveralls or apron
Old T-shirts or sweaters (for rags or drying)
Navel dip (such as Iodine or Chlorhexidine solution)
Colostrum replacement (contains more than 100 g of immunoglobulins or IgG)

Your veterinarian will guide you on how to use

Electrolytes - Talk with your veterinarian on specific products
Pain medication for cattle will be specific to your operation - work with your vet
Bandaging Materials
Roll gauze
Self-adhesive, flexible wrap (VetWrap or similar)
Elastic adhesive tape
White tape
Ace bandages (3 inch and 6 inch)
Roll cotton
Flexible ice packs
Non-stick wound pads (Telfa or similar)
Gauze 4x4 pads
AluSpray (Aerosol bandage)
Catron Fly Spray
Veterinarian Recommendations
Work with your veterinarian for your herd's specific needs.
The following product recommendations will vary based on region, cattle risk, and cattle age or type: Vaccines, vitamin/ mineral supplements, dewormers, pain medication, antibiotics, and performance enhancing products.
Basic Injection Guidelines
Give injections in neck, in front of slope of shoulder
Use proper needle size
Deliver subcutaneous (SQ) when possible, using less than 15 cc per site or as indicated on label
Never administer more than 10 cc per IM injection site
Space injections at least 4" (hands width) apart on neck, utilize other side of neck
Always follow label instructions including proper dosage, route, and withdrawal times
The information provided is for educational and informational purposes only and is not meant as a substitute for professional advice from a veterinarian. No veterinarian-client-patient relationship is created by using this list. Consult your herd veterinarian for more information.