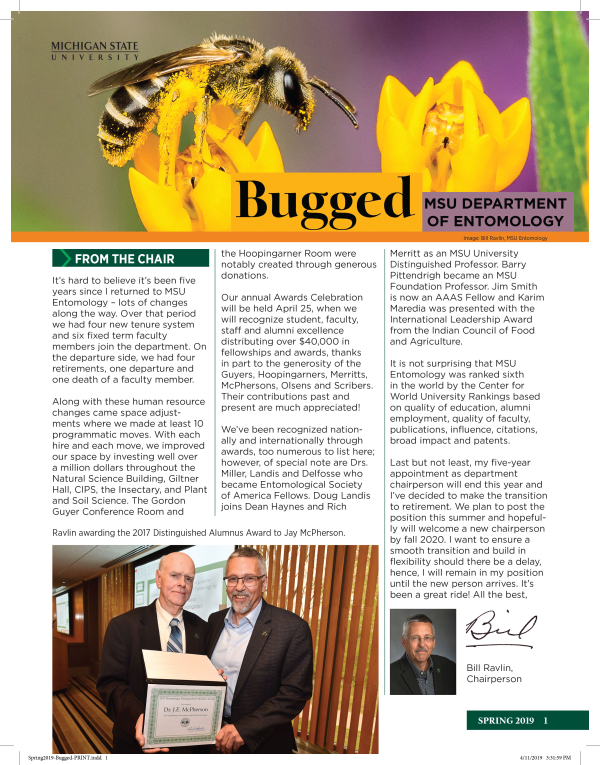 Bugged - Spring 2019
DOWNLOAD
April 22, 2019
With grit, determination and the wisdom of experience, the Spartan men's basketball team made it all the way to the NCAA Final Four and triumphantly brought home with them the message, WHO WILL? SPARTANS WILL.
A quick look through our spring Bugged newsletter will remind you this tagline doesn't stop with basketball. Our entomologists continue to answer the call to address global challenges, making a difference at home and abroad:
Marianna Szűcs has been awarded $300k from the State of Michigan to battle the invasive vine swallow-wort with a newly approved biological control agent.
Karim Maredia, Ruth Mbabazi, David Mota-Sanchez and Barry Pittendrigh contributed to a workshop in Myanmar to help find management solutions to fall armyworm. An old pest in Michigan, Southeast Asia is newly struck by this significant agricultural pest.
2017 graduate Abdulwahab Hafez speaks about his work as a professor at King Saud University and how he is building his lab team to be "globally diverse like the John Wise lab," because he has seen the strength of diverse collaboration in action.
Our entomologists are part of furthering science to save the iconic monarch butterfly. Doug Landis' lab team is learning about predator impacts and pursuing tactics like strategically timed mowing of milkweeds to increase egg-laying and larvae survival. David Mota-Sanchez reports on monarch sanctuaries where locals help him collect data on overwintering populations.
This newsletter also reflects that students power our will to prepare for future impact. Undergraduate Michael Killewald has gained significant research experience in Rufus Isaacs' lab that he will apply to a PhD program with Jason Gibbs -- former Isaacs post-doc -- at the University of Manitoba. Graduate student Kayleigh Hauri looks forward to taking her plant chemical defense studies into the field with the Will Wetzel lab at Kellogg Biological Station this summer.
And speaking of the future, department chairperson Bill Ravlin is also preparing to explore new territory – retirement. Ravlin will be completing his five-year appointment as department chairperson at the end of 2019 and has decided to transition to retirement.