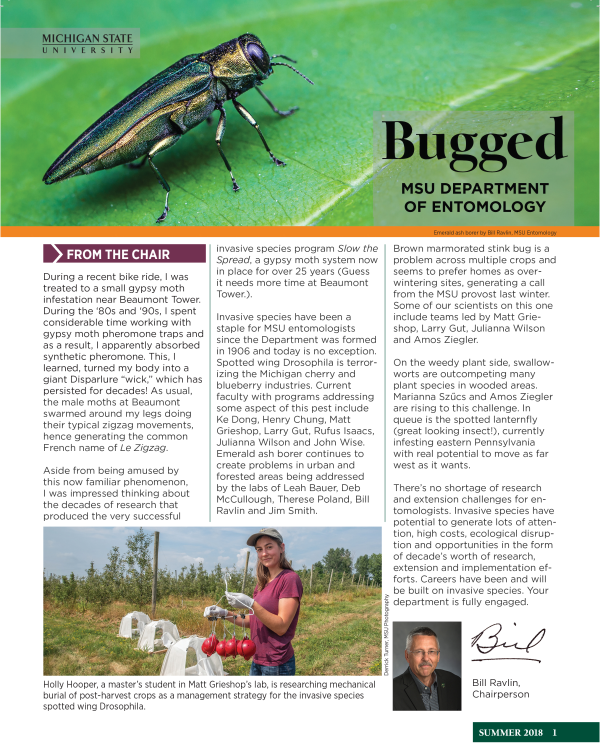 Bugged - Summer 2018
DOWNLOAD FILE
August 17, 2018
Summer on campus can be an unusual mix of quiet streets, discovery and beauty. While many students and faculty have left campus, most of ours are here learning and making discoveries. In the Bugged summer 2018 issue, you'll read how faculty and their students, including alumni, are receiving recognition through awards and honors for the quality of research, extension and teaching produced.
This issue of Bugged offers a look at what we've been doing the past few months:
Will Wetzel and Moria Robinson have a combined $655,000 from USDA NIFA to explore exploiting a diversity of plants' built-in defenses to ward off pests.
Jen Pechal shares her experience being interviewed on Public Radio International's Science Friday.
The Department celebrated award-winners and donors at our April recognition event, including our 2018 Distinguished Alumnus, Ernest Bernard.
Ruth Mbabazi received an emerging leader award for her international collaborations.
Student interviews with Connor Sturr and Nicole Wonderlin remind us that our students' MSU experience is wide ranging: teaching, multi-state research, Spartan Marching Band, the Bug House.
Eight MSU deans published in Inside Higher Ed imperatives of culture change that can become a catalyst for transformation at MSU and other higher education institutions.
Also, see photos spotlighting Entomology coming together in labs and the field to make science happen.