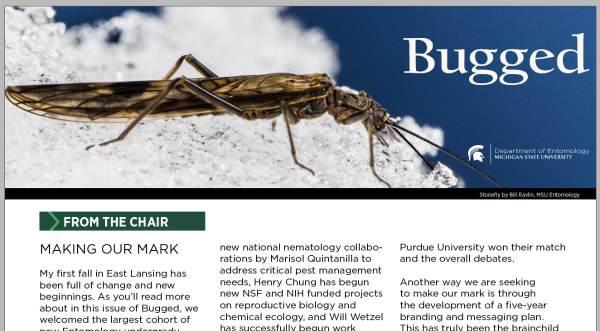 Bugged Winter 2023
DOWNLOAD
January 20, 2023
Fall Semester 22 was full of change and new beginnings. Some of the highlights included:
The first cohort of the Entomology Research and Outreach Fellowship (EROF) got underway.
Entomology students brought home multiple prizes from the ESA Annual Meeting.
Entomology's Undergraduate numbers are now at parody with our Graduate numbers.
2021 Distinguished Alumnus John Wallace returned to present to our seminar series
Marisol Quintanilla brings a Midwest perspective to the PAPAS Project
Meghan Milbrath has been awarded a USDA extension grant to improve training and tools for veterinarians, veterinary students, technicians and in honey bee medicine.
The Department of Entomology introduces "Bugs Work!", a campaign to recognize donors, enhance recruitment and promote our department.
We are proud of our community and look forward to a productive year ahead.
Hannah Burrack, Professor and Chairperson
Department of Entomology
Michigan State University
Ph: 517-355-4665,
Email: burrackh@msu.edu