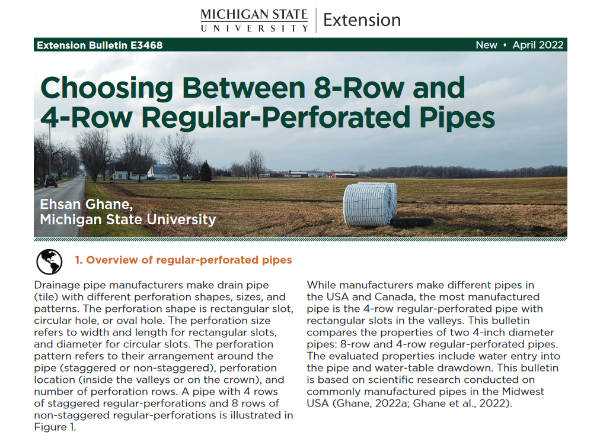 Bulletin E3468


Choosing Between 8-Row and 4-Row Regular-Perforated Pipes DOWNLOAD FILE

April 1, 2022 - Author: Ehsan Ghane, Michigan State University Extension

Overview of regular-perforated pipes Drainage pipe manufacturers make drain pipe (tile) with different perforation shapes, sizes, and patterns. The perforation shape is rectangular slot, circular hole, or oval hole. The perforation size refers to width and length for rectangular slots, and diameter for circular slots. The perforation pattern refers to their arrangement around the pipe (staggered or non staggered), perforation location (inside the valleys or on the crown), and number of perforation rows.

While manufacturers make different pipes in the USA and Canada, the most manufactured pipe is the 4-row regular-perforated pipe with rectangular slots in the valleys. This bulletin compares the properties of two 4-inch diameter pipes: 8 row and 4-row regular-perforated pipes. The evaluated properties include water entry into the pipe and water-table drawdown. This bulletin is based on scientific research conducted on commonly manufactured pipes in the Midwest USA (Ghane, 2022a; Ghane et al., 2022).

To read more about this, go to the MSU Extension Drainage Website.