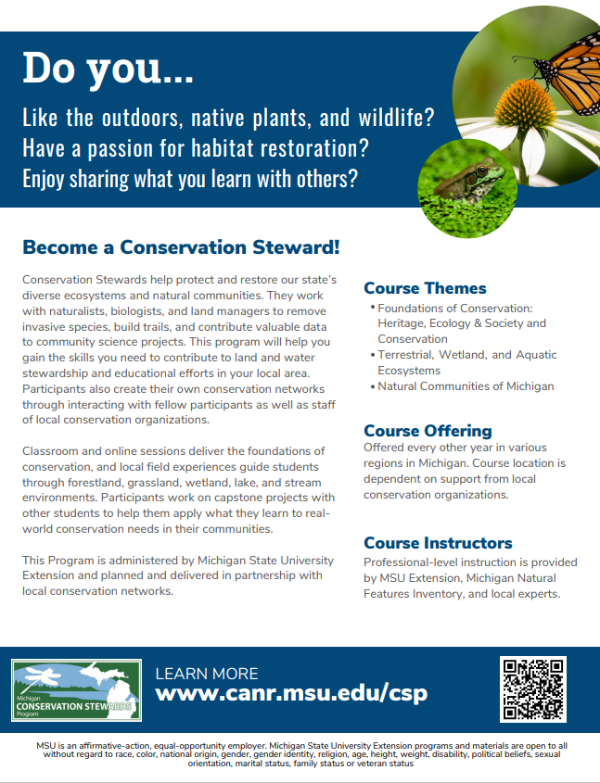 Conservation Stewards Program Flyer
DOWNLOAD
June 1, 2023
Do you...
Like the outdoors, native plants, and wildlife?
Have a passion for habitat restoration?
Enjoy sharing what you learn with others?
Become a Conservation Steward!
Conservation Stewards help protect and restore our state's diverse ecosystems and natural communities. They work with naturalists, biologists, and land managers to remove invasive species, build trails, and contribute valuable data to community science projects. This program will help you gain the skills you need to contribute to land and water stewardship and educational efforts in your local area. Participants also create their own conservation networks through interacting with fellow participants as well as staff of local conservation organizations. Classroom and online sessions deliver the foundations of conservation, and local field experiences guide students through forestland, grassland, wetland, lake, and stream environments. Participants work on capstone projects with other student to help them apply what they learn to real-world conservation needs in their communities.
This Program is administered by Michigan State University Extension and planned and delivered in partnership with local conservation networks.
Course Themes
Foundations of Conservation: Heritage, Ecology & Society and Conservation
Terrestrial, Wetland, and Aquatic Ecosystems
Natural Communities of Michigan
Course Offering
Offered every other year in various regions in Michigan. Course location is dependent on support from local conservation organizations.
Course Instructors
Professional-level instruction is provided by MSU Extension, Michigan Natural Features Inventory, and local experts.