Two steps forward for nature and wildlife
Sixty new Michigan Conservation Stewards Program participants display their projects on October 18, 19 and 20. How will they improve Michigan's natural environment?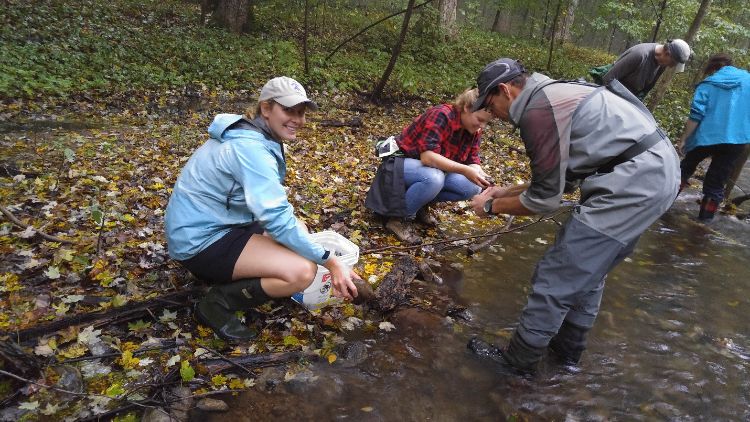 What aspects of the environment do Michigan residents appreciate the most? Despite the signs of hunting enthusiasm this time of year, wildlife isn't the first thing people mention. Most people in Michigan are more concerned about fresh water, trees and open space than they are about the size of the rack on their buck.
Many people are finding ways to make a difference for the natural environment. For 10 years, groups of adults have been coming together to learn new skills and knowledge from Michigan State University Extension. Michigan Conservation Stewards Program attendees attend classes one night per week for seven weeks. Content is a mix of online and in-class learning. Two Saturday field trips make the learning concrete. Finally, they apply their knowledge by setting up their own real-world projects.
This week, 60 will complete their Michigan Conservation Stewards Program at commencement programs on October 18, 19 and 20. After the class ends, they will donate 40 hours each year in their communities. Imagine if everyone who has gone through the program were to complete their annual 40 hours of community service. In 2017, Michigan's lakes, streams, rivers, wetlands, forests and open spaces would be getting a remarkable 24,000 hours committed to environmental stewardship from Conservation Stewards alone.
What inspires people to commit to the program?
To answer that question, I spoke with two stewards who live in Jackson County. Current programs are only offered in a handful of counties. The attendees I spoke with had to travel to other places to attend the program.
"I think this program is really valuable and should be offered locally. I decided to try and bring it to Jackson for my individual project," said Pat Gallagher. New to environmental studies, Pat brings experience in community service and business. She gained the confidence to provide leadership, so others in Jackson County can learn the material too.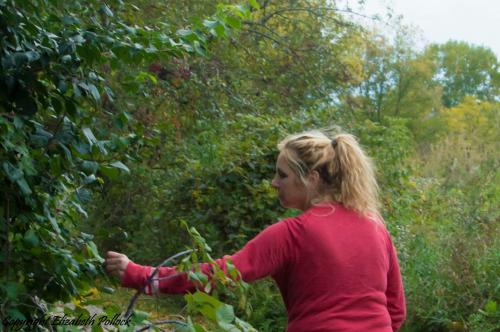 The mixed online, in-person format is designed to be applicable across the state. A local planning team has several tasks. They find locations for hosting the in-person sessions and hands-on learning places. The planning team also recruits experts to help teach the material. Local planners help to ensure stewards are making the connections they need for project success. Statewide planners at MSU Extension keep the information consistent across regions.
Bill Strohaver became a conservation steward in 2011 when he took the class in Kalamazoo. He said, "I too wanted to start the program in Jackson County when I took the class."
But initiating new community projects requires more than knowledge and skills of individuals. It requires a community network where people can find out where they fit. That's where MSU Extension staff can help.
Consider this: Pat and Bill have been long time volunteers at Dahlem Nature Conservancy. Despite this, they didn't know of each other's interest in starting a program in Jackson. I am working with long time program organizers on expanding to new areas. When I learned of Pat's interest, I introduced her to Bill who had also expressed interest.
Now they can support each other in achieving this dream. If we are successful, the Michigan Conservation Stewards Program may soon be offered in Jackson County. Local businesses such as Legacy Land Conservancy, Hidden Lake Gardens, MacCready Reserve and Catherine Riseng have said they would help launch the program in Jackson.
Starting new things takes leadership. Even with a strong team and a solid plan, success is not guaranteed. If we are successful, more people will get a chance to learn what wildlife and nature areas need help from us to be healthier.
Here are some ways trained volunteers can make a lasting difference with their community service
Find volunteer opportunities using the Michigan Conservation Stewards Facebook page or the Stewardship Network volunteer opportunities website. Businesses and volunteers can report hours and share lessons learned.
Teams can launch the training program in more locations.
Be inclusive. Strive to involve diverse groups.
Ask for help with promotion from local media.
Conservation stewards learn that people can take actions to support a healthy outdoors. They have devoted themselves to learning the trade. Healthier wetlands, streams, fields and forests mean greater wellbeing for all, including the wildlife with the big racks.
Details of the Michigan Conservation Stewards Program can be viewed at the program page on the MSU Extension. An evaluation of the program is available online at Journal of Extension.