FSP's Mid-term Performance Evaluation Is Featured on USAID DEC Newsletter
DOWNLOAD FILE
December 21, 2017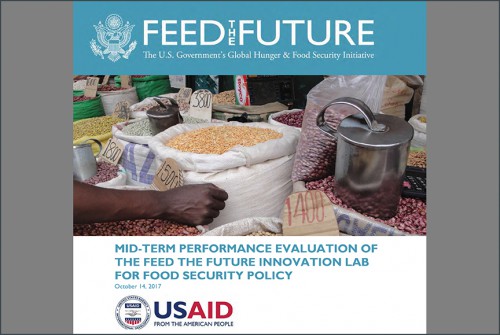 The DEC Express is a monthly newsletter featuring materials in the Development Experience Clearinghouse (DEC) about topics in the news, USAID program evaluations, and recent, popular, and most downloaded documents.

At the request of USAID, a mid-term performance evaluation of the Food Security Policy Innovation Lab was conducted by two external reviewers—Dr. Della E. McMillan and Professor James L. Seale, Jr. The purpose of this evaluation was to assess whether FSP IL is on track to achieve its expected outcomes and to identify what, if any, adjustments are needed to improve implementation and better achieve FSP IL outcomes at the Sub-Intermediate Result level. The evaluation was conducted over a seven-month period, from January to July 2017. The evaluation team used a mixed-methods approach, including: document review; field visits to Tanzania and Myanmar; focus group discussions and key informant interviews with stakeholders; an online questionnaire in Tanzania, Myanmar, Malawi, Nigeria, Zambia, and South Africa; and analysis of existing project databases.
This report summarizes the principal findings of the evaluation, and includes 20 priority recommendations for strengthening implementation of the project, and 14 recommendations for future USAID/Bureau for Food Security (BFS) initiatives to strengthen the national, regional, and global policy environment in countries where USAID has Feed the Future projects.