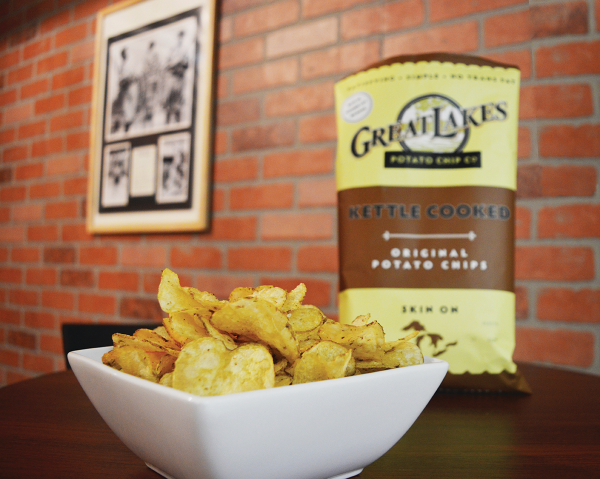 Great Lakes Potato Chip Company
DOWNLOAD
Another Making It In Michigan Success Story: Great Lakes Potato Chip Company
After leaving a 28-year career in the financial industry, Ed Girrbach opened a pizza restaurant in downtown Traverse City with his wife and son. Part of their expansion plans for the restaurant was to open up multiple locations and create some retail items. They began selling their pizza sauce to local markets early on, and, in 2010, began to look at producing frozen pizza for the retail market. After much due diligence and advice from the MSU Product Center, they decided against the frozen pizzas but continued to look for other food items. While brainstorming one day Ed's son, Chris, asked him what he liked besides pizza to which he responded - potato chips.
In the beginning stages of the business Ed and Chris were driving 110 miles to load up a fresh harvest of Michigan potatoes that they would process in their small plant just outside of Traverse City.
Like most small businesses, sales began with support from the local retailers but grew quickly throughout the state as Ed and Chris worked the trade show circuit exposing their unique skin-on style chips to large and small buyers around the Great Lakes region.
During the business' second year a 16-foot box truck replaced the original pickup truck and a second refurbished kettle fryer was added to help meet a rapidly growing demand. At this point in time, the company was producing three flavors of kettle chips: Original Sea Salt, Barbeque and Sea Salt and Vinegar.
The following year a new Salt, Pepper & Onion flavor was added, a larger delivery truck joined the fleet, and they introduced a new tortilla chip.
As demand continued to grow, Great Lakes Potato Chip Company saw a major expansion of the production facilities. In the company's fourth year, a third fryer was added, and a second high-speed bagging line was put into operation. Production capacity tripled and employee count was then at 13.
Today, the company has over 30 full time employees processing over 80,000 pounds of potatoes per week. The product line now includes seven permanent flavors of kettle cooked potato chips, two flavors of tortilla chips, two flavors of salsas and a few seasonal potato chip flavors.
Seventeen distributors supply a growing list of customers in six states surrounding the Great Lakes as well as Texas, Tennessee and Canada. Future distribution is planned for the Southeast and Florida.
Great Lakes Potato Chips was named one of the top 50 Michigan companies to watch in 2014 and was voted the #1 Kettle Chip in the Country by the Chicago Tribune newspaper in 2015 and was the recipient of two Gold Ribbon awards for best Kettle Chip and best Tortilla Chip at the 2016 Saratoga Springs, NY National Chip Festival. Great Lakes Potato Chips was also recently awarded the Growth Award at the Crain's Food Summit in Detroit.
"The Product Center has been a great partner for us. Their efforts in keeping us in the loop in all food-related opportunities in Michigan has been instrumental in securing thousands of dollars in sales," states owner Ed Girrbach. "We have benefited over the years from the MSU Product Center's efforts with Kroger and Meijer and have found the Making it in Michigan show an excellent opportunity to connect with buyers and distributors. Making it in Michigan is an absolute must for any Michigan food manufacturer."