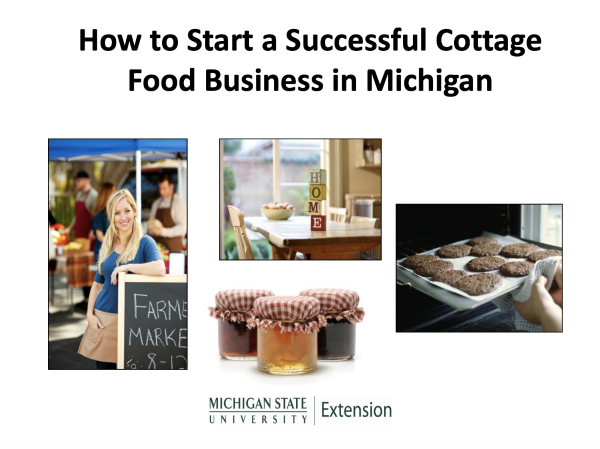 How to start a successful cottage food business in Michigan
DOWNLOAD FILE
January 29, 2020 - Author: Beth Waitrovich, Michigan State University Extension
Michigan Cottage Food Law
Allows individuals to prepare and store certain foods in an unlicensed home kitchen.
The Cottage Food Law does not allow foods to be sold that are at high risk for food-borne illness.
Licensing and Inspections
Are those making Cottage Foods exempt from MDARD licensing and inspections?
Why the concern about safe food practices?
People can become sick, hospitalized or die •
High risk populations
Costly
Causes of foodborne illness
Poor personal hygiene
Cross-contamination
Improperly cleaned and sanitized equipment and utensils
Temperature
Keep your refrigerator at 41 degrees F and your freezer at 0 degrees F.
Preparing produce
Clean by rinsing thoroughly in lukewarm water.
Jams and Jellies
Look for cracks or chips in jars
Wash and sterilize jars
Wash & rinse lids & bands
Hot water bath
Good personal hygiene
Shower/bathe and wash hair
Clean hands and fingernails
Wear clean aprons/hats/gloves
Tie back long hair
Cover cuts
Clean and sanitize to prevent cross - contamination
Counters
Tables
Equipment
Cupboard knobs
Anything that will be touched
Sampling Do's and Don'ts
Prepackaged
Labeling
Maintain non-hazardous quality
Storage
Cottage food can NOT be produced or stored in an outdoor building.
Approved storage areas – Kitchens – Basements – Spare rooms