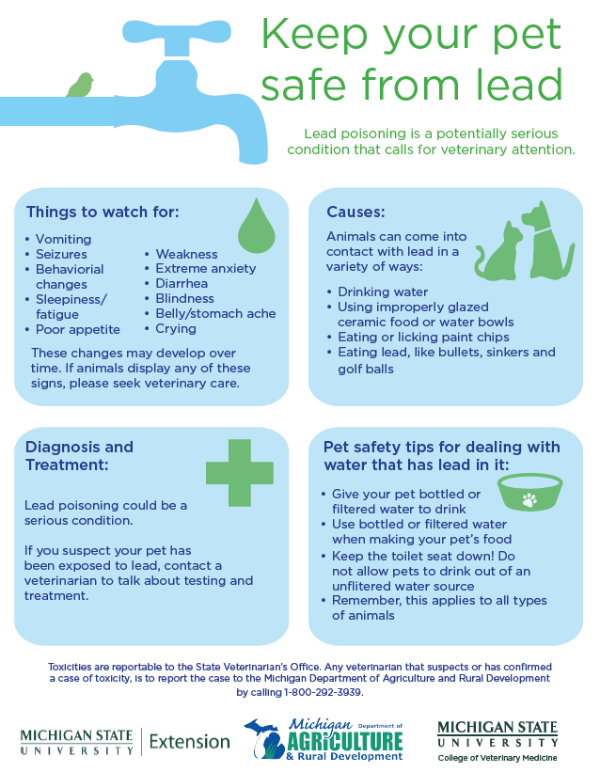 Keep Your Pets Safe From Lead
DOWNLOAD FILE
February 23, 2016 - Author: Michigan State University Extension
Things to watch for:
Vomiting
Seizures
Behavioral changes
Sleepiness/fatigue
Poor appetite
Weakness
Extreme anxiety
Diarrhea
Blindness
Belly/stomach ache
Crying
These changes may develop over time. If animals display any of these signs, please seek veterinary care.
Causes
Animals can come into contact with lead in a variety of ways:
Drinking water
Using improperly glazed ceramic food or water bowls
Eating or licking paint chips
Eating lead, like bullets, sinkers and golf balls
Diagnosis and Treatment:
Lead poisoning could be a serious condition.
If you suspect your pet has been exposed to lead, contact a veterinarian to talk about testing and treatment.
Pet safety tips for dealing with water that has lead in it:
Give your pet bottled or filtered water to drink
Use bottled or filtered water when making your pet's food
Keep the toilet seat down! Do not allow pets to drink out of an unfiltered water source
Remember, this applies to all types of animals
Toxicities are reportable to the State Veterinarian's Office. Any veterinarian that suspects or has confirmed a case of toxicity, is to report the case to the Michigan Department of Agriculture and Rural Development by calling 1800-292-3939.
Flyer also available in Spanish
Flyer created by MSU's College of Veterinary Medicine, MSU Extension and Michigan Department of Agriculture and Rural Development.