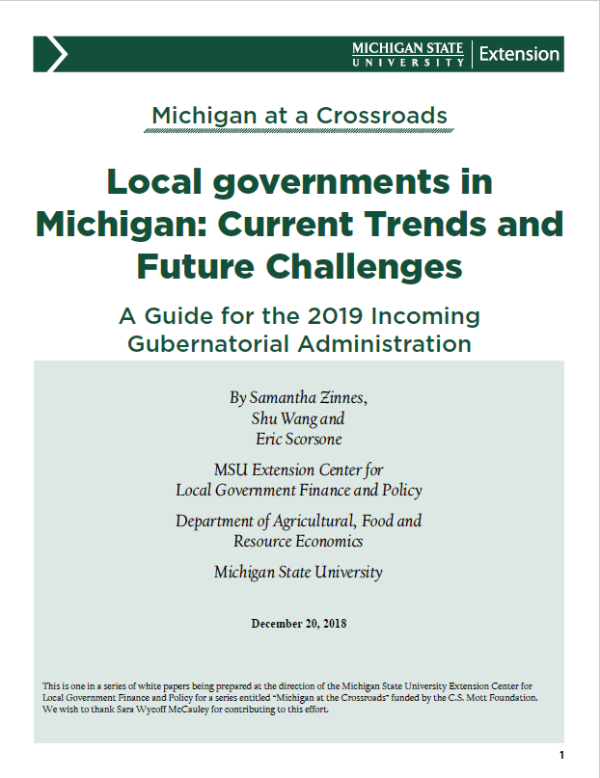 Local Governments in Michigan: Current Trends and Future Challenges
DOWNLOAD
December 20, 2018 - Author: Samantha Zinnes, Shu Wang and Eric Scorsone, MSU Extension Center for Local Government Finance and Policy and the MSU Department of Agricultural, Food and Resource Economics
The term "local governments" refers to a group of entities with wide diversity. There are 90,056 local governments in the US, including 3,031 counties, 19,519 municipalities, 16,360 townships, 38,266 special districts, and 12,880 independent school districts. Unlike special districts and school districts that perform a limited number of functions, counties, municipalities (including cities and villages), and townships are general purpose governments that provide a wide variety of public services including financial administration, hospitals, police and fire, highway administration, just to name a few. In many ways, these governments remain the backbone of the American federal system. At the same time, local units of government are creatures of the states and the state government provides oversight for local units and is accountable for local residents' wellbeing.
Regionally, the Midwest has the highest number of local governments; Michigan is no exception. There are 83 counties, 1,242 townships, 274 cities, 259 villages, and 553 school districts in Michigan. The jurisdictions of these local governments overlap – two residents can live in different townships in the same county, and their children can go to different public schools. As a result, residents living in close proximity can receive different public services provided by different units of government.
Although government decentralization, manifested by the diverse local units, is designed to be more responsive to diverse needs and demands of local residents, it can also create challenges for governance. Even prior to the Great Recession of 2008-09, there was a clear understanding of the financial problems facing local governments. Since that time and post-Great Recession, Michigan local governments have experienced severe fiscal distress that has only recently lessened although not for every local unit. The purpose of this brief is to provide a tour of the current financial and service landscape of local governments in Michigan and discuss state policies impacting local finance.