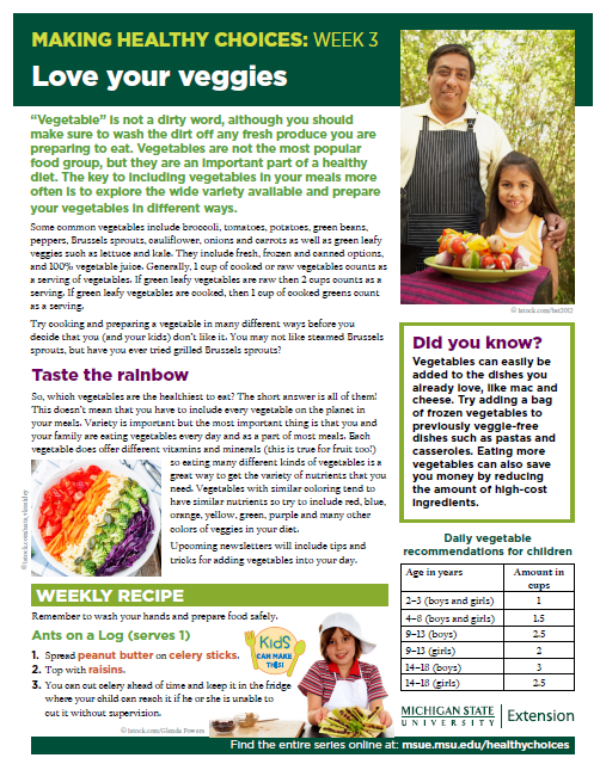 Making Healthy Choices: Week 03
DOWNLOAD
January 23, 2017 - Author: Erin Powell
Love your veggies
"Vegetable" is not a dirty word, although you should make sure to wash the dirt off any fresh produce you are preparing to eat. Vegetables are not the most popular food group, but they are an important part of a healthy diet. The key to including vegetables in your meals more often is to explore the wide variety available and prepare your vegetables in different ways.
Some common vegetables include broccoli, tomatoes, potatoes, green beans, peppers, Brussels sprouts, cauliflower, onions and carrots as well as green leafy veggies such as lettuce and kale. They include fresh, frozen and canned options, and 100% vegetable juice. Generally, 1 cup of cooked or raw vegetables counts as a serving of vegetables. If green leafy vegetables are raw then 2 cups counts as a serving. If green leafy vegetables are cooked, then 1 cup of cooked greens count as a serving.
Try cooking and preparing a vegetable in many different ways before you decide that you (and your kids) don't like it. You may not like steamed Brussels sprouts, but have you ever tried grilled Brussels sprouts?
Taste the rainbow
So, which vegetables are the healthiest to eat? The short answer is all of them! This doesn't mean that you have to include every vegetable on the planet in your meals. Variety is important but the most important thing is that you and your family are eating vegetables every day and as a part of most meals. Each vegetable does offer different vitamins and minerals (this is true for fruit too!) so eating many different kinds of vegetables is a great way to get the variety of nutrients that you need. Vegetables with similar coloring tend to have similar nutrients so try to include red, blue, orange, yellow, green, purple and many other colors of veggies in your diet.
Upcoming newsletters will include tips and tricks for adding vegetables into your day.
Did you know?
Vegetables can easily be added to the dishes you already love, like mac and cheese. Try adding a bag of frozen vegetables to previously veggie-free dishes such as pastas and casseroles. Eating more vegetables can also save you money by reducing the amount of high-cost ingredients.
Daily vegetable recommendations for children
| | |
| --- | --- |
| Age in Years | Amount in Cups |
| 2-3 (boys and girls) | 1 |
| 4-8 (boys and girls) | 1.5 |
| 9-13 (boys) | 2.5 |
| 9-13 (girls | 2 |
| 14-18 (boys) | 3 |
| 14-18 (girls) | |
Weekly Recipe
Remember to wash your hands and prepare food safely.
Ants on a Log (serves 1)
Spread peanut butter on celery sticks.
Top with raisins.
You can cut celery ahead of time and keep it in the fridge where your child can reach it if he or she is unable to cut it without supervision.