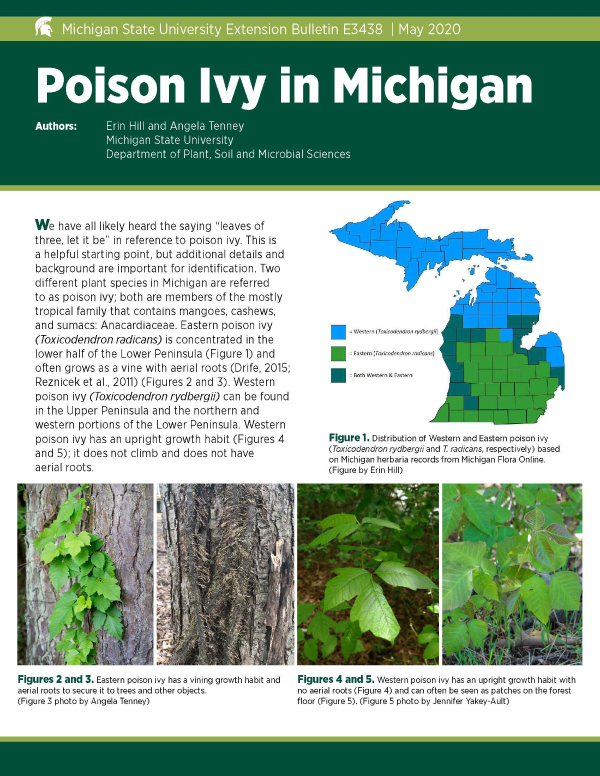 Poison ivy – Toxicodendron radicans and rybergii
DOWNLOAD FILE
May 29, 2020 - Author: Erin Hill and Angela Tenney
Eastern poison ivy- Toxicodendron radicans (L.) Ktze.
Western poison ivy- Toxicodendron rydbergii (Rydb.) Greene
Anacardiaceae (Cashew family)
Did you know that Michigan has two species of poison ivy? You can learn how to identify these species and separate them from other impostors in "Poison Ivy in Michigan," MSU Extension bulletin E3438. Along with photos, identification, and distribution information, this bulletin discusses the irritant substance to which many people are allergic, urushiol, and how to avoid it. The publication ends with a section on nonchemical and chemical control options.
This publication is free for download and can be printed, just select the "Download File" button at the top or bottom.
The authors at MSU Plant & Pest Diagnostics would like to thank the bulletin reviewers Erin Burns, Matt Chansler, and Debalina Saha and the MSU Extension Educational Materials Team for all of their help in producing the bulletin.
Basic Information- For more details download the file
Life cycle
Perennial woody vine (Eastern) or shrubby/low growing (Western).
Leaves
Alternate, compound with three shiny leaflets. Leaflet margins may be smooth, toothed or lobed. The side leaflets occur on very short stalks; the middle leaflet occurs on a much longer stalk. Leaves may turn bright red in the fall. Contact with any part of this plant can cause a reaction in sensitive people.
Stems
Woody vines are supported by aerial roots (Eastern)
Shrubby (Western)
Flowers and fruit
Small, inconspicuous, yellow to green flowers have five petals. Fruit are gray to white berries (drupes).
Reproduction
Seeds, creeping roots and stems, which may root if in contact with the ground.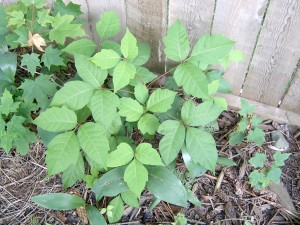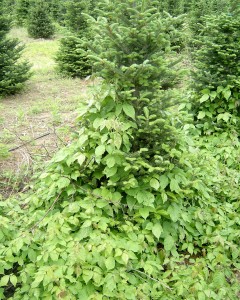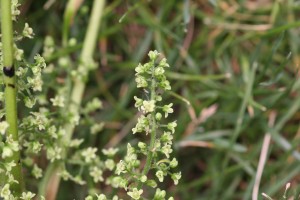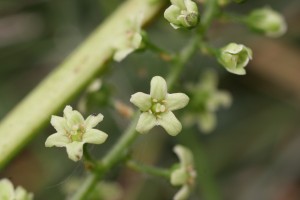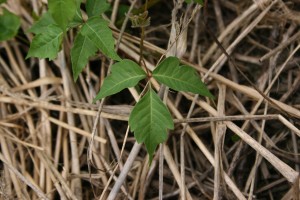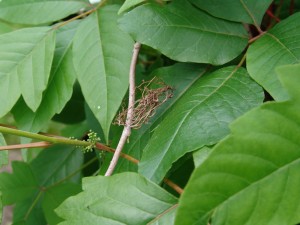 ---