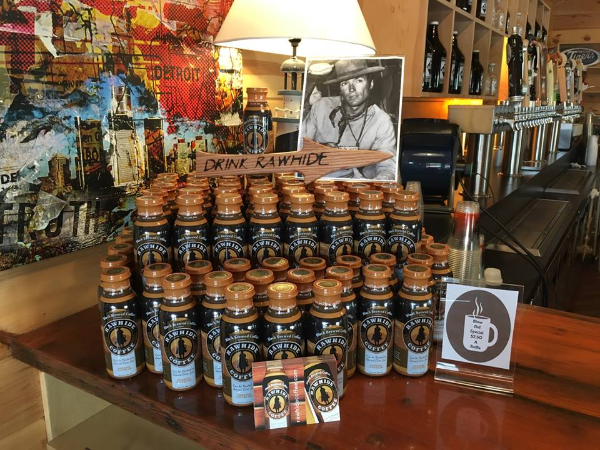 Rawhide Coffee
DOWNLOAD FILE
Another Making It In Michigan Success Story: Rawhide Coffee
David Mamo had an idea to make drinking black coffee more convenient when brewing a pot or using a machine was not an option. He discovered that he could keep a pot of sealed coffee in the refrigerator for over a week and it would still be good when heated. Thinking there was an untapped market for people who like to drink their coffee black, he began doing research online and discovered that bottling hot brewed coffee and making it shelf stable had not been done before.
He had a test group of engineers that he worked within his facilities job that were willing test subjects. He began bringing coffee they did not know was fresh brewed that morning, one week old and microwaved or bottled for 30 days and heated in a microwave. Using the same high end blend of coffee, he began getting consistently good results with bottled, microwaved coffee.
David then reached out to the MSU Product Center to help with starting Rawhide Coffee. He attended a one-week class on bottling and canning and worked with the Product Center on samples and labeling. He then filed for a patent for the coffee and began working harder to bring it to market to prove the concept.
He received interest from Lipari Foods who saw the potential and agreed to carry the product and sought out a co-packer to pressure cook or retort it under strict guidelines to make it shelf stable. Based in Milford, Rawhide Coffee is now available in over 100 retail locations in five states and online at rawhidecoffee.com.
"Working with the MSU Product Center and Becky DeYoung has been a valuable contributing factor that helped bring Rawhide Coffee to market," states owner David Mamo. "When I first met Becky, she spent the first half hour playing devil's advocate thoroughly explaining the challenges that I would face and the difficulties involved with creating a new product but pulled all the information out of me to move forward. In participating in last year's Making It In Michigan trade show, we were fortunate to be selected as one of the winners in the Westborn Market competition for a year's worth of shelf space."
"This was a new and challenging product, but David persevered to bring the product to market."- Becky DeYoung, MSU Product Center, Innovation Counselor.