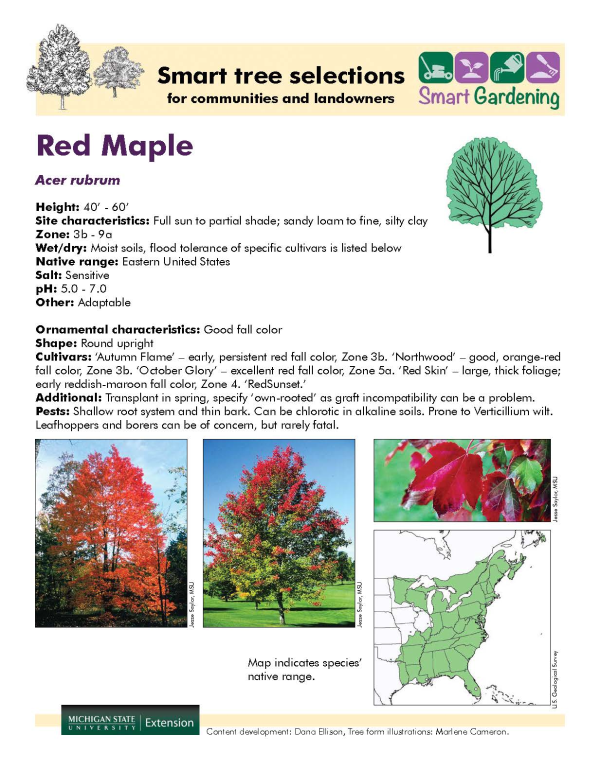 Red Maple
DOWNLOAD
March 11, 2016 - Author: Bert Cregg

Acer rubrum
Height: 40' - 60'
Site characteristics: Full sun to partial shade; sandy loam to fine, silty clay
Zone: 3b - 9a
Wet/dry: Moist soils, flood tolerance of specific cultivars is listed below
Native range: Eastern United States
Salt: Sensitive
pH: 5.0 - 7.0
Other: Adaptable
Ornamental characteristics: Good fall color
Shape: Round upright
Cultivars: 'Autumn Flame' – early, persistent red fall color, Zone 3b. 'Northwood' – good, orange-red fall color, Zone 3b. 'October Glory' – excellent red fall color, Zone 5a. 'Red Skin' – large, thick foliage; early reddish-maroon fall color, Zone 4. 'RedSunset.'
Additional: Transplant in spring, specify 'own-rooted' as graft incompatibility can be a problem.
Pests: Shallow root system and thin bark. Can be chlorotic in alkaline soils. Prone to Verticillium wilt. Leafhoppers and borers can be of concern, but rarely fatal.
See full list of smart tree selections for communities and landowners