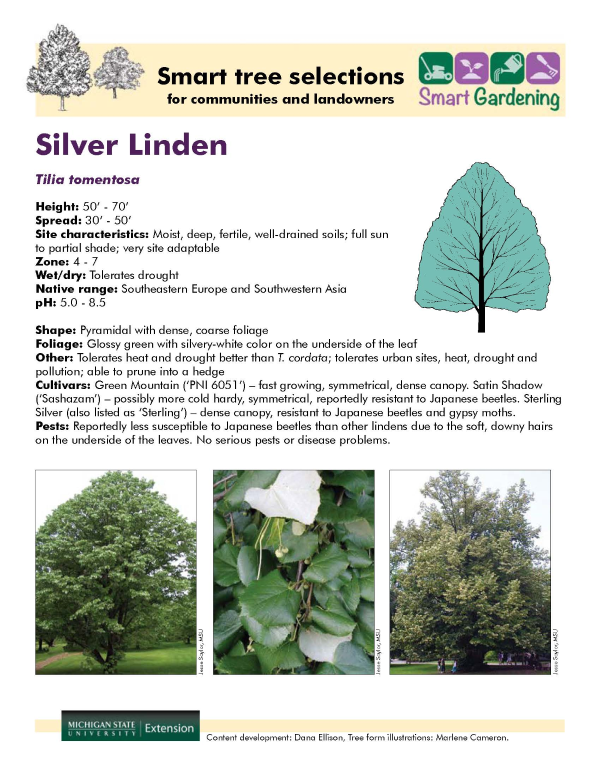 Silver Linden
DOWNLOAD
March 11, 2016 - Author: Bert Cregg

Tilia tomentosa
Height: 50' - 70'
Spread: 30' - 50'
Site characteristics: Moist, deep, fertile, well-drained soils; full sun to partial shade; very site adaptable
Zone: 4 - 7
Wet/dry: Tolerates drought
Native range: Southeastern Europe and Southwestern Asia
pH: 5.0 - 8.5
Shape: Pyramidal with dense, coarse foliage
Foliage: Glossy green with silvery-white color on the underside of the leaf
Other: Tolerates heat and drought better than T. cordata; tolerates urban sites, heat, drought and pollution; able to prune into a hedge
Cultivars: Green Mountain ('PNI 6051') – fast growing, symmetrical, dense canopy. Satin Shadow ('Sashazam') – possibly more cold hardy, symmetrical, reportedly resistant to Japanese beetles. Sterling Silver (also listed as 'Sterling') – dense canopy, resistant to Japanese beetles and gypsy moths.
Pests: Reportedly less susceptible to Japanese beetles than other lindens due to the soft, downy hairs on the underside of the leaves. No serious pests or disease problems.
See full list of smart tree selections for communities and landowners