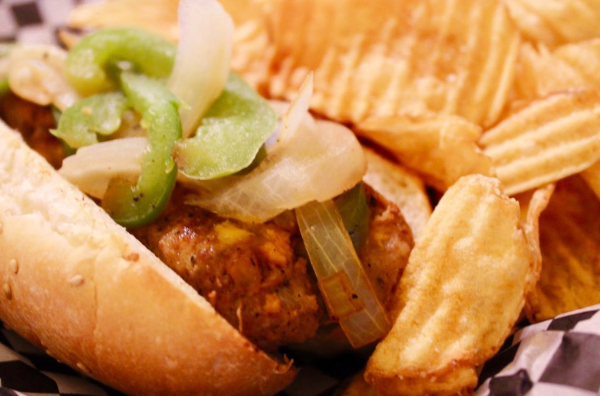 Spanitz Brothers' Sausage
DOWNLOAD FILE
Another Making It In Michigan Success Story: Spanitz Brothers' Sausage

Pete Spanitz and his twin brother Paul began making sausage roughly 12 years ago. It began as a hobby, making a variety of flavors on Saturday afternoons and spending quality "twin time" together. Shortly after starting, their hobby quickly turned into a venture they both wanted to eventually pursue full time. Paul was a high school teacher in Lincoln Park and Pete was in the automotive industry for over 20 years. In 2011, Paul passed away very unexpectedly just 19 days short of their 38th birthday. As had been his plan since Paul's passing, Pete left his job in July 2015 and has been determined to make Spanitz Brothers' Sausage a viable and available product to customers, both on the retail and wholesale side.
Spanitz Brothers' Sausage uses lean cuts of pork for all of their products and spices and cheese provided by Butcher Packer in Troy. All of the products are processed at the Dearborn Roseville facility, 100 pounds at a time. Pete partners with Dearborn Brand as his co-packer and has four retail and five wholesale flavors available including Cheeseburger Sausage, Coney Sausage, Polish with Pepperjack, and the Hearty Poleman, a blend of Polish and Bratwurst spice with potatoes and cheese.
The products are currently distributed by specialty food distributor Carmela Foods throughout southeast Michigan primarily and, to a degree, on the west and north side of the state. Pete also works with an organization called Farmlink which allows small, growing companies like Spanitz Brothers', as well as local farmers, to supply product to food service companies through an on-line ordering system on a weekly basis. Through the support of a few sales representatives and Pete's constant pursuit of new business opportunities, he is expecting the business to grow substantially over the next few months.
Not only does Pete feel obligated to follow through on the dream that he and his brother shared, but he contributes back to the community through his sausage sales to a local animal shelter he volunteers with and Paul's memorial scholarship fund for Lincoln Park High School students.
Inset quote: "The MSU Product Center has been integral to my growth over the past year," states owner Pete Spanitz. "They have supported me through on-going conference calls to discuss everything from product improvement and label development, to an on-site visit to the production facility to review the existing process for potential improvements. The contacts I have made through the MSU Product Center have been beneficial to the early stages of the company growth, and I will continue to rely on them and recommend them to others in my position. A great resource, with great people, and a strong willingness to help guys like me."

Pete uses his acumen to effectively operate his emerging food business. Every week you will find him in stores demonstrating Spanitz Brothers Sausage and listening to customers. He works hard to offer the best product and get into new markets in what is a very challenging industry. Joanne Davidhizar, Innovation Counselor, MSU Product Center Food-Ag Bio