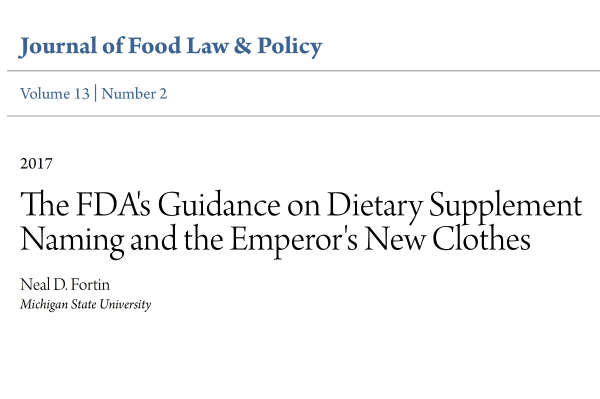 The FDA's Guidance on Dietary Supplement Naming and the Emperor's New Clothes
DOWNLOAD FILE
May 15, 2017 - Author: Neal D. Fortin
Read Neal Fortin's take on the FDA's guidance on dietary supplement naming. Neal Fortin is Professor and Director of MSU's Institute for Food Laws and Regulations.
Citation:
Fortin, Neal D. (2017) "The FDA's Guidance on Dietary Supplement Naming and the Emperor's New Clothes," Journal of Food Law & Policy: Vol. 13 : No. 2 , Article 6.
This Article is brought to you for free and open access by ScholarWorks@UARK. It has been accepted for inclusion in Journal of Food Law & Policy by an authorized editor of ScholarWorks@UARK. For more information, please contact scholar@uark.edu, ccmiddle@uark.edu.