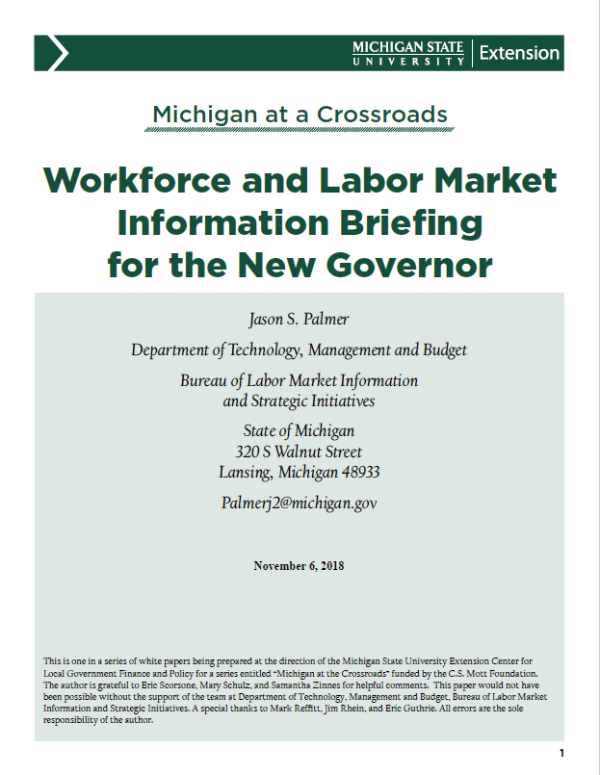 Workforce and Labor Market Information Briefing for the New Governor
DOWNLOAD
November 6, 2018 - Author: Jason S. Palmer, Department of Technology, Management and Budget, Bureau of Labor Market Information and Strategic Initiatives, State of Michigan
Workforce and Labor Market Information Briefing For the New Administration from Evans Media Group-Michigan on Vimeo.
The U.S. economy is currently enjoying the second-longest period of economic expansion on record and, if it continues at the current pace, it will likely surpass the previous record (set from 1991 to 2001) during the summer of 2019 (National Bureau of Economic Research, 2010). Since the low point of the Great Recession, real gross domestic product (GDP) has grown by $2.4 trillion, or nearly 17 percent, and has led a host of other economic indicators pointing to a red-hot economy. The labor market has been setting some records of its own. While writing this brief:
The national unemployment rate stands at 3.7 percent, the lowest rate in nearly 50 years (Current Population Survey, 2018a).
Payroll jobs are seeing the longest growth streak in history, up for 96 consecutive months (Current Employment Statistics, 2018a).
Although the start of the national recovery predated any major improvements in Michigan, the state's expansion is well underway, with many of the same indicators on solid ground:
The state's jobless rate has currently declined for eight consecutive years from 2010 through 2017, likely growing to nine years if current trends persist (Local Area Unemployment Statistics, 2018).
Michigan's annual payroll jobs have increased for seven consecutive years from 2011 to 2017, soon to be eight years with the release of 2018 annual data (Current Employment Statistics, 2018b).
These indicators are impressive, but they are hardly high-water marks for the Michigan labor market; most of those were set in the 1990s and early 2000s when the state was outperforming national averages. This brief will put the state's labor market in context, comparing current conditions to recent lows (usually 2009 or 2010) and pre-recessionary peaks (typically 2000). It will then discuss changing demographics, particularly an aging population and workforce, and the increasing importance of migration in meeting the state's long-term employment outlook. Finally, this brief will introduce several additional workforce and labor market topics that will be important to the new administration and residents in the near future.