Communication Center
About
The SPDC Communication Center was established in 2014 to foster integrative learning experiences for students through enhancing their verbal, written, and visual skills. It is located in the Human Ecology Building in Room 102. Today, the Center continues to provide consultations and critiques on research theses and reports, scholarship applications, resumes, design portfolios and SPDC courses assignments. See the full list below:
Outlining, editing and proofreading papers;
Resumes and cover letters;
Thank you letters;
Design concepts and descriptions;
Writing research papers, literature reviews and thesis chapters;
Memos, proposals and executive summaries; and
And more!
Unlike other technical writing and English language resource centers on campus, the Communication Center provides a service unique to SPDC students. Targeted and comprehensive in its discipline-specific and industry-oriented application, the Center is structured to provide an additional layer of support for ensuring both academic, as well as professional success.
Students in need of assistance can walk-in for immediate consultations or schedule appointments in advance for planned sessions.
Hours
The Center is open Monday through Friday. Hours of operation vary slightly. Students may call SPDC Student Services at (517) 432-3393 for information on hours. Hours are also posted in the SPDC Student Services Office (Human Ecology, Room 102) as well as in the weekly SPDC Communication Center newsletter that is sent to students via email. Questions can be sent to spdcanr.comm@msu.edu.
Peak Months for the Center
Thank You Letters: March and April.
Resumes: September and October.
Helping Students from Each Program
Students majoring in Landscape Architecture have requested assistance with class assignments and research papers.
Construction Management majors have requested help with professional writing documents, such as resumes and cover letters for internships, career fairs and research projects.
Urban & Regional Planning majors have requested help with scholarship applications and class assignments, such as research reports.
Interior Design majors have requested assistance with concept briefs and design portfolios.
Landscape Architecture and Interior Design majors, many of whom are international students, have requested assistance with the English language, including grammar and spell-checks, for design briefs and conceptual presentations.
Most reviewed by the Center
Resumes and cover letters.
Scholarship thank you letters.
18 Weekly Newsletters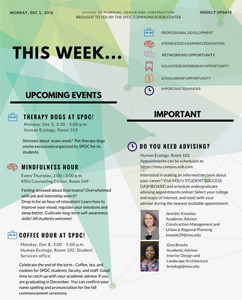 Our newsletter captures pertinent and applicable announcements about upcoming events, workshops and deadlines at SPDC or on campus, and is emailed weekly to all students.
Discipline-specific, Peer to Peer Consulting
The Center is staffed with three students (one undergraduate, two graduate) from SPDC majors able to provide relevant direction on discipline-specific inquires. Guidance and oversight is provided by SPDC's academic advisors.
Feedback from SPDC Students
SPDC students have been both receptive and grateful for the assistance they receive at the Communication Center, especially international students who use English as second language.