Alumni
Bugged: MSU Department of Entomology newsletter
Award opportunities
Check out these alumni award opportunities available to Entomology alumni. (Newly added: Distinguished Alumnus Award)
News of alumni and retirees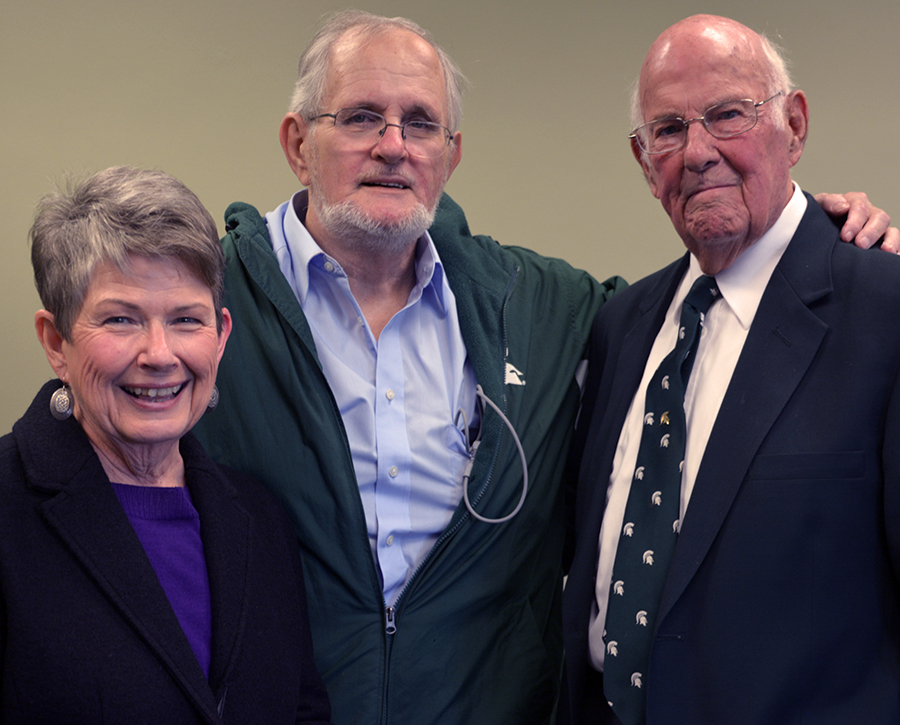 Tom Ellis passed away Friday, May 26, 2017, at Hospice House, Lansing, Michigan. In 2003, Tom retired from the Department of Entomology where he spent more than 25 years sharing his expertise with home/urban insect pests. He wrote many articles about home pest management for MSU's "Landscape Alert" newsletter, usually with a twist of humor that kept people laughing as they learned how to solve their latest pest challenge. Tom is joined by his wife Alice Ellis and friend Gordon Guyer in the picture to the right.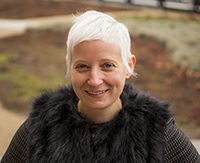 Mary Gardiner (PhD 2008, Landis) is an associate professor of entomology at Ohio State University and our latest featured alumni. Read more about Mary Gardiner in the Alumni Profiles section.
Ralph J. Gorton is an adjunct curator of spiders for our MSU A. J. Cook Arthropod Research Collection. After reading about the Department's current connections with military veterans, Gorton wrote to share his own experience. "I entered graduate school, fresh out of 14 months with an infantry unit in Vietnam. I left Vietnam in May of 1970 as a Sergeant, and talked to then Department Chairperson Gordon Guyer about graduate school. He suggested I team up with another Army vet, retired Colonel Don Newson, who had just joined the faculty. What a great suggestion! Don was a very caring mentor who guided me into research on mosquito-borne encephalitis and became a lasting friend."
Anna Fiedler (PhD, Landis) is the director of land conservation with the Midcoast Conservancy (Wiscasset, Maine), one of eight land trusts that comprises the 12 Rivers partnership. Fiedler and her 12 Rivers partners recently reexamined their conservation priorities through the lens of climate data. Their process is featured in "Won't you be my conservation neighbor?" on the U.S. Fish and Wildlife Service's Conserving the Nature of the Northeast blog.
Congratulations to Nicole Quinn (MS, Szendrei) for receiving the Asa Fitch Memorial Graduate Student Award recognizing the research she conducted while in the MSU Vegetable Entomology Lab. The Entomological Society of America (ESA) gives this award to an outstanding master's graduate student each year. Quinn is currently a PhD student at Virginia Tech working on brown marmorated stink bugs.
Fabian Menalled (Post-doc, Landis) recently completed three years of leading the eOrganic Community of Practice for eXtension. During his leadership, eOrganic conducted 65 webinars and conference broadcasts, published more than 90 peer-review articles and videos, and provided outreach support for more than 22 research and Extension projects funded by USDA NIFA. Menalled is an associate professor in weed ecology and management at Montana State University.
Rob Morrison (PhD, Szendrei) recently won the Excellence in Early Career Award offered by the Eastern Branch of ESA. Morrison is now a research entomologist with the USDA-ARS Center for Grain and Animal Health Research in Manhattan, Kansas. His research program revolves around the behavioral and chemical ecology of stored product pests in order to increase the sustainability of post-harvest management.
We love to hear from our alumni
Please send us your news - promotions, job changes, life milestones and just general fun interactions with entomology. Images are welcomed, too. News can be sent to entnews@msu.edu or:
MSU Department of Entomology
Michigan State University
Natural Science Building
288 Farm Lane Room 243
East Lansing, MI 48824
If you'd like to share your email address with us, we'll send you an email link to future Bugged newsletters.