Alumni
Bugged: MSU Department of Entomology newsletter
Award opportunities
Check out these alumni award opportunities available to Entomology alumni. (Newly added: Distinguished Alumnus Award)
News of alumni and retirees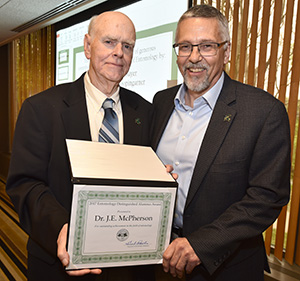 Jay McPherson is the 2017 recipient of our department's Distinguished Alumni Award and our latest featured alumni. Read more about McPherson in the Alumni Profiles section.
Loren Wernette (MS, Bird lab) was promoted to customer solutions manager for BASF in the Research Triangle Park, North Carolina, in May.
Kaci (Agle) Buhl (BS 2000, MS 2002, DiFonzo lab) has been coordinating the National Pesticide Information Center (NPIC) for 10 years. She recently became an associate professor of practice at Oregon State University where she will direct the Statewide Pesticide Safety Education Program (PSEP).
Jeremy Jubenville (MS, Szendrei lab) is now an MSU Extension educator working with the floriculture industry based in Kalamazoo County, Michigan.
Sara Tanis (postdoc, McCullough lab) has accepted a teaching position with Colgate University in upstate New York.
Christie Bahlai (postdoc, Landis lab) will begin a tenured faculty position at Kent State University, establishing the Bahlai Lab of Applied Quantitative Ecology in the Department of Biological Sciences this fall.
Bill Wills (postdoc, Landis lab) will teach ecology at DePauw University. Chelsea Rawe (BS 2014, Smitley lab) will be attending medical school at MSU.
Jessica Kalin (BS 2016, Landis lab) will be studying as a master's student in entomology at the University of Idaho.
Geoff Attardo (staff, Alex Raikhel's lab) is a new assistant professor at the University of California - Davis in the Department of Entomology and Nematology.
Emeritus University Distinguished Professor Rich Merritt was inducted into the Farm Lane Society, an honorary society of the MSU College of Agriculture and Natural Resources, in The Villages, Florida, in February.
Oscar Taboada, age 93, passed away on July 13. Taboada retired in 1986 as an MSU professor of Entomology after a long distinguished career that included studies in Spain, Uruguay and Argentina.
Former MSU president, Entomology professor and MSU Extension director Gordon Guyer was honored posthumously in Kalamazoo County in June for his efforts in conservation. Augusta Creek State Wildlife Area was rededicated as the Dr. Gordon Guyer Wildlife Area by the Michigan Department of Natural Resources.
Tom Ellis passed away Friday, May 26, 2017, at Hospice House, Lansing, Michigan. In 2003, Tom retired from the Department of Entomology where he spent more than 25 years sharing his expertise with home/urban insect pests. He wrote many articles about home pest management for MSU's "Landscape Alert" newsletter, usually with a twist of humor that kept people laughing as they learned how to solve their latest pest challenge. Tom is joined by his wife Alice Ellis and friend Gordon Guyer in the picture below.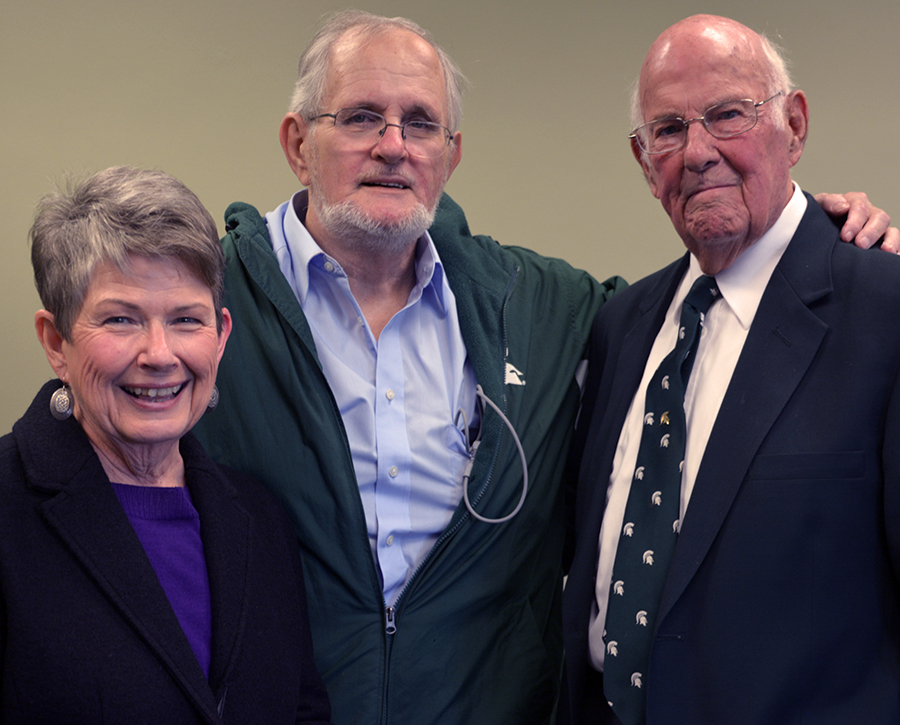 We love to hear from our alumni
Please send us your news - promotions, job changes, life milestones and just general fun interactions with entomology. Images are welcomed, too. News can be sent to entnews@msu.edu or:
MSU Department of Entomology
Michigan State University
Natural Science Building
288 Farm Lane Room 243
East Lansing, MI 48824
If you'd like to share your email address with us, we'll send you an email link to future Bugged newsletters.