Alumni Profiles
Ernie Bernard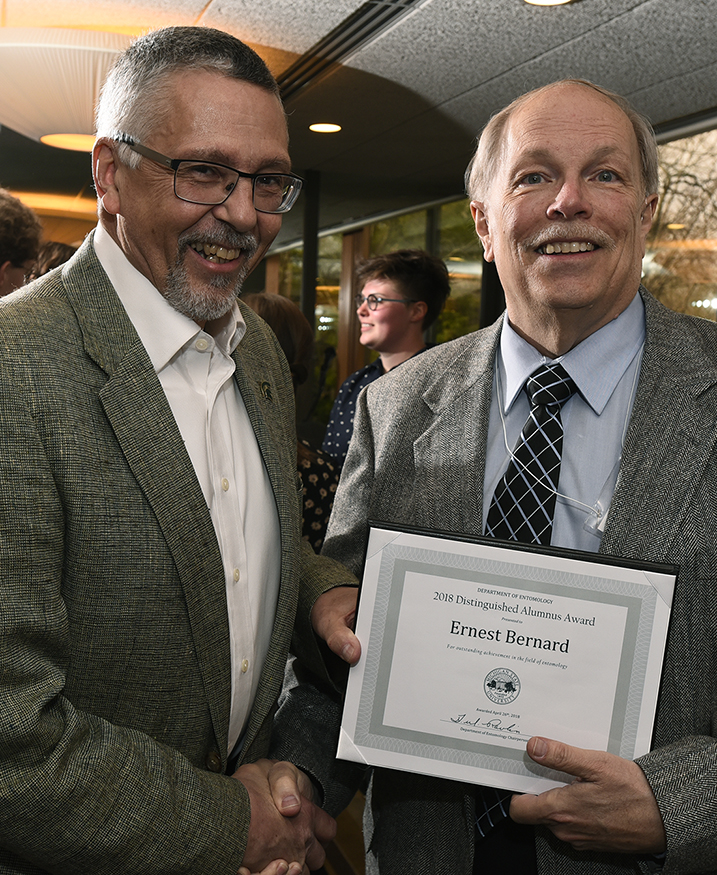 Ernie Bernard is the 2018 recipient of our department's Distinguished Alumni Award.
Why did you choose entomology and why MSU? I earned my bachelor's and master's at MSU, both in entomology. Like many children, growing up I collected insects. By high school, I was weighing several career choices, but ultimately chose entomology and was accepted at MSU. My senior year of high school, 1968, I competed in the Detroit Metropolitan Science Fair with a springtail project and was one of two grand award winners, which meant I got to go to the international science fair also in Detroit. Entomology Chairperson Gordon Guyer was a judge and he was very impressive, always smiling. He walked up to me, looked at my project and asked where I was going to school. When I said MSU in entomology, Dr. Guyer asked if I wanted a summer job! The job was in Dr. James Butcher's soil insect lab working with then-graduate-student Dick Snider, who became my mentor. I was already aware of Dick because in high school, I was intrigued with springtails and learned there was a guy working on springtails at MSU—that guy was Snider. I asked my science teacher if Snider could come give a seminar, and he did. He was the first real scientist I ever met.
It's striking to me that I interacted with a lot of positive people at MSU. They were helpful people who wanted their students and peers to succeed. James Bath became department chair after Dr. Guyer and he was a very positive guy. One time I was fooling around extracting nematodes and extracted a tardigrade, some of which feed on nematodes. I gathered literature and realized this particular tardigrade had never been described before, so I wanted to publish the information. At that time, you had to pay page charges to publish and as a graduate student, I couldn't afford it. I talked to Dr. Bath and he said anything with the Department's name on it, the Department could pay for. I'll never forget that affirmation from him.
Where did you go after MSU? I earned my PhD at the University of Georgia and was hired upon completion by the University of Tennessee, where I am today. I've got a 90 percent research, 10 percent teaching assignment. I love that I have complete freedom to pursue what I want. I'm a nematologist but have maintained my interest in entomology, especially springtails and proturans, and I have significant insect taxonomy expertise.
Tell us about your research. A major project now is studying the nematode diversity that inhabits millipede intestines. Millipedes are very important in breaking down leaf litter and rotted wood, which contributes to nutrient cycling. A lot of exotic millipedes have been introduced into the USA, especially in the South. These exotics have different nematodes in their intestines from the domestic ones, and some of the domestic millipedes die when exposed to the new nematodes. As invasive millipedes move north due to climate change, this could have a significant impact on our native fauna. We are determining which nematodes are present in millipedes and monitoring them so we can identify when and where change is taking place.
In another project, my lab is partnering with another lab to look at nematodes as postmortem indicators for forensic use. The University of Tennessee has a facility—the Anthropological Research Facility, better known as The Body Farm—that is a primary space for studying the decomposition of humans. Insects come almost immediately to a corpse, but we're looking at how nematodes respond to dead vertebrates and are examining the succession of nematode species on, under and in the vicinity of a corpse.
Any thoughts for current students? I tell my students if you want to stand out from your colleagues, do more than what is required. Also, if you have other interests, pursue those, as universities and likely other employers are looking for people who can shift to different fields.
What keeps you engaged in your work? I have the huge advantage of having been at a university for a long time. Nobody gets older—the students are always the same age and that helps to keep a young perspective. Students keep me adjusting to new approaches and they bring new needs for me to respond to. I also love the unending process of discovery. I describe a lot of new species and there is always something new to learn.
Neil Kagan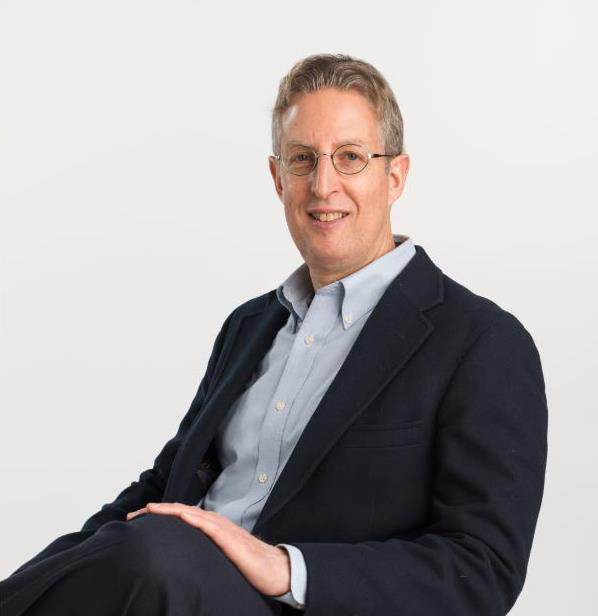 Why did you study entomology at MSU? My career path really began in 1970 on the first Earth Day, when I was 16 years old. That day, my high school held a big assembly about the environment with several speakers. What I heard kindled a passion for protecting the environment that has motivated me ever since. In my senior year, I took an advanced biology class that included ecological field studies. We assessed water quality and biodiversity in streams by studying benthic organisms, especially insects. I was amazed when I saw a rock plucked from the bottom of a stream crawling with mayflies and caddisflies. Here was a whole world I hadn't known to exist. I was fascinated and chose to study biology at Penn State University.
During my freshman year, my advisor suggested a double major. When I suggested law, he endorsed the choice, saying there would soon be a need for attorneys to enforce newly adopted federal environmental laws. As I was completing my bachelor's degree, I decided I would be more informed and effective with a better grounding in biology and ecology. So, I chose to get a master's prior to law school. Michigan State University's Entomology Department had the best reputation and they offered me a graduate assistantship with a new professor, Rich Merritt. Rich knew from the start that my intention was to go to law school, but he took me on as one of his first graduate students.
How did MSU prepare you for what you do today? Studying at MSU gave me solid education in science. My thesis involved studying insect populations in four sewage treatment lagoons on campus. Working with Rich, I learned how science works, to think logically and critically, to be objective and write clearly. This was wonderful preparation for law school because many of the same principles apply.
After law school at the University of Oregon, I worked as a solo practitioner. Among other things, I represented a nonprofit environmental group to protect roadless areas in National Forests in Oregon that would qualify as wilderness under the Wilderness Act. Then I worked for 1000 Friends of Oregon enforcing Oregon's land use planning laws. Eventually, I became a senior counsel for the National Wildlife Federation in the Great Lakes region, based in Ann Arbor, Michigan. My primary duty was to protect the Great Lakes from toxic substances, nutrient pollution and invasive species. This past year, I returned to Oregon and I am now the legal director of WildEarth Guardians.
Looking back, I can see that my studies and research made me more comfortable working with scientists—hydrologists, geologists and other experts—to win lawsuits. I am grounded enough in science to understand how scientists think and work. Together, we can better advocate for protecting the environment.
What do you regard as your most significant litigation? In the late 1970s, an impasse had developed nationally over the allocation of roadless areas in National Forests, whether to wilderness or non-wilderness uses. The industry wanted as much forest land as possible to be available for timber harvesting. The environmentalists wanted as much as possible preserved as wilderness. I brought two lawsuits in 1983 that forced the Forest Service to stop timber sales and road building in most of Oregon's roadless areas, which totaled about three million acres. The lawsuits pressured Oregon's senior Senator, Mark Hatfield, to accept a compromise that would protect about one-third of Oregon's roadless areas as wilderness—nearly one million acres. Based on that compromise, Congress enacted the Oregon Wilderness Act of 1984. Congress then used the Oregon compromise as a model in passing wilderness acts for 17 other states. Altogether, Congress preserved more than 8.2 million acres of roadless areas as wilderness in 1984. Ever since, these public lands have been permanently protected from logging, mining, road building and other destructive development. My involvement was exhilarating, as I was right in the middle of all the controversy.
Thoughts for current students? One thing I have learned is that one person working alone rarely achieves success. People can be much more effective if they work together and learn from each other.
Anything else you wanted to share? Insects are still one of my favorite forms of wildlife—I think they are beautiful!
Jamie Blow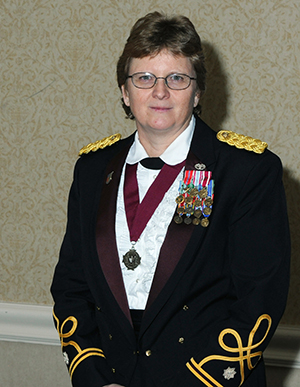 When did you graduate? I earned a PhD in medical entomology in 1998 with Dr. Ned Walker as my advisor.
Why did you choose entomology? Why MSU? The Army actually selected me to be a medical entomologist when I was being commissioned out of ROTC. Most Army entomologists are direct commissions so they don't go through ROTC or basic training. The Army has long-term education opportunities, which includes masters and PhDs in entomology. I applied and was selected for the PhD program. I had three years to complete my PhD and my payback to the Army was six additional years. I chose MSU because I was a Michigan resident and after meeting with Dr. Walker I had confidence I could complete the requirements in three years.
What is your current assignment? I have attended the rank of colonel and currently serve as the director of the Armed Forces Pest Management Board (AFPMB) and director of Defense Pest Management. In this capacity, I am responsible for pest management policy, guidance and advocacy within the Department of Defense (DOD). I am the first woman to be selected as the director of the AFPMB and one of only three women to attain the rank of colonel in the entomology field, which is over 70-years-old. We have good representation by MSU among the Army entomologists: Major Jaree Johnson (MS); Major Elizabeth Wanja (PhD); Major Karl Korpal, retired (BS); Major Scott Mueller (MS); and Major Wade DeYoung (BS).
What is it like to work as an entomologist in an active war zone? The military camps/bases are essentially small towns or cities where service members live, eat and work. It takes a coordinated effort to provide the support needed in these locations including public health personnel to ensure things are done correctly. Entomology/pest control is an aspect of the larger public health field. When I was deployed to Bosnia, I was responsible for all monitoring aspects of public health, food, sanitation and hygiene for U.S. forces. In Iraq, I was the senior entomologist in theater and worked on the Medical Brigade staff that provided guidance to our subordinate medical units. I was also designated as the theater pest management consultant and wrote the first integrated pest management plan for the U.S. military operating in Iraq.
I also provide expert input on issues related to entomology. In Iraq, I was involved in the Iraq Ministry of Agriculture lead effort for aerial spraying of date palms for the Dubas bug. In Bosnia, I was involved in determining why honey bees were dying.
Any memories about your days as a graduate student at MSU? The community of graduate students was great. I've kept in touch with a few over the years. The graduate students all pulled together when somebody needed help. I spent two nights helping Becki run an experiment looking at the effects of road salt on aquatic insects.
You were part of establishing the MSU Bug House. Tell me about that. Then-chairperson Dr. Mark Scriber and Dr. Dave Smitley were talking with students about an extension outreach program focused on K-6 students to get them interested in entomology. Dr. Scriber identified two conference rooms to create the space and the Department rented a display from a farmer in the Kalamazoo area and we gave it a trial run with schools in the Lansing area. It was like baseball: build it and they will come. The trial run was a success and we expanded the next semester to offer more tours. Soon we had schools coming from long distances to visit the Bug House and Butterfly House and we were turning schools away as we were booked.
The undergraduate and graduate students who worked as guides in the Bug House built display cases for different topics that were more geared toward what the students were learning. Mark Deering was in charge of the live displays making sure things were kept ready for the tours. Mark also made a large display of colorful insects. In just three short years, the Bug House was going strong and it continued to grow, later including Bug Camp. I credit the Bug House success to the support of the Department, the entomology students, but most importantly to Barb Stinnett who worked tirelessly to promote, schedule and advocate for the Bug House.
Any advice for current students? If you are waiting for someone to hand you the perfect opportunity, you will probably find yourself waiting a long time. Opportunities are out there and while they may not be exactly what you want, if you are willing to give it try you may find it is something good. Sometimes it's doing things like creating the Bug House—you just start and keep adjusting as you go.
You have to be willing to fail. I have seen people avoid opportunities where they might fail because they are outside their comfort zone and afraid that if they don't succeed, it will reflect against them. That can be true if the failure is due to your failure to adequately assess, plan and execute. If you approach the opportunity and constantly assess and reassess the issue as you move forward, you may find the approach you took does not work. Then, reevaluate and look for different options and maybe get other input.
How does your work impact people's lives? My job is to support and protect the war fighter and the DOD from "pests." A pest can be any number of things like invasive species, weeds, feral animals, vector of disease, urban pests, reptiles, etc. I can be discussing brown tree snakes in Guam one minute and talking about the next vector-borne disease threat in the next minute. How do we protect people and facilities? How do we avoid pesticide overuse? How do we deal with pesticide resistance? The DOD has personnel around the world so we have pest issues around the world.
Along with deployments to Honduras, Central America, Bosnia, Afghanistan and Iraq, I've worked or lived in places like Kenya, Thailand, Germany and Tanzania. I've been to London, Paris, Athens, Warsaw, Berlin, Bangkok, Prague, Rome, Barcelona, Tbilisi, Zanzibar and many others. If given the opportunity to go back and change things, I wouldn't. I'd do it all over again.
Jay McPherson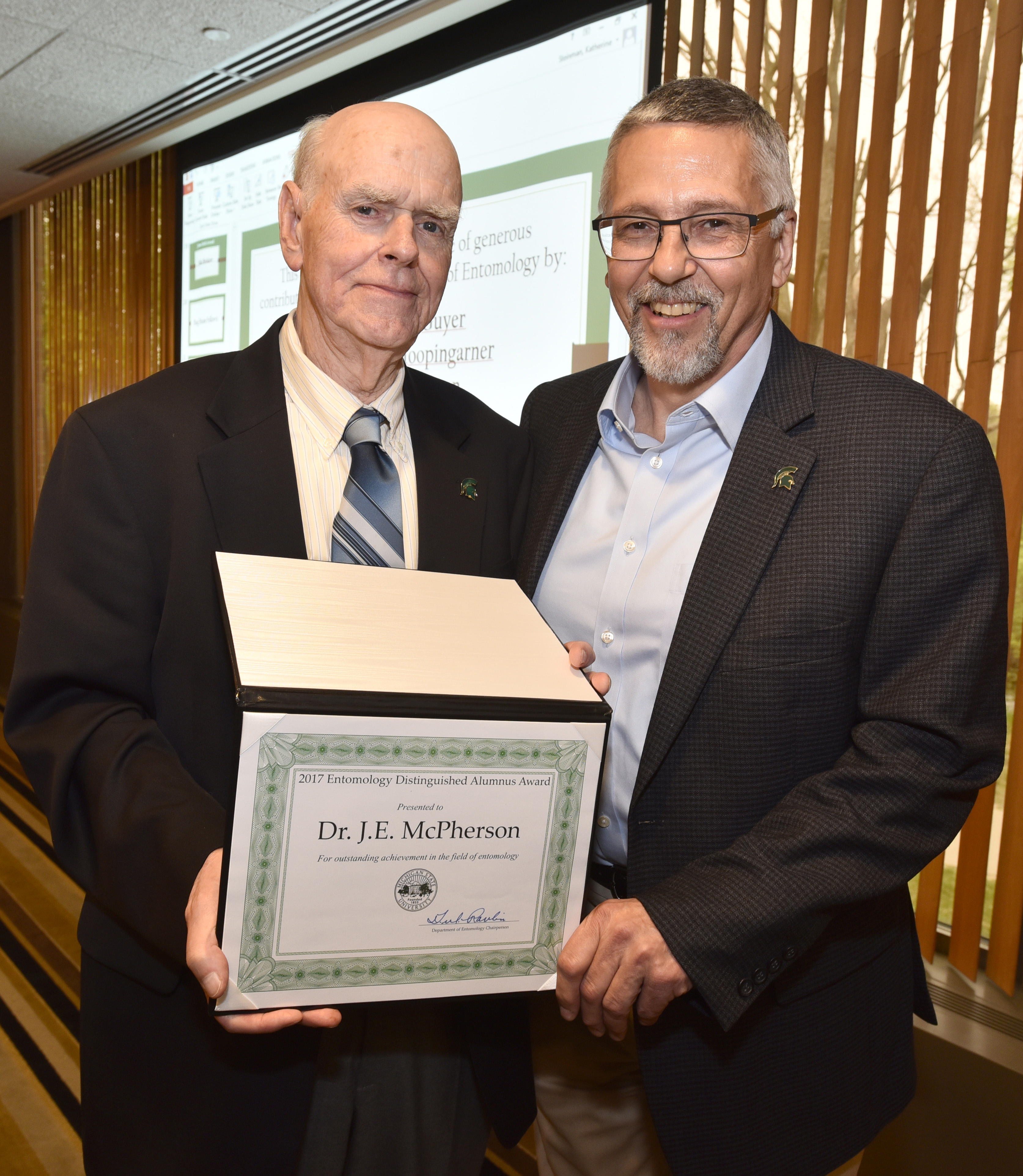 Jay McPherson is the 2017 recipient of our department's Distinguished Alumni Award.
Why did you choose entomology? I grew up exploring the canyons and hills in San Diego, which is a very dry area, called chaparral, and loved collecting snakes, lizards and insects. At 14 years old, I decided I wanted to be a biologist and being a veterinarian was what made sense to me. In high school, I began preparing for my career by working at a pet hospital. I entered San Diego State University and enrolled in the pre-vet program. As a sophomore, I took comparative anatomy, which I really didn't enjoy. The next semester, I took a general invertebrate zoology course, which I found fascinating and extremely stimulating. As a junior, through a serendipitous path, I took general entomology, which I loved. Both courses were more like a series of mini-courses and introduced me to animal diversity, which turned out to be the area in which I was really interested. At that point, I decided to leave the pre-vet program and specialize in invertebrate zoology. During the next 1.5 years, I took additional courses in entomology, marine invertebrate zoology and parasitology. During my senior year, I enrolled in aquatic entomology, which required studying an insect of our choosing. I chose to study Notonecta hoffmanni(backswimmer), which became the basis for the research requirement for my master's degree in biology at San Diego State.
Why did you study at MSU? I applied to MSU because of my major professor at San Diego State University, Cal Norland. I'd lived my entire life in San Diego and had no intention of going anywhere beyond California for my doctoral studies. I picked four universities (including the University of California, Berkeley) and Norland told me I should consider MSU, which had an up-and-coming entomology department. Within two months of applying, I had an offer from MSU—my first offer—and I took it. MSU Entomology had many students and faculty specializing in entomology and that was a new experience for me. In addition, I had the opportunity to take a variety of courses. That broad background at MSU placed me in a good position to teach entomology at Southern Illinois University (SIU), where I've spent my entire career.
What are your best memories as an entomology student? Most outstanding in my mind was the comradery between faculty and students, how well everyone got along. I've seen other departments with barriers between the faculty and students, but at MSU, I never had a problem approaching any faculty member. Fred Stehr was my major professor and Roland Fischer was my postdoctoral mentor. Stehr was important in my entomological training, and Fischer was instrumental in my career as a heteropteran specialist. Like many young people, my wife Jean and I met at MSU and married in the Alumni Chapel. We love to visit campus.
Thoughts for current students? Many of us as students think we know what we want to do with our careers. However, after graduating, you may be unable to find positions that exactly match your career ambitions. My advice for students and their major professors is to add in some protection by building a broad expertise. Choose some courses beyond your focus area and get the most out of them. Take time to network. Such efforts will broaden your background and may prove extremely valuable in the future.
How does your work affect people's lives? I have taught literally thousands of students in the areas of biology, invertebrate zoology and entomology. They've learned insects are more than just cockroaches, wasps and sources of disease. For most of my career, I have been the only entomologist at SIU, and it has been my responsibility to be the source of entomological information for the surrounding community. Often, I am called, "The Bugman."
What keeps you engaged in your work? I still enjoy the thrill of discovering new things. Research is my hobby, as I am officially retired. My department has been kind to me, allowing me to keep the same space—office, lab, museum—that I had before retirement. What can be better than that?
Mary Gardiner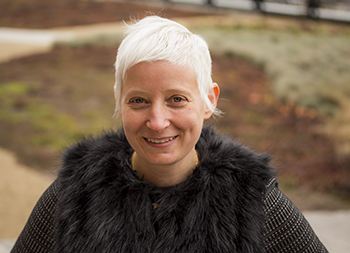 When did you study at MSU? I graduated with a PhD in entomology in 2008 with Doug Landis as my major professor. That led me to my current job as an associate professor of entomology at Ohio State University.
Why did you choose entomology? I liked to collect insects as a kid and loved the outdoors. I had no idea there were jobs studying nature and insects until I was in college. I thought I would become a park ranger, and worked as a summer assistant at the Leelanau State Park during my undergraduate studies in resource ecology and management at the University of Michigan. My senior year I took John Whitter's Intro to the Study of Insects class and it really grabbed my attention, helping me see entomology as a possible career. I asked how to get into the field and he said, "Well, you go to graduate school."
After I graduated, I moved to Idaho and got a master's degree studying spider mite classical biological control in hops. I spent a couple years in Idaho as a lab research technician and that helped me realize I loved the academic setting more than I thought I would. I also realized I wanted to make my own decisions about projects and that meant returning to graduate school.
I knew Doug Landis had a large, successful program in landscape ecology and thought that would give me many opportunities. I contacted Doug, applied for a fellowship and was unsuccessful in securing funding, so I continued with my technician job. The next year, Doug and I worked together to find funding and I came to MSU in about 2004. My thesis studied the newly introduced soybean aphid, the related predator communities and impacts of the surrounding landscape. It was an adventure as I collected data in Iowa, Minnesota, Wisconsin and Michigan.
Anyone with special impact on you and your career? I came to MSU because I wanted a big university that would give me diverse experiences and training. Doug taught me so much about the full research process while I was a student and I continue to think "what would Doug do" all the time. I left his lab very well-prepared for my current position. I also learned from many different people through my multi-state project: Matt O'Neal (Iowa), Claudio Gratton (Wisconsin) and Wopke Van der Werf (Wageningen University). Doug also gave me lots of opportunities to gain experience in extension; and I was a teaching assistant for his biocontrol class. My classes were diverse: ecological statistics, population genetics and insect larval taxonomy with Gary Parsons. I valued the Department's connection with the Ecology, Evolutionary Biology, and Behavior program.
Thoughts for current students? They probably won't want to hear this, but I think it is important: You should always be writing a paper. Don't think about writing a paper as a finite task, rather something you'll accomplish over time. While you're doing your research, write your message and think about how you'll form the introduction. Doug focused on the importance of publishing and I do that with my own students. I try to write something every day and am usually writing several papers at one time.
Looking back, I realize that as students we worry about finding the perfect job or perfect fit or that there won't be a job. It's important to look at opportunities. When I was hired at OSU, my position was to focus on landscape ecology and agriculture—it was very broad, which was exciting. A rewarding part of being a scientist is building a lab and making the job your own to match your strengths. Departments want faculty to be successful, so they will work with you. We spend too much time stressing about what the next thing is. Instead, you should be writing! It will be the productivity in your CV that opens doors, not your stress level.
How does your work affect people's lives? My program studies how design and management of urban green spaces influences its conservation value and ability to provide ecosystem services. We frequently interact with people because they are a dominant part of an urban ecosystem. We work where people live, whether we are focusing on wildflower plantings, urban farm ecology or beekeeping. People live and work in these neighborhoods, so you have a ready audience for information. Our extension information has to scale with people's experience from new gardeners to master gardeners.
Dan Lawson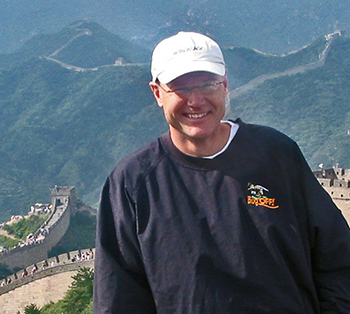 Dan Lawson is the recipient of our department's first Distinguished Alumni Award and will accept his award and present a seminar on campus Oct. 24, 2016.
How did your studies at MSU influence your career? After completing my master's degree in MSU's Fisheries and Wildlife Department, I took a year off and worked for entomology professor Rich Merritt as a technician on a new project. Soon I decided to pursue a PhD in aquatic entomology in the Merritt Lab. However, entomology clicked even earlier for me. I took a general entomology course taught by Roland Fisher as an undergrad. He was an outstanding instructor and I got hooked. Great teachers are so important!
After completing my PhD, I was fixed on the idea of a tenure-track position, but aquatic positions were difficult to obtain. I was on soft money for years at MSU while working at the Kellogg Biological Station. Keith Kennedy, a one-time MSU Entomology professor, was at the SC Johnson & Son company in Wisconsin and encouraged me to take a visit. I was impressed with their marvelous facilities, view of environmental sustainability and the support they provided for projects. In the end, I worked for SC Johnson for over 20 years and had a great time there. My first assignment was to bring the insect-rearing facility up-to-date with procedures such as documenting good laboratory practices (GLP) for the company's insect control products. Within a few years I became a product development manager supporting mosquito control products, like Off! and Raid, within the U.S. and overseas. In many parts of the world, they don't use window screens, so they have different indoor pest control problems compared to the U.S. The global travel for that job was a great experience. I remember standing on the Great Wall of China with Keith Kennedy and looking at each other and saying, "Did you ever think back in the days when we were at MSU that we'd be here some day?"
More recently, I was involved with international regulatory issues and, towards the end of my career, working with the Bill and Melinda Gates Foundation on helping to mitigate malaria in economically challenging areas around the world. SC Johnson is excellent in evaluating the consumer's needs, wishes and every-day challenges before developing a new product. The Gates Foundation recognized that expertise and we became their collaborators for some of their efforts in this fight against malaria.
How did entomology contribute to your career? MSU's Entomology program positioned me so I could excel at anything I wanted to do. MSU has a multidisciplinary approach to research. You learn to work in teams, which is incredibly important anywhere you might work. Team work is how you accomplish great things. My experience included system science, working with different departments and broad interactions with various disciplines.
Another important skill emphasized at MSU was basic communication and learning how to effectively deliver your scientific message to a wide audience. Students were pressed to have tight, focused presentations -- delivering content that is understandable, fostering a communication style that works within an interdisciplinary setting. I may not know engineering or computer science like I do entomology, but I do understand interdisciplinary aspects that allow me to communicate to those groups. If you cannot communicate and get your points over to a diverse crowd, you are doomed in any field one might chose to pursue.
Best memories as an entomology student? So much fun, the camaraderie between faculty and students was just great.
How has your work impacted people's lives? You're always hopeful your work has impact. Although I am retired, the Gates Foundation work with malaria continues and I believe is poised for great impact. So many people die of malaria. I also appreciate the work I did with others in SC Johnson product development. I hope we made the lives of those using our products better.
Thoughts for current students? Take course work outside of your core scientific area. The multidisciplinary aspect really helped me in my long-term career. I started at MSU in computer science with a heavy dose of mathematics but longed for an application. Looking around, I saw fisheries biology as a better fit for me as the curriculum gave me room to expand my interests. Then, in my master's studies I delved more into benthic invertebrates (lake sediment dwellers). My doctoral studies moved into stream ecology and my post-doc work combined aquatic entomology with microbiology. Every time I took a step in my career, I changed focus a bit to delve into a new area. While that might be uncomfortable to some, by staying too much in your comfort zone, I've found you don't learn nearly as much. Taking a broad curriculum rounded me out as a student and made me a better scientist.
I'm looking forward to being on campus and interacting with the department in October. Pleased to have this opportunity!
David Epstein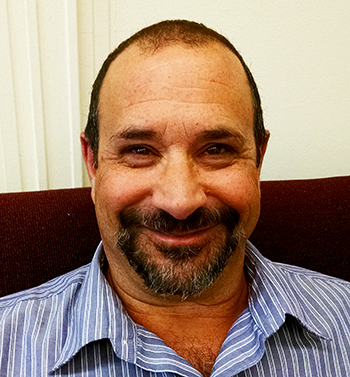 When did you arrive at MSU? In 1999, I was hired to coordinate a three-year effort, the Michigan Apple IPM Implementation Project. In 2000, the second year of the project, I was hired as the MSU IPM Program Tree Fruit Integrator, with continuing coordination of the apple IPM project a primary responsibility. About four years into that position, I began my PhD studies with Larry Gut, graduating in 2010, meeting my goal of achieving my PhD before age 60.
What is your current job? I am the senior entomologist with the USDA Office of Pest Management Policy, starting this position in 2011. Our office heads up the strategic planning and activities related to pest management for the USDA. We are part of informing the pesticide regulatory process and we promote development of new pest management approaches needed by farmers and others to sustain U.S. agriculture. That means I work across the various agencies of the USDA and with the EPA on pesticide registration issues. I also act as a liaison between the research community, farmers and EPA to ensure that those voices are heard in the process. I work with universities, growers and others on a variety of pest management issues including invasive species, like spotted wing Drosophila and brown marmorated stinkbug. For example, a multi-state group of researchers, including MSU entomologists Rufus Isaacs and Matt Grieshop, have a grant investigating efficacious means of controlling spotted wing Drosophila. I organize discussions between EPA and stakeholders so that researchers and growers can address their pest management issues. If I read about a pest management issue in the paper, I'll probably be working on it that day, literally. In recent years, I spend maybe 40-50 percent of my time on pollinator health issues.
I've also become involved with an educational campaign, the Food Narrative Project of the organization IPM Voice. Our goal is to educate the public about what farmers do and why they do it. I feel this conversation is absolutely critical as people know so little about how food is produced, or have never stepped on a farm, and that is a problem, in terms of developing policy and regulation in a political climate informed by the less-than-accurate information spread through social media.
Why did you choose entomology? Because insects are fascinating! I've had a lifelong interest in growing crops. I first studied plant and soil science at California State University-Chico, and while there, took an agricultural entomology class and was instantly hooked. The range of strategies used by insects to prosper and evolve, and the challenges in managing pest insects to produce food and fiber just fascinated me. I went on to Washington State University to earn my entomology masters, followed by a year of working in the WSU Honey Bee Biology & Genetics lab, where I also managed the University's 200 bee colonies. Larry Gut was still working at WSU when I was there, and he recruited me to MSU to run the apple IPM project.
How did entomology contribute to what you do today? I was 48 years old and working full-time when I started my PhD, so I didn't have the typical student experience. I worked in construction for 17 years between my first stint as an undergraduate and my return to academia at CSUC! Larry Olsen used to tell me I should just do what I needed to do to get my "union card," which meant get my PhD. What I did love about doctoral research was brainstorming with my committee members. Designing experiments and evaluating what we learned, developing further testing, the whole process of experimental design. I also truly loved working on farms with growers and learning their challenges. It helped me see that what we did (IPM) was a small part of what they do, and I saw how it fit in with their larger challenge. The grower has to be an entomologist, plant pathologist, horticulturalist, labor contractor, business person and more. That is part of the knowledge I bring into discussions with EPA, what makes sense academically may not always apply in the real world of the farmer.
Any advice for current students? Get out to as many meetings and events as possible so you meet as many scientists as you possibly can. Develop broad networks that you can draw on for the rest of your career. My networks are extremely valuable now as I draw on expertise from across the country. I'm the sole entomologist for this office and have to be the voice for entomology of all crops across all states, and that's impossible if you don't have a network. For me, that has been absolutely essential.
How does your work impact people's lives? The work we do here at OPMP is critical to making sure Americans maintain access to abundant, healthy and affordable food and fiber, that farmers have the tools and knowledge they need to manage pests, and that all is well-balanced with the needs to protect people, environmental resources and living organisms dependent on those resources. I had no idea when I started working at USDA that I would spend so much time on pollinator issues. I deal with all aspects of pollinator health, from nutrition to insect and disease pests, genetics, and the effects of pesticides at the interface with agriculture, as well as for public health, such as mosquito control. I have several projects looking at how farmers can mitigate potential harms to pollinators by increasing awareness and adjusting management practices. There are some real tough challenges, and you have to take into account the competing needs of everyone involved, the beekeepers, the farmers, the public and the policy and rule makers. I was deeply involved in developing the President's pollinator strategy. I worked across 15 different agencies, each with a different perspective and knowledge. It's not about what I think, I have to meld it all together. There are always tradeoffs and we have to be sure to address the needs of pollinator health while providing farmers with the tools they need to feed the nation.
It's all fun in the end. If you are not having fun, go do something else. I'm in the right place at this point in my career. I'm utilizing all of the knowledge I have gained all along my journey from business owner to academic to public servant. Can't wait to see what tomorrow brings.
Gloria DeGrandi-Hoffman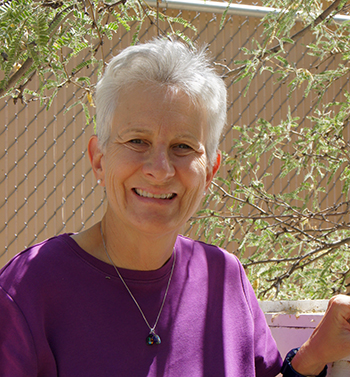 Gloria DeGrandi-Hoffman is the research leader and center director for the USDA-ARS Carl Hayden Bee Research Center in Tucson, AZ. The Center conducts research to optimize honey bee colony health through improved nutrition to maximize production of honey bee-pollinated crops.
When did you graduate from MSU? I earned a PhD in Entomology in 1983 with Roger Hoopingarner as my lead professor.
How did MSU prepare you for your career's success? MSU taught me how to be a mathematical modeler and look at things in a systems format. I worked with Roger to build the first interactive pollination and fruit-set model ever as part of my dissertation. Learning the tools of simulation modeling was extremely helpful. It's a unique way of thinking, especially when studying apiculture and bees. It's also an effective way to run research programs. Other influences were Jim Miller, who had a great impact on my thinking as a scientist and how you build a research program, Stuart Gage as a modeler himself and Frank Dennis in horticulture taught me a lot about apples.
Why did you choose entomology? I was one of those kids that played with bugs and knew I wanted to be an entomologist at a very young age. In elementary school, I caught an insect and tried unsuccessfully to look it up. I really wanted to identify it. My mom took me to Harrisburg, PA, to the state agriculture department. A very kind entomologist looked at the bug and identified it, and explained what he did in his job. I looked around the room and saw people working with bugs, and I realized 'you could get a job doing that!'
At Penn State, my master's project was with honey bees and pollination in birdsfoot trefoil. I also worked hourly in Zane Smilowitz's lab. Dr. Smilowitz did research in biocontrol of plant pests and he was a modeler. His graduate student happened to be Mark Whalon. I would tell Zane that in my field plots, there would be different numbers of bees and plants each day, everything changing with time and I felt like the variation in the day-to-day was where the interesting information was. He told me to learn simulation modeling so I could capture how systems change with time. I was very excited about learning how to build simulation models, and that the best graduate program for that was at MSU. I applied to the MSU Entomology Department, and Mark Whalon, who was by then on the faculty, probably helped me a lot in getting accepted.
What are your best memories as an entomology student? Some of the best are of playing a lot of racquet ball with the guys in the Department. Jim Bath was department chair and he really knew how to build community and prepare grad students for careers. The Department is really dedicated to grad student education. Roger taught me a lot about bees and how to conduct yourself as a scientist. He still sends me papers and I continue to learn from him. Being out in the apiary and going through colonies with Roger were great times. I have so many memories; those were wonderful years.
Any advice for current students? Never stop learning, never stop taking chances and never be afraid to fail. If you have an idea, run forward with it. Never be discouraged. Let it continue to evolve and be true to it. It might be a good idea and the world just hasn't caught up with it yet. Roger and I built the pollination model for apples and published it in the mid-80s. I always dreamed that Washington State, the country's lead producer of apples, would be interested and adopt it. Models were on computer mainframes at that time and were not portable. We did some work with the model here in Arizona and Michigan, but the model and all the papers sat for almost 30 years. A few months ago I got a call from Washington State saying they have a Decision Aid System for apple growers and were looking for apple pollination and fruit set models. The only publications they found were the ones that were mine and Rogers'. I went to Washington State last week to work on updating the apple pollination model with their team. We talked exactly about what Roger and I talked about in grad school. Hold onto your great ideas!
My husband was in the MSU medical residency program while I was a grad student and we both had a terrific experience at MSU. We look back with great fondness and think what a wonderful University we were lucky enough to attend. I can't say thank you enough for all that was done for us at MSU.
Jan Nyrop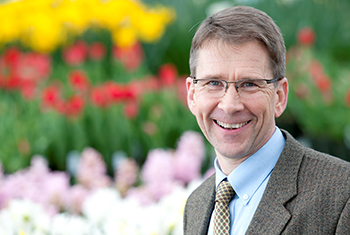 Jan Nyrop has been a senior associate dean in Cornell University's College of Agriculture and Life Sciences. This summer, he is transitioning to director of the Cornell University Agricultural Experiment Station.
When did you graduate from MSU? I earned a master's degree in entomology in 1979 and worked simultaneously on a master's in systems engineering and a Ph.D. in entomology, both completed in 1982.
Why did you choose entomology? I choose entomology because insects fascinated me and I could do work that I felt would benefit society. I received a B.S. in wildlife ecology from the University of Maine. Gary Simmons was a professor there and became my mentor. He taught an introductory statistics course that got me interested in quantitative sciences. I took other math and modeling courses after that and it provided a framework for my entomology studies. Eventually, I ended up at MSU as did Gary Simmons. He guided me in both of my entomology degrees. Jeff Granett, also at Maine when I was an undergraduate, was another influence. Jeff and Gary pushed me academically and this encouragement was very influential. I felt especially fortunate that my committee at MSU included Dean Haynes, Stuart Gage and Tom Edens, all excellent mentors. I also had lots of discussions with Rich Merritt that were very meaningful.
How did entomology contribute to what you do today? I continue to do some research and teach a course on invasive species in a global world with Ann Hajek, so on one level I am still an entomologist. Now in my career I have other opportunities to grow intellectually that are less discipline oriented. I feel that my education at MSU really prepared me well, not just for a career in entomology, but for the type of college administration I do now. Entomology at MSU is very special because it is an interdisciplinary hub of biologists, economists, engineers and more. MSU Entomology really embraced a systems perspective. This provided me with a paradigm for looking at issues and understanding the world that really helped as I moved from thinking and working on my research within a department structure to thinking about the whole college. Now I ask, how can programs across the college function as a system to positively impact peoples' lives and how can we continue to evolve that system to improve what we do? My background at MSU taught me to think in a formal and structured way that has been very helpful.
Any advice for students? I chose to begin college with studying wildlife ecology because I pursued the things I liked. If I have a message for young people, that would be it. First and foremost, you need to enjoy what you do, which I have. Obviously you also need to earn a living, but if you enjoy what you do, you will excel, and the financial gain will come. I've been very fortunate about that. I've not always been completely purposeful. I've been presented with opportunities that offered me different ways of making a contribution, so I've taken those opportunities.
Best memories as an entomology student?
I met my wife and got married while at MSU. We had a wonderful community of students who did things outside of work. It's a unique time of your life when you are a grad student. You have an incredible freedom to pursue what it is you're passionate about and you are unlikely to ever experience it again. My wife and I developed a passion for cycling and it remains – we just biked the Texas Hill country. Those years at MSU also included the 1979 basketball NCAA championship win. That was huge.
How does your work impact people's lives? When I was working as an entomologist, my motivation was to improve crop protection and make it more sustainable. I was influenced by IPM (Integrated Pest Management) programs at MSU and their development. I approached my research from an engineering perspective. Here's a problem, let's research it and find a solution and make things better. I liked fundamental questions, but they were always influenced by how we could improve or better manage growing a crop. Then when I began to have opportunities with leadership roles, I was motivated by taking the particular unit – department, college, experiment station – and doing things that will benefit people on a lot of levels. How can we keep the organization as strong as it can be in resources, people and constituencies? If you firmly believe in the organization, you have to think about how to make it stronger, which is measured in many ways including scholarship, student education and direct societal impacts.
Kirsten Pelz-Stelinksi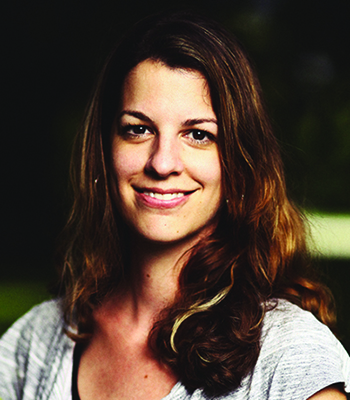 Kirsten Pelz-Stelinski is faculty at the University of Florida's Citrus Research and Education Center in central Florida.
When did you graduate from MSU? I earned my masters with Rufus Isaacs and Larry Gut in 2004 and my doctorate with Mike Kaufman and Ned Walker in 2008.
Why did you choose entomology? You can do a lot of different types of science all within entomology, from the smallest molecular interactions to observing insect behavior. As a researcher, you can also manipulate your host more than in many other types of science.
What are your best memories as an entomology student? I can't say enough about the Department - the people were fabulous, particularly my professors. I have great memories of field seasons travelling all over Michigan and interacting with growers and the staff at the research stations. George Ayers influences how I teach, he was a great teacher. Rich Merritt's aquatic entomology and Jim Miller's Nature and the Practice of Science were highlights.
What is your current appointment and work at the University of Florida? I'm an associate professor with a 15% teaching/85% research split. My program focuses on insect microbial ecology, particularly the microbiome of the Asian citrus psyllid (ACP), which transmits pathogen responsible for citrus greening disease. Currently, we are investigating the use of insect endosymbionts, such as Wolbachia, to reduce pathogen transmission by ACP.
What keeps you engaged in your work? I enjoy exploring nature from the smallest molecular scale up to the big scale to discover how and why something happens; for example, determining how a bacterium can manipulate an insect for its benefit. It is also fulfilling to work on something the growers urgently need. Our work on citrus greening has immediate direct impact for the 9 billion dollar citrus industry in Florida.
Any advice for current students? Make sure you have a broad understanding of biology, from ecology to the molecular basis of physiology. You never know when those skills will be helpful.
What is it like when a marriage includes two entomologists? Overall, it is really positive and we certainly enjoy sharing ideas with each other, although it can at times present challenges. You may be experiencing the same stresses but you are also uniquely positioned to understand what the other person is going through. That is very valuable.
Last comments? Having a breadth of knowledge has been really important for me. I didn't intend to do applied science but delved into that with my masters' study. I focused on insect vectors and medical entomology throughout my doctoral studies. But then it made sense to be in Florida and here I am, working on a pathogen in citrus in a way that brings all my experience together. I'm an advocate for cultivating as many tools as you can in your scientific toolbox.
Lukasz Stelinski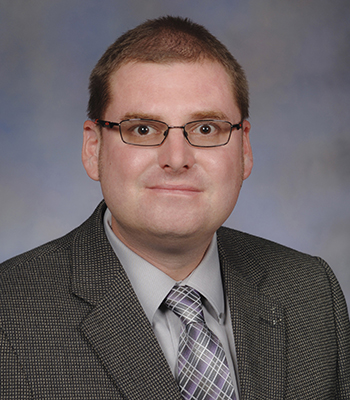 Lukasz Stelinski is faculty at the University of Florida's Citrus Research and Education Center in central Florida.
When did you graduate from MSU? I finished my masters with Oscar Liburd about 2001 and continued with doctoral studies and a post-doc with Larry Gut and Jim Miller. I left MSU for University of Florida in 2006.
Why did you choose entomology? I always had an inclination for biology and for some reason insects. At first I thought medicine, but then while at Kalamazoo College I was fortunate to take entomology and ethology courses with Dr. David Evans. After that, I knew what I wanted to do. For my senior thesis, I contacted Larry Gut and he, along with Oscar Liburd and John Wise, agreed to let me work on my project at Trevor Nichols Research Center. That was my introduction to MSU.
Anyone with special impact on you and your career? Along with my graduate committee mentors, there was George Ayers. I worked with George over several years assisting and co-instructing courses. He had a big impact on me personally and on how I teach. I also had the opportunity to briefly interact with Ke Dong as one of my committee members. I never thought my career would include toxicology; however, three of my former post-docs are now industry toxicologists.
What are your best memories of MSU? I was amongst a great cohort of peers, who are all very successful. We built lasting friendships. Also, every time I go back I have to get a burger at Crunchy's.
Describe your current work. My appointment is 80 percent research, 20 percent extension. I love my job. I typically have a large lab with 2 or 3 students, 4 or 5 postdocs, 2 or 3 permanent staff scientists and a bunch of undergrads. People enjoy coming to work and collaborating on serious challenges. I never thought I'd be working on insect pathogen interactions and toxicology – it's been transforming. I enjoy working with citrus growers. It's great to see my work in high impact journals, but seeing growers implement my findings is also rewarding.
How does your work impact people's lives? Citrus is a huge part of the Florida economy. Economists tell me some of our low volume pesticide treatment methods are saving the industry $40 million dollars per year.
Any advice for current students? I would tell every student to be as broad as possible and take some molecular biology. Right now it is hard to exist as a biologist without the ability to apply molecular techniques to your science. My lab routinely does research that involves molecular techniques from simple PCR to next generation pyro-sequencing. I've had to learn many aspects of applying molecular biology from scratch. Also, if you've found a place where you are succeeding, don't be pressured to go to multiple institutions. It made my life more normal to stay at MSU and I don't regret it.
Any comments about how you've juggled dual careers and a family? Every time Kirsten and I finished one degree there was opportunity for the other. We felt fortunate to have someone offer us funding. There's nothing we complain about being in dual careers. The tricky part is we can become saturated with what is happening professionally and then need to be careful not to burden one another with that at home.
Mark "Shep" Sheperdigian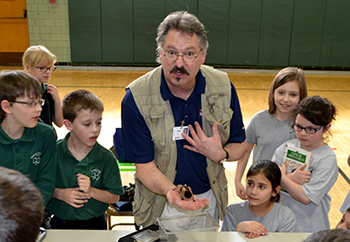 Mark "Shep" Sheperdigian recently agreed to represent the Department of Entomology on the MSU College of Agriculture and Natural Resources' Alumni Board. We spoke with Shep on the phone recently to thank him and learn about his experiences with a degree in entomology.
When did you graduate from MSU? I earned a bachelor's of science in Entomology in 1982.
Why choose entomology? I took Roland Fisher's introductory entomology course along with Fred Stehr's systematics class, and became convinced entomology was the major for me. I worked in Ed Grafius' lab and Roger Hoopingarner was my advisor, so they were certainly guiding influences. In reality, I had no idea what an entomologist does. After graduation, I moved to Georgia thinking I might go to graduate school, but the economy did not improve, and instead, I applied for a job with a small urban pest management firm. I didn't know the field of urban pest management existed before moving to Georgia and it combines two of my favorite things: insects and people! Eventually, I applied to work at larger companies with more mobility and, by 1987, I joined Rose Pest Solutions where I am now Vice President of Technical Services. We are a regional company with offices in Michigan, Ohio, and northern Indiana. We do a bit of work in Kentucky, West Virginia and Pennsylvania.
How does your work impact people's lives? In urban pest management, we have daily exposure to the public. We are in factories where everything is made as well as in the wealthiest homes and the poorest neighborhoods. It is an amazing journey through humanity to see everything that happens. One of the problems is that so few people know much of anything about insects. They know they are bigger than the insects, but they don't know how to control them. You can talk to these CEOs who handle millions and millions of dollars but can't handle a thousand cluster flies. It's a very powerful feeling.
Any advice for current students? Along with the fundamentals of entomology or another field, the most important skills you need to learn are communication skills. If you can't get your point across -- I don't care how smart you are – you must learn to communicate. If you shy away from the limelight, you'll really cut back on the opportunities open to you.
How have you used communication skills in your work? Many ways. I do a lot of training, mostly adult education, like how to be a good client in a pest management program. I'm also speaking to groups about bed bugs. There is a tremendous knowledge gap related to bed bugs and we are hurrying to bring people up to speed as the populations explode. The resurgence of bed bugs is the most amazing development I've seen in my career. I, and others at Rose Pest Solutions, do programming with kids. The general populace has little understanding of science. We need to teach kids to think with a science mind or we'll be blown to and fro as change occurs in our world. Rose promotes science education from elementary school on up. We help with bug rodeos for summer camps where kids catch insects out in the field and then pin and identify them. Science education is vital to the well-being of the country.