AgBioResearch scientist brings her passion for entomology to the classroom
For the past 16 years, MSU AgBioResearch's Christina DiFonzo has been providing knowledge and expertise to MSU colleagues and growers from around the state.
February 11, 2013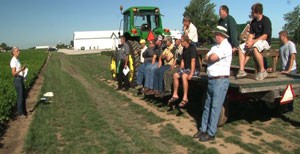 Whether she's in the classroom or in the field, Michigan State University (MSU) AgBioResearch scientist Christina DiFonzo's passion for entomology is not hard to spot. For the past 16 years, she's been providing knowledge and expertise to MSU colleagues, growers from around the state and students.
"I remember when I was a student and looked under a microscope for the first time at a tiny little insect and couldn't believe what I saw," said DiFonzo, a professor in the MSU Department of Entomology. "Insects are the most fascinating, coolest thing ever. Whatever you can think an insect can do, it already has done it."
For the past several years, DiFonzo has been spending more time in the classroom. The transition from research to teaching wasn't the easiest, but DiFonzo made it work.
"I had to remember things that I had forgotten and almost relearn a lot of general entomology," DiFonzo said. "I created many of my lectures from scratch, which made me learn those things again. The first year, I was a day ahead of the students! Now, seven years later, there are still some lectures that I'm not happy with or I don't like the order that they're given."
With so much field experience under her belt, it's no surprise that DiFonzo took to teaching like a duck to water.
"I can tell lots of stories about things I've seen in the field, either on research or insects I work on, even examples from colleagues," DiFonzo said. "Because I've worked in the field, I know what things to look for when looking for a job, too."
DiFonzo says she also draws from her experiences working as the pesticide safety and education coordinator when she arrived at MSU in 1996.
DiFonzo is also part of a study abroad program. She takes students to Sri Lanka to study tropical agriculture. The program covers three growing regions: dry lands (rice production), central area (home gardening/small farms/spices) and mountain area (tea production). DiFonzo says Sri Lanka is very much like Michigan -- it has diverse crops, is surrounded by water and is a nice, small country where students can see a lot in a small amount of time. Students also study with Sri Lankan students and learn about their culture.
Spend a few minutes with DiFonzo and you will pick up not only on her love for entomology but on her enjoyment of teaching and of sharing her wisdom with her students.
"My goal is to teach them to think and to make them more employable and better employees so that they can use these skills as they move to the next level in their careers," DiFonzo said. "Also, they should have fun!"
Question-and-answer profile:
Q: What's your title?
A: Professor, MSU Department of Entomology
Q: When did you join MSU?
A: In 1996
Q: What's your educational background?
A: I attended Mercyhurst College and the University of Minnesota.
Q: What's your hometown?
A: Fairview, Penn.
Q: What's your favorite food?
A: Pasta
Q: Best song or group?
A: 1980s hair-metal bands and Neil Young
Q: A book you recommend?
A: "Fast Food Nation" by Eric Schlosser
Q: What's the coolest gadget?
A: The Apple iPod mini
Q: What's the best invention?
A: The personal computer
Q: What's the worst invention?
A: There are no bad inventions, only bad people and inappropriate uses.
Q: What's on your bucket list?
A: To visit Iceland
Q: Who's someone you'd like to meet?
A: Jon Stewart
Q: What was your best vacation or favorite trip?
A: My trip to the ancient city of Petra in Jordan.
Q: On a Saturday afternoon, where are you most likely to be found?
A: In my office.
Q: What's a research break-through you'd like to see in the next decade?
A: Better, cheaper, safer battery technology to store solar and wind power