Career finds fertile ground in the sciences
Vice President of operations credits MSU AgBioResearch and Crop, Soil and Microbial Sciences professor Karen Renner for helping him to excel.
January 21, 2013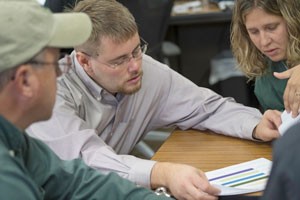 Unlike thousands of students who come to Michigan State University (MSU) as freshmen, Nicholas (Nick) Bancroft knew exactly what his career path would be. His father, Troy, and grandfather, Douglas Cook, founded Agro-Culture LIQUID Fertilizers in 1983. The company, based in St. Johns, Mich., focuses on advanced crop fertility products and programs and has gained a national reputation as a leader in its field.
"My grandfather thought outside the box," Bancroft said. "He wanted to give farmers better products. Dad was a good business and operations manager. I wanted to be a part of the company."
Although Bancroft worked for the company during high school, his bachelor's degree in crop and soil sciences gave him additional skills and knowledge that he used to help expand the company. One of the people who influenced him was MSU AgBioResearch scientist Karen Renner. When Renner joined the MSU faculty in 1986, her work focused largely on research and Extension. In 2004, she moved into teaching and advising along with her research, a role that she embraced.
"I got to know Nick right when I moved into the teaching and advising role," said Renner, a professor in the MSU Department of Plant, Soil and Microbial Sciences. "I remember advising him to do an independent study so that he could graduate a semester early. Students appreciate you helping them graduate in a timely manner."
She also taught the capstone course that Bancroft took in his senior year.
"We had lots of good discussions in that course about current issues and how they fit into what we had learned in our studies over the past four years," Bancroft said. "That course had a direct impact on our training for the real world. The whole experience helped to broaden my skills beyond my knowledge of fertilizers."
Although Bancroft had already selected a career path, many students enter college unsure of the degree or field of study they want to pursue. Renner helps these students discover what they want to do and, most importantly, how to go about attaining their career goals.
"In some cases, the jobs and careers that students want require an education beyond a bachelor's degree, especially in the sciences," Renner explained. "The most important point that I make with them is that graduate school in the sciences doesn't have to cost a lot of money. Generally, you have a graduate research assistantship, which provides you with a stipend each month, and your tuition is also paid for. You aren't earning a lot of money during graduate school, but additional schooling in the sciences doesn't put you in a lot of debt. "
Renner also tells students to use the Internet to research information and make contacts.
"The Internet is awesome," Renner said. "We used to have to try to reach people by telephone. Now, with the Internet, you have an amazing amount of information at your fingertips. Students use the Internet for social networking and less as a research tool. We encourage students to use the Internet to look for information about jobs, careers and internship opportunities and develop social career networks."
She believes the outlook for students with degrees in plant, soil and microbial sciences is excellent.
"Agriculture is the No. 1 industry in the state, and the opportunities are endless," Renner said. "There are jobs in everything from seed development to processing and packaging. These all connect with agriculture in different ways, but they are all part of what goes into growing, harvesting and processing field, fruit and vegetable crops."
Bancroft's family-run business is one example of a Michigan agriculture company that is growing.
"We have the largest plant nutrition research farm in the United states," Bancroft said. "We develop new products, use rates and culturing practices, and conduct employee training."
The company has about 100 employees, with 50 to 60 of them working in Michigan. The corporate office and the farm – called the North Central Research Station – are in St. Johns, and there is a manufacturing plant in Ashley, Mich. The company is constructing a new corporate office in St. Johns that will include an educational center dedicated to telling the story of crop nutrition and the company's role in it.
In addition to Bancroft, the company is truly a Spartan company, with several MSU Crop and Soil Sciences (CSS) graduates in key positions. Jerry Wilhm, the company's senior research manager, received his Ph.D. in crop and soil sciences at MSU at the same time as Renner, and the two are friends. Wilhm runs the research farm, which he helped establish. The farm has grown from its original 30 acres to 585 tillable acres on 12 farms and has a full-time staff of nine agronomists and a support crew. Wilhm is a stickler for accurate research and data to back up any claims made, something that has benefited the company when justifying its products to growers. Renner works with Wilhm to place summer interns with the company.
Stephanie Zelinko, an agronomy research manager and another CSS graduate, has been with the company for 13 years. Most recently, Tim Duckert, another MSU CSS graduate, joined the research team as a field agronomy research manager.
Bancroft now finds himself in a mentoring role.
"My role here is to be a mentor for employees, many of whom have been hired since I graduated and started working here. I try to help them develop skills and make good decisions," he said.
Mentoring has special rewards for Renner.
"At graduation, when students walk across the stage, I remember them when they were graduate or undergraduate students and many of them weren't sure yet what they wanted to do in the field of agriculture," Renner said. "You open doors or let them know what the doors are. It's so neat to see students find their personal path. I see many of them at field days and conferences in their new roles with employers. It's a very rewarding experience."