Developing future researchers, policymakers to generate innovative real-world solutions
Learn more about MSU AgBioResearch scientist Lenis Saweda Liverpool-Tasie and how she's investing in the future by mentoring and developing the thinkers and policymakers of tomorrow.
October 3, 2013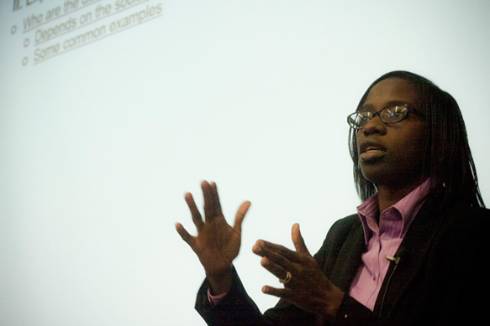 A desire to conduct research and to teach was ultimately responsible for bringing MSU AgBioResearch scientist Lenis Saweda O. Liverpool-Tasie to Michigan State University (MSU) in January 2012.
"While I believe it is important to conduct solid research and answer questions that are of importance to policymakers, it is also important to mentor and develop future thinkers and policymakers. Though teaching is time-intensive, I enjoy my teaching responsibilities at MSU, which are a welcome addition to the responsibilities I had in my previous job," said Liverpool-Tasie, who most recently worked as a postdoctoral fellow at the International Food Policy Research Institute (IFPRI).
She is teaching a course in international agriculture development called World Food Population and Poverty, during which she strives to interest students in issues of agricultural development and how they relate to them.
"I try to make the issues applicable and relevant by exposing them to cases from around the world, especially in developing countries. I try to help them see how certain events affect their lives and the lives of others, particularly the poor," said Liverpool-Tasie, who is highly motivated by real-life issues and wants her students to understand them.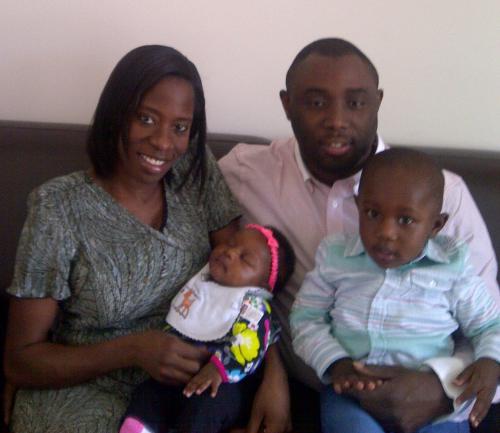 An assistant professor in the Department of Agricultural, Food and Resource Economics, Liverpool-Tasie focuses her research on the differential effects of policies and poverty reduction strategies on farmer behavior and welfare, including accounting for the potentially marginal benefits of reducing constraints on agricultural production such as lack of credit and information. She is currently studying various aspects of fertilizer subsidy in sub-Saharan Africa, as well as the effect of farmers' social networks on technology adoption and bargaining power, given household income status.
Liverpool-Tasie is part of a team of MSU researchers using a $7.8 million grant from the Bill and Melinda Gates Foundation to help eight African nations improve sustainable agricultural practices. As project head, she is working with researchers and graduate students at MSU and the University of Ibadan in Nigeria, as well as the Nigerian Ministry of Agriculture, IFPRI and private sector companies.
Research under the grant, called Guiding Investments in Sustainable Agricultural Intensifications in Africa (GISAIA), is aimed at improving seed development, fertilization and crop rotation of maize, sorghum and rice to increase yields in a sustainable manner. One of Liverpool-Tasie's projects in Nigeria looks at the profitability of fertilizer use across Nigeria's diverse agroecological zones. This is important to help guide policymakers on appropriate strategies for promoting the adoption and use of fertilizer across the nation.
Another project involves urea deep placement (UDP), a fertilizer application technique that places fertilizer close to the roots of plants. The focus is primarily on rice, and a private company is supplying the fertilizer.
"Urea deep placement is said to potentially increase crop yields by 25 percent while reducing nitrogen losses by 40 percent," Liverpool-Tasie said. "The urea super granules are applied only once rather than the traditional two or three times in a planting cycle. Because the fertilizer is deeply placed, the fertilizer nutrients are beyond the reach of weeds, thus reducing weed incidence. Because it is competitively priced compared with other fertilizers, UDP is potentially profitable for farmers and has potential environmental benefits as well."
Liverpool-Tasie became interested in this type of research while trying to understand poverty dynamics in Ethiopia when she was working on her doctoral dissertation.
"My Ph.D. research focused on understanding how farmers' poverty status affected their decisions about investing in new or improved technologies; it also looked at the roles that social networks played in these decisions," she said. "It's quite similar to many of the issues I am dealing with now, in the Gates Foundation grant. We are looking at farmers' adoption of UDP, its effects on their yields and profits, and the ways in which social networks affect how this technology diffuses. This is very important in many developing countries, where there are poor information services for farmers and thus farmers have to obtain information from their peers."
Photo 1: Lenis Saweda Liverpool-Tasie lecturing in her course, World Food Population and Poverty.
Photo 2: Liverpool-Tasie with her husband, Oyinkan Tasie, and their two young children.
Question-and-answer profile
Name: Lenis Saweda Onipede Liverpool-Tasie.
Title: Assistant professor, Agricultural, Food and Resource Economics.
When joined MSU: January 2012; was previously a postdoctoral fellow at the International Food Policy Research Institute (IFPRI).
Education: Bachelor's degree from the University of Jos, Nigeria; two master's degrees from the University of Iowa; doctorate from the University of Illinois, Urbana-Champaign.
Hometown: Freetown, Sierra Leone, and Jos, Nigeria.
Muse: My parents, Lennox and Rhoda Liverpool, who instilled the importance of hard work and demonstrated the value of family.
Favorite food: Moi Moi, a traditional Nigerian dish made from steamed ground beans and spices.
Best song/group: "Fen Am" by Emerson Bockarie is a song I really like, but I have so many favorites it is difficult to pick my favorite.
Book I'd recommend: "The Shack" by William Young.
Coolest gadget: My Blackberry.
Best invention: The Internet and digital communication.
Worst invention: Toddler/baby leash.
On my bucket list: I'd like to return to Rhodes, Greece, with my husband, Oyinkan Tasie.
Person I'd most like to meet (living or dead): Nelson Mandela – a great man, yet so humble. He is the ideal citizen of the world.
Best trip/vacation: My first visit back home to see my family in Jos, Nigeria, after being in graduate school in the United States for five years.
On a Saturday afternoon, you'll likely find me: Cooking meals for the upcoming work week or hanging out with my family.
Major research breakthrough of the next decade: More vaccines for preventing and treating cancers.