Expanding markets for a holiday favorite
Since its introduction in 1944, "Chestnuts Roasting on an Open Fire" has been a classic Christmas song. 60-plus years later, researchers are working to make chestnuts a classic Michigan crop.
April 11, 2013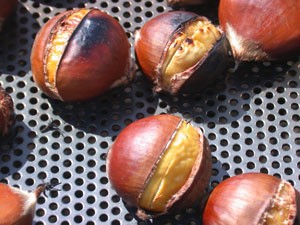 "Chestnuts Roasting on an Open Fire" is the quintessential Christmas song. The music and lyrics were composed by Mel Tormé and Bob Wells in 1944, and the song was first recorded by Nat King Cole in 1946. Now 60-plus years later, Michigan State University (MSU) AgBioResearch scientist Dan Guyer is part of an interdisciplinary research team that is working to make chestnuts a profitable crop in Michigan.
Since blight wiped out the American chestnut forests in the 1940s, domestic chestnut lovers have relied on European and Asian imports to satisfy their chestnut cravings. However, the development of blight-resistant American chestnut tree varieties has Michigan leading the nation's growing domestic chestnut industry with the most acres devoted to chestnut production and the largest number of chestnut-growing farmers, according to the latest U.S. Department of Agriculture data. As demand increases, MSU researchers are helping the industry scale up its production practices from boutique to commercial.
"The most important reason for establishing a domestic chestnut industry is to provide a more profitable, diversified enterprise for commodity growers, which, in turn, will offer a good product for consumers," said Guyer, an Extension specialist and professor in the MSU Department of Biosystems and Agricultural Engineering.
This year Michigan chestnut growers harvested approximately 100,000 pounds of chestnuts, nearly double the 2010 crop, according to nuts received through the industry cooperative and estimates from producers. That's because 2011 was an excellent growing season and because yield increases as trees mature.
Despite their name, chestnuts are not nuts -- they are fruits. "They have a high water content and get bruised and diseased if not cared for properly," Guyer said. "You wouldn't leave fresh cherries out on a table and bump them around; chestnuts also need to be treated with care."
Chestnuts can be stored fresh under refrigeration for several months, and currently most of the crop goes to the fresh market. However, the research team, lead by AgBioResearch plant pathologist Dennis Fulbright, is encouraging growers to plant grafted trees, not seedlings, and to expand their focus to other markets besides the fresh market. Through a partnership with the Midwest Nut Producers Council, there is a chestnut peeling system that is set up at the MSU Rogers Reserve for Nut Tree Research in Jackson County, Mich. The facility was established so that researchers and commercial processors can study the processing parameters of various nut cultivars.