Horticulture, marketing mix amounts to rich experience for MSU researcher
Get up close and personal with MSU AgBioResearch's Bridget Behe.
January 7, 2013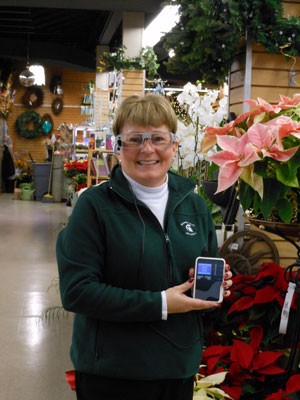 For the past 25 years, Bridget Behe has been studying consumer behavior in the horticulture industry. She credits her father, a psychologist, for her general interest in people's behavior, and both of her grandmothers for her gravitation toward horticulture. But it was her experience at Ohio State University that led her down the business path and ultimately to her career choice.
'I was working on my master's degree in horticulture, and all the classes I took were in the MBA program,' she said. 'It was about having a foot in both of these camps ' one in the technical, horticulture scientific community and the other in the business community ' that really made sense to me. That's when I discovered my niche in the world.'
Behe saw a void in the industry and in academia that she wanted to help fill. She observed that many horticulture majors went on to become self-employed, although they frequently had limited business knowledge.
'I realized that I couldn't possibly teach them everything they needed to know about running a business, but I knew that I could provide a rudimentary toolbox ' one consisting of a vocabulary and a start of a skill set ' that they could build on and give them a leg up,' she said. 'Horticulture is a highly fragmented, very diverse industry. We have a lot of small, independent business owners -- particularly mom-and-pop-type businesses -- who have really struggled to understand the dynamics of the marketplace in a sense.'
Although some of her research endeavors have focused on adding value to such locally grown products as chestnuts, cherries and asparagus and helping to open markets in regions such as Detroit and Chicago, Behe is especially excited about the recent incorporation of eye-tracking devices in her studies.
'I'm currently leading a team that is taking the typical use of eye tracking, which is in the reading realm of packaging labels, etc., and moving it into merchandising display,' she said. 'The eye-tracking device can tell us what people look at first, the path their eye travels and how long they look at something. This has a lot of potential, not only in horticulture but to help a variety of retailers understand the dynamics of the retail display.'
"These mites are a big, big problem for agriculture," Huang said. "Nearly 80 percent of food crops depend on pollination, including nearly all fruits and vegetables. Only grains do not need bee pollination."
Not surprisingly, even Huang's hobbies even relate to bees. He is an avid "beetographer," a word he coined, and his photos have won international awards.
Question-and-answer profile:
Q: What's your title?
A: MSU professor of horticultural marketing
Q: When did you join MSU?
A: In 1997 after working for eight years at Auburn University in Alabama, first as assistant professor and then as associate professor.
Q: What's your educational background?
A: I received my Ph.D. from Penn State University (PSU) and a master's degree from Ohio State University. Prior to that, I received simultaneous bachelor's degrees in horticulture and agricultural education from PSU.
Q: What's your hometown?
A: Indiana, Pennsylvania ' home of IUP (Indiana University of Pennsylvania). My dad was getting his master's degree when I was born.
Q: Who's your muse?
A: One of my gurus "Stephen R. Covey" recently died. I have to give him a lot of credit for helping me to stay organized, be productive and be happy. My dad and my two grandmothers have also been influential. My paternal grandmother was big into vegetable gardening, and my maternal grandmother was into rose gardening.
Q: What's your favorite food?
A: Crab is my all-time favorite. I'll never be in recovery -- I'm a crab-aholic.
Q: Best song or group?
A: I love to listen to classic rock when I run.
Q: A book you'd recommend?
A: I think every student of science should read "The Immortal Life of Henrietta Lacks" by Rebecca Skloot.
Q: What do you think is the coolest gadget?
A: My iPhone. I can't live without it. My eye tracking device is high up there as well!
Q: What's the best invention?
A: The microwave oven. I'm the mom of a college freshman, and I don't think that I could have gotten through childrearing without the microwave oven. The microwave enables you to go from freezer to table in minutes!
Q: The worst invention?
A: Sometimes I think that the cell phone is the worst invention, just because everyone can get you at all times. I know that it has an off switch -- I just haven't found it yet.
Q: What's one thing on your bucket list?:
A: More travel. I've made it to three continents, so I've got a few more to go.
Q: Who's someone you'd like to meet?
A:Thomas Jefferson, simply because of his inventiveness and his thought, particularly for our newly emerging country. And he introduced wine to the United States! I don't think we'd have much of a wine industry if it wasn't for him -- he was quite the viticulturist. Ben Franklin would also be on the list because he was very much an avid gardener and Maya Angelou because I've always liked her poetry.
Q: What was your best vacation or favorite trip?
A: When I was in Israel three years ago, I went to Jerusalem and had the chance to kneel in Jesus' tomb. I also was able to touch the Wailing Wall that same day. I am not a superstitious person, but when I touched my right hand on the wall, I felt energy come through it. It just unnerved me. I think that's the vacation moment I will remember for a very long time.
Q: On a Saturday afternoon, where are you most likely to be found?
A: In my garden (both vegetables and flowers).' My husband, Jim Kruger (of 21 years), is a Clemson horticulture graduate, so we have a horticultural household.
Q: What's a research breakthrough you'd like to see in the next decade?
A: In my field of work, I'd like to see businesses adopt more deliberate business strategies. They seem to do it more by default than design. I'd also love to see a cure for cancer.