MABR Plant Breeder Named 2010 Cherry Person of the Year
MABR plant breeder and researcher Amy Iezzoni was named the 2010 Cherry Industry Person of the Year by the Cherry Marketing Institute.
August 16, 2010 - Author: Holly Whetstone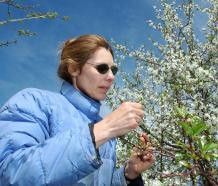 MABR plant breeder and researcher Amy Iezzoni was named the 2010 Cherry Industry Person of the Year by the Cherry Marketing Institute, a national organization established to increase the use of cherries through promotion, market expansion, product development and research.
Iezzoni was honored in a July ceremony at the Northwest Michigan Horticultural Research Station in Traverse City in conjunction with the National Cherry Festival. The Northwest Michigan Horticultural Research Station is one of 14 MABR field research facilities located around the state.
"It's not an easy process to get nominated for this award,? said Phil Korson, president and managing director of the Cherry Marketing Institute. "It's given to the person who goes above and beyond. It's the one coveted award that the industry gives, and to be singled out like this is a big deal."
Iezzoni has spent 28 of her 30 years as a plant breeder/geneticist at MSU, developing and evaluating new varieties of cherries at MABR field stations, including the Clarksville Horticultural Experiment Station.
"To receive this award is a real honor," Iezzoni said "It signifies that the clientele I work for appreciates what I do."
Iezzoni's work is not only appreciated -- it is sought after. She was recently named lead researcher for RosBREED, a four-year, $14.4 million U.S. Department of Agriculture (USDA)-funded project that aims to use knowledge of plant genetics to improve the quality of cherries and other fruits in the globally important botanical family Rosaceae, which also include apples, peaches and strawberries. The grant is the largest awarded by the USDA's Specialty Crop Research Initiative since its inception in 2007.
"There is so much potential in tart cherries to develop selections that would address grower and processor challenges and provide additional products for consumers," Iezzoni said. "I really want to release selections that will have a positive impact. There are genetic reasons why tart cherry breeding is difficult. Tackling these genetic obstacles is the motivation for my involvement in RosBREED."
Besides her research at MABR field stations, Iezzoni also maintains test plots on several grower farms, where she receives direct feedback from growers.
"These growers and processors are an integral part of the industry because they are the first testers of new variety candidates," Iezzoni said. "I take their observations and insights on the fruit's quality and traits very seriously and value the close relationship we have developed."
"Outstanding research begets outstanding research," said Doug Buhler, MABR associate director and associate dean for research in the College of Agriculture and Natural Resources. "Scientists such as Dr. Iezzoni allow us to provide Michigan producers with the critical information and innovations they need to remain viable and competitive and ensure that we continue to attract the high-level talent that MSU needs to continue to move the state forward."
Besides the MABR and the USDA, Iezzoni's work also is supported by the Michigan Cherry Committee and Project GREEEN, Michigan's plant agriculture research and Extension initiative at MSU.