AgBioResearchers Honored by University
Michigan State University faculty and staff members and graduate students -- including four MAES scientists -- were recognized Feb. 9 at the 2010 Awards Convocation at the Wharton Center?s Pasant Theatre.
March 29, 2010
Michigan State University faculty and staff members and graduate students -- including four MAES scientists -- were recognized Feb. 9 at the 2010 Awards Convocation at the Wharton Center?s Pasant Theatre.
"Today we salute those among us who exemplify excellence in teaching, in research, in engagement and in outreach," MSU President Lou Anna K. Simon said. "These are people who make a difference on campus and off.
"Not only are they top-notch scholars, scientists and teachers," she said, "but many also are rainmakers -- leveraging support from government or foundation programs, or from corporate partnerships."
MAES scientists receiving Distinguished Faculty Awards were Gregg Howe, biochemistry and molecular biology researcher, and Doug Schemske, plant biology researcher. Cliff Lampe, telecommunication, information studies and media researcher, and Maria Lapinski, communication researcher, received Teacher Scholar Awards.
Distinguished Faculty Awards are given to faculty members in recognition of outstanding contributions to the intellectual development of the university. Teacher Scholar Awards are given to faculty members who early in their careers have earned the respect of students and colleagues for their devotion to and skill in teaching and who have shown scholarly promise.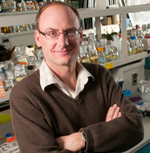 Since joining the MSU faculty in 1997, Howe has become an internationally recognized leader in research on plant hormone biology and plant-insect interactions. He has made a number of seminal contributions to the understanding of the biosynthesis of the plant hormone jasmonate and its role in plant defense.
Howe and colleagues were first to identify a receptor for jasmonate and demonstrate that it not only is essential for signaling in wounded tissues but is also translocated rapidly to other parts of an injured plant to protect healthy tissues. Much of his work has been published in the most prestigious journals, including Nature and the Proceedings of the National Academy of Sciences.
Howe's research program is funded by major grants from the U.S. Department of Energy, the National Institutes of Health, the National Science Foundation and the U.S. Department of Agriculture. He has served on numerous standing committees on campus and in professional societies and is a dedicated member of the editorial boards of several scientific journals.
"It is an honor to receive a Distinguished Faculty Award,? Howe said. "I greatly appreciate the many terrific colleagues and supportive research environment that make MSU a world premier institution in which to study plant sciences. I am particularly grateful for the privilege of having worked with many talented graduate students, undergraduates and postdoctoral researchers, whose hard work and dedication have made this award possible."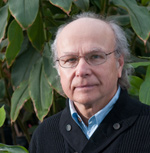 Schemske is one of the leading evolutionary biologists in the world, and his work has had a major impact in several areas. Two early papers on plant mating systems co-authored with theoretician Russell Lande sparked more than two decades of empirical and theoretical work on this topic. Together, these papers have been cited almost 1,100 times.
He was the first researcher to apply modern molecular techniques to the study of complex phenotypic adaptations in the wild, and he is now a world leader in the study of plant speciation. A second set of papers, in collaboration with Toby Bradshaw, of the University of Washington, transformed not just work on plants but all of evolutionary biology by detailing the genetic basis of adaptation in monkey flowers.
Schemske also has made major contributions to the understanding of polyploidy's role in plant evolution, and his recent ideas on why tropical regions are more diverse than the temperate zone may well help solve a centuries-old mystery.
"I am very grateful to the faculty and staff members and students at MSU for providing the intellectual atmosphere and resources that made this award possible," Schemske said. "When I arrived on campus 9 years ago, my hope was to establish a multifaceted research program catalyzed by the breadth and depth of expertise at MSU. Any success I have realized in this venture is a testament to the MSU philosophy of providing students and faculty members with a wide range of interdisciplinary opportunities. This unique perspective has fostered a number of exciting research collaborations, far exceeding my expectations. These were made possible by the stimulating interactions I have had with colleagues throughout MSU, and in particular, Plant Biology, the Kellogg Biological Station, Horticulture, Fisheries and Wildlife, and the Ecology, Evolution and Behavioral Biology program. I acknowledge all of their contributions, and I am honored to receive this award."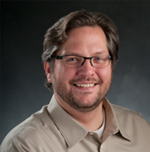 Lampe's research focuses on online communities, including their structure and function and cycles of participation. He also studies online social capital and online journalism. His current projects include studying how online discussions, connections between local business leaders and teens, classroom instruction in social media, and internships can help young people feel more connected with their communities, as well as creating open education resources for graduate veterinary students in Africa.
Lapinski studies health and environmental risk communication, including the impact of messages and social-psychological factors on health and environmental risk behaviors and how cultural differences affect the impact of the message. She has conducted research projects in the United States, Africa, Central America, Asia and the Pacific Rim.