Michigan Christmas trees ring up substantial sales
Its beginning to look a lot like Christmas, and that's good for Michigan, one of the nation's top 3 Christmas tree producers.
March 25, 2012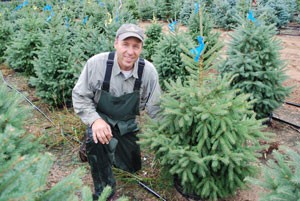 It's beginning to look a lot like Christmas, and that's an especially good thing for Michigan - one of the nation's top three producers of Christmas trees. In fact, the holiday evergreens grown in the Great Lakes state annually generate more than $41 million in sales, according to Michigan Department of Agriculture and Rural Development (MDARD) data.
Not only does Michigan produce a substantial number of Christmas trees, the varietal selection is considered the best in the United States (MDARD). There are more than a dozen varieties (the most grown in any one state) to choose from, including such favorites as Douglas fir and Scotch pine.
Dutchman Tree Farms, L.L.C., of Manton, is the largest wholesale Christmas tree grower in Michigan, with more than 5,500 acres of trees. Like most Michigan Christmas tree growers, Dutchman Tree Farms prides itself on its strong environmental stewardship. The second-generation, family-operated tree farm has been in operation for more than 35 years.
Gary Powell, nursery manager, said many factors go into growing healthy trees for the consumer market. Nurturing a working relationship with researchers at Michigan State University (MSU) has benefited the business and the entire Christmas tree industry.
"We have a great partnership with MSU," he said. "It has helped us fine-tune our growing practices and allowed us to explore alternatives that we don't have the technology or resources to do on our own. We've been able to blend practical field experience with emerging technology to determine what works best. It's helped us become better positioned to deliver quality trees and shrubs that will flourish in people's landscape."
When Dutchman decided to expand its nursery business by using the pot-in-pot growing method in which one container is nested inside of another, the system made it possible to ship product earlier in the spring and throughout the summer to meet demand.
Developing and expanding pot-in-pot systems for conifers may also provide benefits for consumers. One example is container-grown conifers marketed as living Christmas trees. These real trees appeal to consumers who have limited space in their homes to display a full-sized tree, desire a live table-top tree or wish to transplant the tree outdoors in the spring.
"Living trees can also provide an additional market outlet for Christmas tree growers because it appeals to the environmentally minded consumer who is concerned about cutting down a tree," said Jill O'Donnell, MSU Extension Christmas tree specialist. O'Donnell collaborates extensively with AgBioResearch horticulturist Bert Cregg on Christmas tree research and outreach projects.
Container-grown conifers marketed as living Christmas trees also appeal to people looking for landscape trees. Trees grown in containers are generally more lightweight and easier to carry than field-grown trees, and there is often a longer period during the year when they can be planted.
An inherent challenge exists for any grower transitioning from successfully growing trees in the ground (field production) to growing them in containers.
"Your instinct is to say that plants are plants, but what works in the field may not work with containers," said Cregg, an associate professor and Extension specialist in the MSU Department of Horticulture.
One example is irrigation. Depending on the weather, going one or two weeks without watering in the field may have little effect on established trees, but missing a few days of irrigating containers could be disastrous.
Another consideration is container substrate, the material in which plants and young trees are grown.
"Consumers are often surprised to learn that most plant containers don't contain soil. Instead they hold pine bark, peat moss, compost and other lightweight material," Cregg said. "Getting the mix just right is essential for container growing."
Cregg, O'Donnell and their colleagues conduct research and share their findings on how to improve the sustainability of container production for Michigan nurseries. It is just one example of how MSU lends its expertise to work with growers, producers and businesses to assist agriculture – Michigan's second largest industry, which generates $71 billion annually for the state economy.