MSU researcher leads $3.2 million grant to improve stevia taste, U.S. production
With help from a grant, Michigan State University researchers will work to improve the flavor of the low-calorie sweetener stevia.
October 16, 2017 - Author: Mindy Tape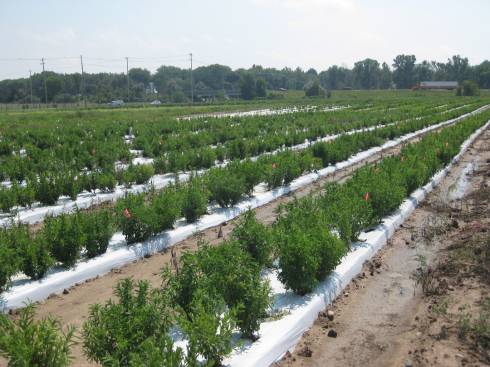 EAST LANSING, Mich. -- Michigan State University (MSU) researchers will work to improve the flavor of the low-calorie sweetener stevia and find ways to help farmers effectively produce the leafy green perennial in the United States with a $3.2 million Specialty Crop Research Initiative grant from the U.S. Department of Agriculture (USDA) National Institute of Food and Agriculture (NIFA).
Consumer demand for domestically produced, good-tasting low- and zero-calorie natural sweeteners has created a potential market opportunity for stevia. Most stevia consumed here is grown and bulk extracted in China; only a limited acreage of the plant is grown in the United States.
Ryan Warner, MSU associate professor of horticulture, is leading the research team looking into the feasibility of commercially growing and producing stevia in the United States. The researchers will explore various aspects of stevia, including improving the plant's flavor profile at the molecular level, examining consumer preferences, determining best farming practices and identifying conducive growing regions.
"As a crop, stevia is on the verge of being adopted more in the U.S." Warner said. "Food and beverage manufacturers who use stevia have expressed a desire for domestically sourced ingredients such as stevia."
Warner is focused on developing a genome sequence of stevia and conducting molecular breeding of the plant to better understand the production of the sweet-tasting compounds. Stevia contains several compounds that make it taste sweet, predominantly rebaudioside A -- though it's sweet, it can also leave a bitter or licorice aftertaste. Other less prevalent compounds produced by the plant are similar in sweetening intensity to rebaudioside A but have a much better flavor profile.
"Stevia produces at least 25 sweet-tasting compounds, which we collectively refer to as steviol glycosides," Warner said. "The key with these better tasting compounds is that they're produced in much lower concentrations, so we are working to breed new varieties that produce more of these minor glycosides, such as rebaudioside D and M."
The MSU team also includes: Kevin Childs, assistant professor in the Department of Plant Biology, who will help annotate the genome sequence; Randy Beaudry, professor in the Department of Horticulture, who will lead the chemical analysis of the quantification of the different steviol glycosides; Sungeun Cho, assistant professor in Food Science and Human Nutrition, who will test various combinations of sweet-tasting compounds to determine a desirable flavor profile; and Bridget Behe, professor in the Department of Horticulture, who will focus on what drives purchasing decisions for consumers looking for reduced-calorie products.
Researchers at North Carolina State University (NCSU), Alabama A&M University and Fort Valley State University will study production inputs, disease management, and the economics of stevia production to learn what conventional and organic farmers will need to grow stevia profitably in the Southeast and as a possible replacement for or rotation crop with tobacco. NCSU researchers will also evaluate stevia germ plasm to facilitate efficient breeding of new varieties.
"This is a broad-ranging project, but I think that we will really fill a lot of holes in our understanding of stevia from a production standpoint, a genetic standpoint and a utilization standpoint," Warner said. "This grant will help us address some major questions that are necessary to understand to successfully produce this crop in its current state and will also set us up to be successful with new varieties in the future."
NIFA has invested more than $400 million through the SCRI program to date. Among past projects, Michigan State University led a multiyear, public-private collaboration to develop region- and crop-specific pollination management approaches using both wild and managed native bees. The Integrated Crop Pollination project has resulted in resources for growers and research publications, and has helped growers increase yield while reducing production costs. Through federal funding and leadership for research, education and Extension programs, NIFA focuses on investing in science and solving critical issues affecting people's daily lives and the nation's future. For more information, visit www.nifa.usda.gov.