MSU lands a $4.1 million grant to unlock plants' biochemistry secrets
MSU will use a $4.1 million grant from the National Science Foundation (NSF) to unlock plants' biochemistry secrets.
April 23, 2011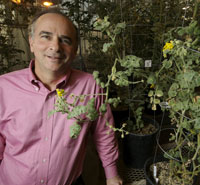 Michigan State University (MSU) will use a $4.1 million grant from the National Science Foundation (NSF) to unlock plants' biochemistry secrets.
Using cultivated and wild tomato species from the Andes Mountains, MSU AgBioResearch scientist Robert Last will lead a team of plant scientists to uncover how plants evolve to make compounds necessary for their survival.
Last and collaborators, who study functional genomics and how plants produce diverse chemicals and metabolites, will work to determine the specific genes that control chemical evolution and plant metabolism. By focusing on related plants from a particular region in South America, the researchers will be able to see how the plant chemistry evolved for protection from the effects of their environment.
"Plants are amazing biochemists as they make hundreds of thousands of compounds, yet we don't know how most of these chemical compounds are produced by the plant or the role of these metabolites in the natural history of species across the kingdom," said Last, also holds the MSU Barnett Rosenberg Chair of Biochemistry in the MSU Department of Biochemistry and Molecular Biology. "We hope to tie together the chemical phenotypes with selective pressures, including climate, insects and pathogens, to see how their reactions have evolved in the wild."
The grant furthers Last's longtime research on the function of trichomes – the fine hairs on plants that are keys to their smell and taste.
"Secreting glandular trichomes are little chemical factories in the plants," he said. "They are important to smell and taste, and they play a key role in plant survival."
Insight into these plants' mechanisms can help develop strategies to make plants more resistant to disease and insect damage, and help to increase the productivity of cultivated crops.
The grant will also fund a summer outreach program, which will give undergraduate students experience in biochemistry, genetics, metabolomics and the scientific method. Last said that the program, which recently became an official NSF Research Experience for Undergraduates site, excels at attracting minority students and connecting them with the labs and resources available only at MSU.
Photo: MSU AgBioResearch scientist, Robert Last