MSU mastitis expert follows her passion far from home
Get up close and personal with endowed vet medicine chair Lorraine Sordillo.
November 15, 2012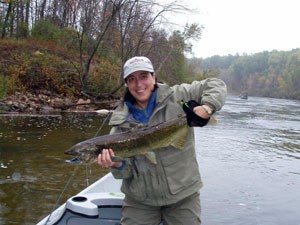 Lorraine Sordillo's origins are surprisingly far-removed from agriculture. Born and raised in the Boston suburb of Malden, Mass., Sordillo never spent any time on a farm while growing up nor did she plan to.
She initially set out to become a small animal veterinarian while attending college at the University of Massachusetts. But experiences at two dairy cattle research labs where she worked to help bolster her vet school credentials changed everything. Suddenly, something in her career path clicked.
"I was mesmerized by the research, and I fell in love with cows," said the Michigan State University (MSU) AgBioResearch scientist. "Just thinking about what they do, producing milk and, essentially, feeding the world. I wanted to make theirhealth and well-being my priority."
And she has. Sordillo received her master's degree from the University of Massachusetts and her Ph.D. from Louisiana State University, studying bovine immunology, vascular biology and mastitis -- an inflammatory disease of the mammary gland primarily caused by bacteria.
Sordillo is also the first Meadow Brook Chair in Farm Animal Health and Well-Being at MSU. Her research is largely focused on mastitis, a disease that costs the U.S. dairy cow industry more than $2 billion annually.
"The way to control mastitis is through preventive hygiene—making sure that the milking machines work properly and that the animals are healthy and their immune systems are robust," Sordillo said. "That's where my research comes in: trying to find non-antibiotic approaches to controlling these infections in the cow's mammary gland by bolstering the cow's own immune system."
Sordillo's work has a broad range of implications.
"Inflammation is the underlying cause of a number of pathologies in humans as well as farm animals," she said. "The fundamental research that we do is really applicable to human health and dairy cattle health, as well as other species, so some of our work is very basic and some is very applied specifically to the cow."
Sordillo's research has taken her to many unexpected places. She lived in Louisiana, where she met her husband, Jeff, a retired dairy farmer; California; Pennsylvania; and even the small town of Saskatoon, Saskatchewan, Canada. Moving to Michigan was never part of the plan.
"I wasn't even considering the area at first, but I came here to give a talk and, when we drove into town, I just loved it," Sordillo said. "I think that sometimes people don't realize how much Michigan has to offer -- particularly in terms of natural resources. My family comes to visit and they're used to oceans, right? I take them to Lake Michigan and they just can't believe the blue, fresh water for as far as the eye can see. We really love it here. It's just a gorgeous state."
Sordillo, who has taken a series of unexpected turns in life, eventually plans to retire in Michigan, a long way from her city-life beginnings in Boston.
Question-and-answer profile:
Q: What's your title?
A: MSU professor and Meadow Brook Chair in the College of Veterinary Medicine
Q: When did you join MSU?
A: In 2004
Q: What's your hometown?
A: Malden, Mass.
Q: Who's your muse?
A: My mentor at Penn State, [retired faculty member and former Veterinary Science chair] Channa Reddy. He was just a ball of fire. I was one of the only women in the vet science department at the time, and he scooped me under his wing and really challenged me. He really considered what interested me –mastitis -- and then found as many ways as possible for me to be successful in that path. I asked him why he was doing all of this, and his response was, 'Because, when you achieve what you want to achieve and you're a tenured professor and in a position to help others, I expect you to do the same.' And I hope I have done that. I always keep that philosophy with me when I mentor students and junior faculty now, and, when they ask me why I help them, I say the same thing: pay it forward. We're very privileged to have these great jobs we love, and it's really our obligation to make sure the next generation of scientists is going to be better than we ever were.
Q: What's your favorite food?
A: The last name Sordillo is Italian, right? So, I love authentic Italian food, which you can never really get here. It can only be found in a grandmother or great-grandmother's kitchen.
Q: Best song or group?
A: The Mammas and the Pappas. No doubt about it. My daughter even has one of their songs as the ringtone she hears when I'm calling her.
Q: A book you'd recommend?
A: You mean, when I'm not reading journal articles all day? Sir Arthur Conan Doyle's The Adventures of Sherlock Holmes. It's just amazing how his mind must have worked to come up with not only this crazy character but the intricate plots that were clearly planned out in advance. I've read them 10 or 20 times.
Q: What do you think is the coolest gadget?
A: The iPhone with Siri. I don't sit there and gadget out everything, but it's amazing. I just discovered that it even tells jokes! Plus, I'm totally directionally-impaired, I mean, I'd get lost in the middle of this campus, but, with the iPhone, I can just bring up Google Map and walk anywhere.
Q: What's the best invention?
A: It has to be the computer. When I did my master's, that was the era of data cards. We didn't have PCs, just typewriters. And now, I can't imagine writing a thesis the old-fashioned way. I keep my laptop with me at all times. It even comes on vacations. I have no idea how I could be productive without it.
Q: The worst invention?
A: Social networking sites. Are those an invention? I can half-understand Facebook, because it's good for connecting with old high school friends and old boyfriends and such, but Twitter? I mean, that just annoys me. People typing nonsense and then other people actually wasting time reading it. Who cares? It just seems like a time sink to me.
Q: What's one thing on your bucket list?
A: I'm an avid fly fisher -- I even used to teach a women's fly fishing class—but what I've never done is saltwater fly fish. It's very different from freshwater fly fishing; it's different equipment, a different presentation, and you have to read the waters differently -- which I have no idea how to do. It just seems like a challenge I'd like to try. Also, my husband and I are avid RV'ers, and we'd like to travel across country and take our time stopping in different regions and experiencing the culture.
Q: Who's someone you'd like to meet?
A: That's easy, Thomas Edison. The man is amazing. What an inventor! He had no formal graduate education, yet he was able to accomplish things using his ingenuity, determination and elbow grease.
Q: What was your best vacation or favorite trip?
A: I travel so much that I get weary just thinking about it, but the best trip I went on would be Crete. We had a great tour guide, so we were able to really look around and see the ruins and everything. It's amazing how inventive they were back then. Plus, it's absolutely gorgeous!
Q: On a Saturday afternoon, where are you most likely to be found?
A: Gardening. Even in our recent icky, hot weather. I listen to audiobooks and garden. I also like fly fishing, as I said, and golfing. I'm an avid golfer -- which is another great thing about Michigan. You can golf until about 9:30 at night, and the courses are so beautiful -- very inexpensive, too.
Q: What's a research breakthrough you'd like to see in the next decade?
A: Gene therapy for cancer, without a doubt. There have been some major breakthroughs in how to take immune cells from the patient and manipulate them genetically -- much like what I do with cows' immune cells with mastitis—to specifically identify cancer cells and kill them. You have the patient's own immune cells combating the cancer, which is what fails with a cancer like leukemia. I seriously anticipate this in the next decade. All the investment we have made in genomics is going to pay off!