MSU Part of Team Receiving $4 Million USDA Grant to Improve the Common Bean
Michigan State University's leadership in specialty crop research has helped a multi- university research team land a four-year, $4 million grant to enhance the economic and nutritional value of the common bean.
July 29, 2010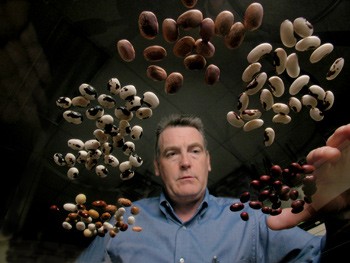 Michigan State University's leadership in specialty crop research has helped a multi- university research team land a four-year, $4 million grant to enhance the economic and nutritional value of the common bean.
MABR crop and soil scientist will lend his 30-plus years of expertise in dry bean breeding and genetics to help develop breeder-friendly genomic research tools to assist in selection for agronomic traits such as yield, plant architecture, processing quality, drought tolerance and disease resistance, and key nutritional traits.
"Many specialty crops have been left behind in the new wave of genomics research," Kelly said. "Many of today's genomic tools used in genetic analysis are so expensive that we aren't able to access them. This grant provides an opportunity to expand funding on basic research so that these crops can be competitive, not only in their agricultural contribution to the farming fabric of Michigan but in their nutritional value to consumers."
People eat more beans -- such as black, navy, pinto, great northern, kidney and snap beans -- than any other legume crop. Beans are a good source of fiber and protein, and scientific evidence shows that eating beans can reduce blood cholesterol and sugar levels, which helps prevent or alleviate certain types of cancer, Type 2 diabetes and cardiovascular disease.
"This project expands the types of traits being studied in beans to include quite a range of nutritional aspects so that we can determine their genetic variability," Kelly said. "Combining the discovery of the genetic factors controlling agronomic traits with nutritional profiling data will show us how we might further enhance the nutritional quality of beans and will set the stage for nutritional improvement of the common bean for years to come."
The project involves 26 researchers from 16 U.S. institutions. The initiative is being led by Phillip McClean, of North Dakota State University, and an executive committee composed of McClean, Kelly and scientists from Oregon State University, Colorado State University and the U.S. Department of Agriculture (USDA).
The team also will initiate a modern plant breeding training program that focuses on early career recruitment and provides practical breeding/genomics training that illustrates how the integration of genomic and phenotypic data can be used to improve nutritional traits in plants.
The project will be administered under the Cooperative Agriculture Project, a USDA National Institute of Food and Agriculture program that funds multiyear collaborative projects. The project is referred to as BeanCAP.
A $1 million USDA companion grant also was awarded to a research team led by Purdue University and NDSU to be used to sequence the common bean genome. Sequence data from this project will be used in BeanCAP to develop marker systems for use in bean breeding.
Kelly noted that the BeanCAP grant is the third significant USDA award to recognize MSU?s specialty crop expertise in the past two years.
MABR scientists landed a $5.4 million award in September 2008 to improve the quality, yield, drought tolerance and disease resistance of potatoes and tomatoes (SolCAP), and a $14.4 million grant in October 2009 to improve the quality of apples, peaches, cherries and strawberries (RosBREED) ? all globally important crops and significant contributors to Michigan?s $73.1 billion agricultural economy. Collectively, the three grants represent $23.8 million in federal funding for crop improvement research.
"It is gratifying to see this innovative and important research be acknowledged and supported by the USDA," said MABR Director Steve Pueppke. "Research funding at this level is essential to improving agricultural efficiency and sustainability for specialty crop production. Collaboration and having the necessary state dollars to leverage these types of funding opportunities are critical to the economic future of Michigan and to addressing critical and emerging national priorities and needs."