National Pollinator Week coming June 19
The third week of June is National Pollinator Week, and Michigan State University will have two related events to celebrate our fuzzy friends.
June 2, 2016 - Author: Julianna Wilson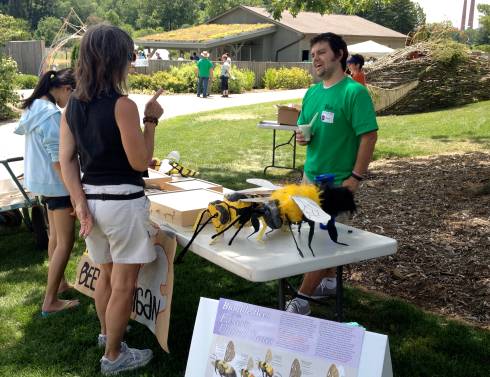 EAST LANSING – On Sunday, June 19, 2016 from 1-4 p.m., the MSU Horticulture Gardens will be buzzing with activity, as the Department of Entomology hosts the fifth annual Bee Palooza. For people of all ages, this is a free, fun and educational event organized by volunteers to provide an afternoon of interactive activities centered on understanding the wonderful world of pollinators.
The beautiful gardens will be dotted with displays to demonstrate and explain honey bee colonies, bumble bees, the wild bees of Michigan, plants to support pollinators, and how important bees and other pollinators are for the food supply. Hands-on workshops will show you how to create a native bee hotel, how to make native plant seed "bombs," and how to identify different pollinators in your garden. Get information for starting your own pollinator garden. Pollinator-themed face painting will be back by popular demand too!
Designed for kids and adults, this event would make a great Father's Day activity. The MSU Horticulture Gardens are located on the southwest corner of Bogue Street and Wilson Road in East Lansing. For updates and more information visit www.beepalooza.org or our Facebook Event page (www.facebook.com/events/218155751870308/).
For an adults only follow-up event, join members of the MSU Department of Entomology at the Science on Tap: Beezzz & Brewzzz event. This is a fun evening of short presentations about the current status of bees in Michigan with a fermented beverage angle. This event will be on June 21, 2016, at 7:30 p.m. at The Beer Grotto, 500 E. Michigan Ave, Lansing, MI. A bee-themed beer will be on tap that night, and you can enjoy three short talks from local experts about Michigan's wild bees, the state of honey bees, and the links between bees and beverages. This is a free event (other than the purchase of your drinks!). For updates and more information visit the Facebook Event page (www.facebook.com/events/1535998373374981/).