Nip it before it gets to the bud – MSU fungi expert works to protect wheat, apples
Learn more about Frances Trail, MSU AgBioResearch microbiologist -- a Brooklyn, N.Y. native who is committed to protecting wheat fields and apple orchards from pathogens.
March 4, 2013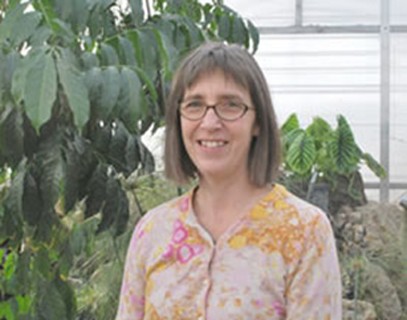 There aren't many wheat fields or apple orchards in the metro New York area, but that didn't stop Michigan State University (MSU) AgBioResearch scientist and Brooklyn native Frances Trail from wanting to protect them. After receiving degrees from the University of North Carolina at Chapel Hill, Oregon State University and Cornell, Trail joined MSU as a postdoctoral researcher of fungi.
Now a plant biology professor, Trail has her research team working on ways to prevent wheat scab (Fusarium graminearium) and apple scab (Venturia inequalis) pathogens.
"If we can figure out the Achilles' heel of these fungi and interrupt their life cycles, we'll take a huge step toward controlling these significant diseases," she said.
Wheat scab not only reduces profit for farmers but also raises significant human health concerns. It contains two mycotoxins (toxins secreted by the pathogen) that are toxic to humans – deoxynivalenol (DON) and zearalanone. DON attacks the immune system and in high doses can lead to kidney failure, and zearalanone acts as an estrogen mimic.
Trail has been investigating how the wheat pathogen spreads its spores through the air using asci (dispersal pods that look like tiny water cannons). Part of that work means looking at the genetics of the fungus to see when, how and after what cues the spores are spread. If her research team can discover a way to stop the first wave of spores, Trail believes that will reduce the impact of the pathogen.
Her work with apple scab has been similar, and recent trials have been successful in controlling the apple pathogen.
"If you can limit what comes up in the first place, you can limit fungicide applications," she said. "It would also mean less fungicide resistance in the pathogen. Less spraying means less resistance."
Apple growers in Michigan, along with the United States Department of Agriculture, the National Science Foundation and Project GREEEN (Generating Research and Extension to meet Economic and Environmental Needs) have provided funding for her research.
"It's very important to understand the big picture – what the pathogen does over winter, how it sends out spores, what the spores do, how the fungus grows in the plant and how these things relate to one another," she said. "If we understand those, hopefully we can come up with the best method for control."
Question-and-answer profile:
Q: What's your title?
A: Professor in Plant Biology and Plant, Soil and Microbial Sciences
Q: When did you join MSU?
A: Before that I was a postdoctoral student in John Linz's food science lab at Michigan State, working on mycotoxins since 1992. That's where I really got interested in mycotoxins and fungi.
Q: What's your educational background?
A: University of North Carolina, Chapel Hill, B.A., botany; Oregon State University, M.S., plant pathology; Cornell University, Ph.D., plant pathology
Q: What's your hometown?
A: Brooklyn, N.Y.
Q: Who is your muse?
A: There was a Canadian named A.H. Reginald Buller. He was a mycologist that wrote seven volumes called "Researches on Fungi." They're just astounding. I think what he ferreted out people could work on for years.
Q: What's your favorite food?
A: I would say really fresh, good sushi. I took this amazing trip to South Korea. I was invited over there to give a presentation, and they were such great hosts. I had phenomenal sushi – I could not stop eating it! It was one of my favorite trips.
Q: Best song or group?
A: I don't have a specific one in mind, but I really enjoy traditional folk music.
Q: A book you recommend?
A: I've been reading a book called "The Art of Fermentation" by Sandor Ellix Katz. It's a fascinating look – historical and cultural -- at fermented foods around the world, including kimchee, sauerkraut and cheese. I'm sort of a closet cheesemaker, so I've been really enjoying this book.
Q: What's the coolest gadget?
A: My coolest gadget would probably be one of my microscopes or one of the cameras on my microscope.
Q: What's the best invention?
A: Being a microbiologist, I have to say a microscope is the best human invention.
Q: What's the worst invention?
A: Cell phones with texting. In my classes, it's the bane of my existence. It's hard to get students to give them up or concentrate because they're so addicted to texting.
Q: What's on your bucket list?
A: Mostly travel. I would love to go to Africa. I want to take that boat trip up the coast of Alaska. I'd also really love to go to Machu Picchu.
Q: Who's someone you'd like to meet?
A: Jimmy Carter. I would talk with him about his approaches to solving health problems. He just gets things done. He eradicated the guinea worm. He's just able to solve problems, for the most part.
Q: What was your best vacation or favorite trip?
A: Aside from the trip I took to South Korea, I recently went to the interior of Alaska. I really enjoyed that. It was so different! I wish I could go back there in the winter just because it was so remote even in the summer. I'm very curious to see what it would be like in the winter.
Q: On a Saturday afternoon, where are you most likely to be found?
A: With my teenage daughter. It seems like she gets me involved with something almost every Saturday.
Q: What's a research break-through you'd like to see in the next decade?
A: I would like to see us have some real solutions for the wheat scab problem. It's been so devastating. (In the United States, it costs farmers a mean annual loss of $657 million. In other parts of the world, it has a toll on health because moldy grain is in the food supply.)