Oct. 9 Deadline for Submitting Animal Agriculture Initiative Preproposals
Michigan's animal agriculture industry continues to confront numerous challenges on various fronts while simultaneously seeking out potential opportunities.
October 1, 2009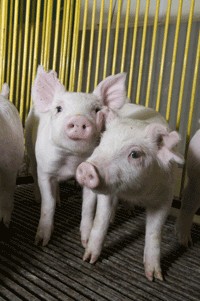 Michigan's animal agriculture industry continues to confront numerous challenges on various fronts while simultaneously seeking out potential opportunities. From maximizing environmental health and farm profitability to harnessing energy from animal wastes to measuring and monitoring consumer attitudes and perceptions to minimizing the risk of spreading animal disease, industry research and outreach priorities facing modern-day agriculture are plentiful.
With that in mind, the Animal Agriculture Initiative (AAI), Michigan's animal agriculture research, teaching and Extension initiative based at MSU, invites MSU faculty members and MSU Extension staff members to submit preproposals for the 2010?2011 funding year (July 1, 2010, to June 30, 2011) by Oct. 9. These preliminary project proposals should focus on developing solutions to problems defined by one of the five broad research categories identified as high priority by the state's animal industry groups: environment, health, imminent or emerging issues, profitability and welfare.
All preliminary proposals will be reviewed by the AAI Coalition, the governing board of the AAI. The coalition is made up of representatives from the MSU departments of Agricultural, Food and Resource Economics; Animal Science; Biosystems and Agricultural Engineering; Crop and Soil Sciences; Food Science and Human Nutrition; and Large Animal Clinical Sciences (College of Veterinary Medicine); and the Michigan Agricultural Experiment Station and MSU Extension. The group provides program direction to research and Extension projects involving the state's beef, dairy, equine, poultry, sheep and swine industries, and works with various industry advisory committees to help establish research priorities for improving Michigan animal agriculture.
The AAI Coalition will select proposals to move on to the full proposal round. Final selections will take place in November. In 2009?2010, the AAI awarded $350,000 in funding split between eight research projects selected from among a pool of 20 preproposals.
Established in 1996 as part of the grass-roots-driven Revitalization of Animal Agriculture in Michigan Initiative, AAI is a partnership between MSU, livestock producers, industry organizations and the Michigan Department of Agriculture. With its mission centered squarely on finding solutions to problems facing the state?s animal-based agriculture industries through research and Extension projects, the AAI has funded more than 190 research projects since it began.
The Michigan Animal Agriculture Initiative at MSU is vital to the health of the state's economy. A survey commissioned by the AAI in 2007 revealed that nearly $22.9 million in annual economic activity can be linked back to the initiative. AAI-funded research adds $11.5 million annually to the state's economy, and for every state tax dollar invested in the AAI, the initiative returns $3.40 in gross state product.
Questions about the AAI proposal submission process should be directed to Faye Watson. Call 517-353-3174 or e-mail cotton@msu.edu.