Rackham Research Endowment planting agricultural seeds at MSU for 75 years
Learn about the Detroit philanthropist Horace H. Rackham who started the fund and the many advancements in agriculture that have followed.
September 4, 2012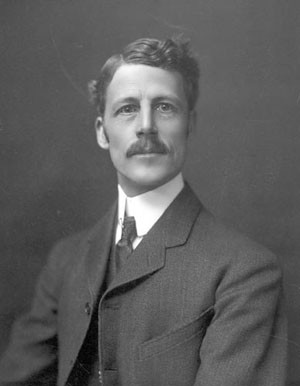 Although Horace H. Rackham never lived to see the impact he had on agriculture, the Detroit attorney-turned-philanthropist had a vision that has driven significant discoveries in farming over the past 75 years at Michigan State University (MSU).
When Rackham died in 1933, he bequeathed money to MSU for "scientific, chemical and experimental researches in agricultural chemurgy and farm, soil, crop and agricultural research, and on allied subjects." At the time, MSU (then the Michigan State College of Agriculture and Applied Science) had been making a name for itself in "chemurgy," a science that applies chemistry to agricultural objectives.
Four years later, in 1937, the Horace C. Rackham and Mary A. Rackham Research Endowment made its first investments in MSU. Initially, $510,000 was contributed to MSU -- $10,000 for immediate use and the rest to be invested to support the research Rackham envisioned.
The emphasis at the time was on finding new markets for farm products. To achieve this goal, the endowment funded three projects in its first year: Possible utilization of the protein of alfalfa for plastics. Development of spray materials to reduce drought injury to plants. Development of decay-resistant fiber to incorporate in soil to increase water absorption and retention, reducing surface runoff and seepage losses.
These projects were selected because of their potential to open new markets for farm products. They succeeded, but not quite as the researchers expected. While separating protein from alfalfa leaf meal, researchers discovered a process for extracting carotene from the plant.
At the time, carotene was in great demand by food and pharmaceutical companies. A patent for the extraction process was obtained and eventually put to use by one of the nation's largest carotene users.
Ever since, the Rackham Research Endowment has been funding achievements in agriculture, including:
Physiological and genetic limits in milk production – dairy science professor Clinton E. Meadows
Supplements of inexpensive electrolytes such as potassium to partially replace expensive and scarce amino acids such as lysine in the swine diet – animal science professors Elwyn R. Miller and Duane E. Ullrey
Identification of genes that elicit induced resistance in plants – botany and plant pathology professors Ray Hammerschmidt and Dennis Fullbright
Ecology of tree seedling production and dispersal in forest regeneration – forestry professor Richard Kobe
From crops to power: microbial fuel cells powered by cellulolytic-geobacter consortia for efficient bioenergy conversion –microbiology and molecular genetics professor Gemma Reguera
Michigan Agricultural College (now MSU) was three years old when Horace H. Rackham was born in Macomb County. He grew up to become a Detroit attorney who, with his partner, drew up incorporation papers in 1903 for his neighbor Henry Ford's new company. Rackham bought 50 shares of stock in the fledgling Ford Motor Company using a truck farm he owned as collateral to borrow money for the purchase. In 1913, Rackham quit his law practice and six years later sold his Ford Motor Company stock to Edsel Ford (then acting for his father) for $12.5 million.
Rackham eventually became a dedicated philanthropist, contributing funds to many Michigan institutions, including the Detroit Zoo and the University of Michigan.
MSU AgBioResearch Director Steve Pueppke said that the Rackham endowment has allowed scientists to make some significant research progress in the past 75 years in areas ranging from molecular genetics to plant biology.
"The Rackham Research Endowment continues to fund critical projects that benefit agriculture in Michigan and beyond," Pueppke said. "It's visionaries like Horace Rackham who are to be commended for planting the seeds of knowledge in an industry that is so vital to Michigan and to our nation."
Rackham projects are funded for three years with the expectation that researchers secure external funding support by the third year. Projects are selected by a five-member board comprising the MSU president, the AgBioResearch director and three life members not affiliated with MSU.