Research May Lead to New Lung Cancer Treatments
An MABR researcher is analyzing the immune system's ability to protect the body against lung cancer.
September 21, 2010 - Author: Holly Whetstone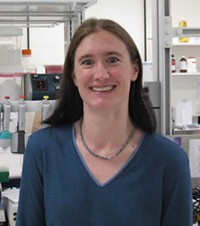 An MABR researcher is analyzing the immune system's ability to protect the body against lung cancer.
The results of work by Alison Bauer, MABR pathobiology and diagnostic investigation scientist, are expected to provide new approaches to prevent, identify and treat lung cancer. The disease is the leading cause of cancer-related death in Michigan and the country.
"Chronic inflammatory lung diseases such as asthma and chronic obstructive pulmonary disease are risk factors in the development of lung cancer," Bauer explained. "However, activation of certain components of the immune system -- namely the part of our immune system that responds first to an injury, or the innate immune system -- may provide protection against lung cancer development."
Previous research has determined that farm and textile workers exposed to elevated levels of a bacterial component called endotoxin are at a reduced risk of developing lung cancer, Bauer explained. After being introduced to the body, endotoxin binds to a specific protein on cells known as "toll-like" receptors; these receptors are involved in innate immunity. The primary receptor binding endotoxin is called toll-like receptor 4 (TLR4).
Bauer and her team have previously shown that TLR4 acts in a protective manner against the development of chronic lung inflammation and lung cancer in mice. That research was published last year in the journal Molecular Cancer. This project will further investigate how and why TLR4 acts in a protective manner, focusing on the cells involved in the inflammation process in mice models.
Bauer also will look at intercellular communication and growth factor regulation. The team will investigate the role of these pathways in TLR4's protective effects. In other cancers TLR4 is required for some chemotherapy drugs to be effective.
This research is funded by a $720,000 grant from the American Cancer Society.