Research runs in the family -- son of AgBioResearch scientists scores discovery of his own
Cody He goes to D.C. and brings home $7,500 for his plant immunology research project conducted in MSU laboratory.
June 11, 2013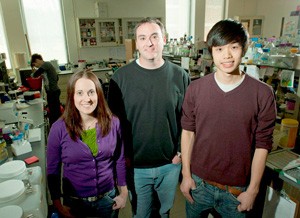 Philip Cody He – the 17-year-old son of Michigan State University (MSU) professors and AgBioResearch scientists Sheng Yang He and Ke Dong – is proof that the apple doesn't fall far from the tree.
A senior at Okemos High School, Cody already has a major scientific breakthrough of his own: He was the first to determine that Arabidopsis thaliana capping protein (AtCP) plays a vital role in plant immunity.
And the discovery recently landed him in an elite group of high school seniors from across the United States, considered some of the most promising future scientists. He was one of 40 finalists in the 2012 Intel Science Talent Search, the nation's most prestigious precollege science competition that started with more than 1,800 entries.
"It's exciting, especially since plants usually don't get a lot of love when it comes to competitions like these," said Cody of the announcement.
Cody's research was one of two plant projects selected as finalists in the contest. His plant immunology experiment was conducted in the lab of MSU plant pathologist and AgBioResearch scientist Brad Day, under the supervision of graduate student Katie Porter.
"Cody is a remarkable young man," Day said. "He is brilliant, thoughtful and very sociable. Cody joined my lab almost two years ago to explore and develop his interests in biology and, over time, gained the skills and responsibility to pursue an independent project."
Funded by the National Science Foundation, the project explored the role of the actin cytoskeleton in plant innate immune signaling. Though the role of the protein in defense against pathogens in animals has been studied, Day said this project was one of the first to look at its role in plants.
"The primary goal was to explore the broad function of actin-based signaling in plants during pathogen infection," Day said. "Cody identified one key component of the cytoskeleton that is required for defense signaling in plants. We hypothesize that this node represents a potential target that plant pathogens 'attack' in order to infect and colonize plants."
The discovery will be included in an upcoming publication, a collaboration between scientists at MSU, Oregon State and Purdue universities, Day said. The finding could help in the development of ways to lower the cost of protecting crops from disease and have long-term implications in food security and safety.
"What better place than MSU to have one of just two remaining plant projects, because we're known as the epicenter of plant biology," Day said.
A career in scientific research seems like a natural progression for Cody, whose parents both teach courses and conduct research at MSU -- his father in plant biology and his mother in entomology. He has been accepted to Yale, Harvard, Dartmouth and the University of Michigan, where he will pursue a degree in science, perhaps biomedical engineering.
"I've certainly been inspired by both of my parents," Cody said. "When I was little, I spent a lot of time in the lab so I wouldn't be left home alone. Over the years, I've become pretty comfortable here. In fact, one of my first pets I remember was a colony of fruit flies."
While at Okemos High School, Cody has played on the football team and been in the marching and concert bands, and he currently captains the Quiz Bowl team. He is an elementary school mentor, a Wikipedia contributor, and a community volunteer for recycling and environmental cleanup projects.
Projects in the Intel Science Talent Search, a program of Society for Science & the Public, are selected on the basis of originality and creative thinking, as well as students' achievements and leadership both inside and outside the classroom.
Cody traveled to Washington, D.C., March 8-13 to undergo a rigorous final judging process, interact with leading scientists, display his research at the National Geographic Society, meet with national leaders and vie for the competition's top 10 places. At an awards ceremony on March 13, fellow Michigander Nithin Tumma of Fort Gratiot Township revceived the $100,000 grand prize for his work on breast cancer research. Other finalists from across the United States took home additional awards totaling $530,000. Although not a top 10 finalist, Cody will receive $7,500 for his research. For a list of the top 10 award winners, visit http://www.societyforscience.org/document.doc?id=348.